Random Event
Bluebell's Monument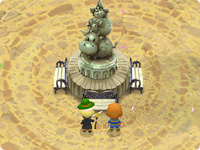 » Walk to Bluebell Town from the Church area
» Not a Monday
» Sunny weather
» 4:00 pm to 6:00 pm
» Rutger is at 15,000 FP or more (2 flowers = 20,000 FP)
» You are living in Konohana
You'll find Rudger standing at the giant statue in the middle of Bluebell. He hears that you've been doing well and is glad that there's new people and animals around. The mayor then asks if you know what the statue is for.
Rutger explains that the statue is a representation of their village, since livestock is the focus of their town. That is why their symbol is an animal. He also tells you that it is good to understand the differences between each town.
He's glad he had a chance to chat with you and then walks away.
---
Help and Admin Contact | Site Map | Harvest Moon News | Privacy Policy | Twitter