Random Events
Giant Panda?!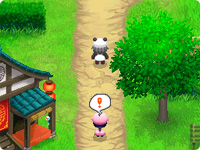 » Exit the Konohana Town Hall
» Sunday, Monday, or Friday
» Sunny weather
» 9:30 am to 1:45 pm
» Sheng and Ying have 35,000 FP or more (4 flowers = 30,000 FP)
Ying spots Sheng coming out of the restaurant and quietly sneaks behind him, following him and hiding when he turns around. Eventually Sheng is quick enough to turn around when she wasn't hiding, and she bravely asks him if he is a panda. Sheng admits that he loves pandas, but he isn't one.
Ying tells him that she has a panda (her doll). Sheng tells her that the stuffed animal is really cute. Her mom and dad bought it for her. Sheng asks her if she would like to go see a real panda; the bigger ones are really cute! Ying would like to see the panda, so Sheng will take her once he's done working.
---
Help and Admin Contact | Site Map | Harvest Moon News | Privacy Policy | Twitter