Random Event
The Mysterious Pond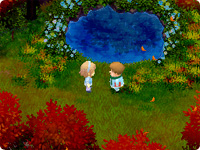 » Walk from Bluebell-high mountain area or Konohana-high mountain area to the mountaintop
» Thursday or Friday
» Sunny or Snowy weather
» 9:00 pm to 12:00 am
» Nathan is at 5 flowers or more
» The Harvest Goddess is at 45,000 FP or more (5 flowers = 40,000 FP)
Nathan is up on the mountaintop by the strange pond, offering his thanks to the Harvest Goddess. He explains that he comes to the pond every week to show his gratitude. Long ago when he was a treasure hunter, he became very sick. The goddess appeared to him and made him well again, which resulted in him wanting to teach others about the Harvest Goddess.
He likes to leave her an offerings and when he places it by the pond, a great light flashes and disappears. Nathan takes it to be an acceptance of his Turnip offering and then heads back to town.
After he leaves, the Harvest Goddess appears to see what Nathan has left her. A turnip? Well, it's well enough she thinks, although she would of rather had something tastier. She suggests that you bring her something really good next time you visit.
---
Help and Admin Contact | Site Map | Harvest Moon News | Privacy Policy | Twitter