Random Events
Natural Music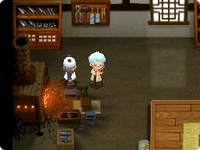 » Walk from Konohana Low-Mountain to Konohana Mid-Mountain
» Monday, Tuesday, or Thursday
» Sunny weather
» 12:30 pm to 4:00 pm
» Not Summer season
» Sheng is at 4 flowers or higher
» Mikhail has 45,000 FP or more (40,000 FP = 5 flowers)
» Mikhail is living in your current town's Town Hall
Sheng is walking across the bridge when he hears Mikhail playing his violin by the waterfall. Mikhail is troubled though; his playing doesn't sound right to him and the birds aren't singing along. Sheng tells him that the music sounds good to him but Mikhail disagrees. His sound has been off lately. Maybe he needs to get his violin serviced.
Sheng suggests that perhaps the problem is with the violin's strings and he might be able to fix it. Mikhail hands over his special violin to Sheng, who says that he can probably get the violin to sound even better than it does now! The two head back to Sheng's shop.
While waiting for Sheng to finish the repair, Mikhail notices all of the well maintained tools hanging on the shop walls. These tools are more important to Sheng than life itself. The blacksmith complements the workmanship of Mikhail's violin, which is equally important to Mikhail.
Now that the repair has been completed, Sheng has Mikhail try out his violin. It sounds great! Mikhail is glad to know that Sheng can fix his violin if he ever needs it.
---
Help and Admin Contact | Site Map | Harvest Moon News | Privacy Policy | Twitter