Random Events
Town Hall Tour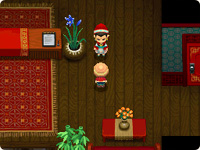 » Konohana Town Hall
» Monday or Friday
» Sunny, Rainy, or Snowy weather
» 10:00 pm to midnight
» Ina and Rahi have 3 flowers or more
Ina is going to teach Rahi how their town hall functions. She explains that at the town hall they check in guests, help people move, and answer questions about the village. The number one job of a mayor is to answer inquiries and look after the village.
She also explains the guest rooms to him, and reminds him to make sure that a guest is shown to the correct room. Rahi figures it can't be too hard because there's only two guest rooms!
Ina also explains the library to him. The town hall used to loan out book but now there aren't as many people living in the village, which means not a lot of people come by to visit the library. They have such a great collection of books, too.
Last, Ina talks about the town meeting room. They already use it for events, so she doesn't feel the need to completely explain it to Rahi.
Even though Ina is strict with her son, she reminds him that he doesn't have to be so strict towards the villagers. Rahi is excited and understands what she's trying to say.
---
Help and Admin Contact | Site Map | Harvest Moon News | Privacy Policy | Twitter