Grady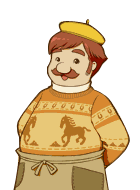 The owner of the pet and horse shop in Bluebell, Grady spends a lot of time in his shop. He relies on the help of his daughter to make sure everything runs smoothly. Grady has a positive attitude and there really isn't much that can make him sad.
Apparently nobody has told Grady that it looks like he has piles of horse poop printed on his sweater...
Birthday: Summer 07
Family: Georgia (daughter)
Favorite Wild Animals: None
Disliked Wild Animals: None
Friendship Tips: Grady likes a lot of fish, but not all fish! Only specific fish will earn you positive friendship points. The rest of them will earn you negative friendship points. There isn't an easy way to remember which fish Grady likes and which ones he doesn't like.
He also likes Tomato and Tomato-based cooked recipes. If you're in Summer, grow Tomatoes on your farm and give them to him as a gift. Gombe sells Tomato Seeds starting in year 2, but if you lose a Summer season cooking festival, the mayor will give you Tomato Seeds as a pity prize, which then forces Gombe to start selling them in year 1 if you need to plant more Tomatoes.
Giving Gifts
Favorite Gift
+800 FP
Tomato Fondue


Cooked Recipe (Main Dish): Bread + Tomato + Oil + Pot

Liked Gifts
+300 FP
Normal Items: Apricot Wine, Beer, Chestnut Wine, Chicha, Fall Wine, Four Seasons Wine, Fruit Wine, Honey Wine, Magic Blue Flower, Plum Wine, Red Wine, Rose Wine, Sangria, Spring Wine, Summer Wine, Sunflower Bouquet, Tomato

Critters: (None)

Fish: Sweetfish, Small Sweetfish, Large Sweetfish, Char, Small Char, Large Char, Eel, Small Eel, Large Eel, Salmon, Small Salmon, Special Salmon, Shishamo, Small Shishamo, Special Shishamo, Sea Bass, Small Sea Bass, Large Sea Bass, Loach, Small Loach, Large Loach, Trout, Small Trout, Large Trout, Smelt, Small Smelt, Large Smelt, Bonito, Tuna, Mackerel, Flounder

Cooked Recipes: (salad) Tomato Salad, Caprese Salad, (soup) Bouillabaisse, Vichyssoise, Gazpacho, Corn Soup, Tom Yum Goong, (appetizer) Sandwich, (main dish) Risotto, Pizza, Rainbow Curry, Lasagna, (other) Plum Wine (Glass), Apricot Wine (Gls), Sangria, Red Wine (Glass), Chicha (Glass), Beer (Glass), Honey Wine (Glass), Chestnut Wine Gls, Spring Wine (Gls), Fall Wine (Glass), 4 Seasons Wine Gls, Fruit Wine (Glass), Rose Wine (Glass)
Standard Gifts
+50 FP
All other items not listed
Disliked Gifts
-300 FP
Normal Items: Animal Medicine, Branch, Chicken Feed, Fish Bones, Fish Food, Fish Fossil, Fish Treat, Fodder, Grain Treat, Horse Treat, Legendary Treasure, Letter in a Bottle, Material Stone, Nutra Treat, Old Ball, Old Boot, Owl Food, Pet Food, Poison Mushroom, Scrap Metal, Snowball, Stone, Treat, Vegetable Treat, Weed

Critters: (None)

Fish: Carp, Small Carp, Icefish, Small Icefish, Large Icefish, Goby, Small Goby, Large Goby, Funa, Small Funa, Large Funa, Black Bass, Small Black Bass, Large Black Bass, Bluegill, Small Bluegill, Large Bluegill, Killifish, Small Killifish, Large Killifish, Masu Salmon, Small Masu Salmon, Large Masu Salmon, Blotch Snakehead, Small Snakehead, Large Snakehead, Blue Crab, Crab, Small Crab, Small Blue Crab, Dogfish Shark, Moray Eel, Ocean Sunfish

Cooked Recipes: Failed Dish, (appetizer) Miso Eggplant, (main dish) Moussaka, (other) Peach Juice, Banana Juice, Apple Juice, Mandarin Juice, Mixed Juice, Mixed Smoothie, Plum Juice
Horror Gift:
-1000 FP
Roasted Eggplant


Cooked Recipe (Appetizer): Eggplant + Oil + Frying Pan
Schedule
Sunday, Tuesday, Wednesday, Friday, or Saturday; Sunny, Snowy, or half-day Rainy:
6:00 am to 5:00 pm - Grady's Animals
5:00 pm to 7:00 pm - (in the barn behind the shop)
7:00 pm to midnight - Grady's Animals
Monday or Thursday; Sunny, Snowy, or half-day Rainy:
6:00 am to 8:30 am - Grady's Animals
8:30 am to 12:00 pm - Bluebell Town Hall
12:00 pm to 5:00 pm - Bluebell Town
5:00 pm to 6:30 pm - (in the barn behind the shop)
6:30 pm to midnight - Grady's Animals
---
Help and Admin Contact | Site Map | Harvest Moon News | Privacy Policy | Twitter