Jessica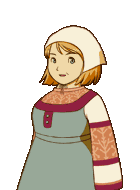 You will meet Jessica automatically on your second day of the game if you start out in Bluebell Town. She will stop by your house to deliver a free cow and chicken. If you star out in Konohana Town, you'll need to walk all the way over to Bluebell to buy your animals from her.
Ash and Cheryl are Jessica's kids and they help her out with the shop. Cheryl manages the inventory of animal-related products while Ash takes care of the shop's livestock and chickens.
Birthday: Summer 17
Family: Ash (son), Cheryl (daughter)
Favorite Wild Animals: None
Disliked Wild Animals: None
Friendship Tips: If you want to marry Ash then you need to befriend his mom up to at least 4 flowers (30,000 FP). She likes a lot of processed items made out of "gold" quality animal products, which are only produced from animals that have won their respected Animal Festivals. The easiest animal gifts would be the Black Egg or Jersey Milk, but you can't get a Silkie Chicken or Jersey Cow until year 2. In the meantime, you can cook normal Milk with your Pot in order to get Hot Milk to give to her.
Another option is from fishing. You can find Trout in Spring, Summer, and Fall if you go fishing using a regular Fishing Pole in the Bluebell mid-mountain area. Eel and Salmon require you to have the Master Fishing Pole though.
Giving Gifts
Favorite Gift
+800 FP
Cheese Dumpling


Cooked Recipe (Appetizer): Flour + Cheese or Good Cheese or Great Cheese + Pot

Liked Gifts
+300 FP
Normal Items: Black Egg, Brown Alpaca Wool, Brown Alpaca Yarn, Citrus Perfume, Fall Honey, Fruit Honey, Fruit Yogurt, Golden Egg, Good Fruit Yogurt, Golden Milk, Great Butter, Great Cheese, Great Herb Butter, Great Herb Cheese, Great Herb Mayo, Great Mayonnaise, Great Wool, Great Yarn Ball, Great Yogurt, Honey Wine, Jersey Milk, Magic Red Flower, Miso, Natto, Rose Honey, Royal Jelly, Spring Honey, Suffolk Yarn Ball, Sunflower Bouquet, Summer Honey, White Alpaca Wool, White Alpaca Yarn, Yarn Ball

Critters: (None)

Fish: Eel, Small Eel, Large Eel, Salmon, Small Salmon, Special Salmon, Trout, Small Trout, Large Trout, Smelt, Small Smelt, Large Smelt

Cooked Recipes: (salad) Herb Salad, Caprese Salad, (appetizer) Cheese Croquette, Galette, Canape, (main dish) Cheese Fondue, Tomato Fondue, Pink Fondue, Raclette, Gratin, Pizza, Farmer's Breakfast, Macaroni & Cheese, Pizzoccheri, Moussaka, (dessert) Cheesecake, Honey Cake, Party Cheesecake, (other) Milk Tea, Royal Milk Tea, Cafe au Lait, Cappuccino, Hot Milk, Hot Chocolate, Honey Shake, Yogurt Shake, Honey Wine (Glass)
Standard Gifts
+50 FP
All other items not listed
Disliked Gifts
-300 FP
Normal Items: Animal Medicine, Branch, Buckwheat Tea Can, Chicken Feed, Fish Bones, Fish Food, Fish Treat, Fodder, Ginseng Tea (Can), Grain Treat, Green Tea (Can), Horse Treat, Lumber, Matcha Tea (Can), Material Stone, Nutra Treat, Old Ball, Old Boot, Oolong Tea (Can), Owl Food, Pet Food, Poison Mushroom, Puer Tea (Can), Scrap Metal, Sencha Tea (Can), Snowball, Stone, Treat, Vegetable Treat, Weed

Critters: All insects and frogs

Fish: (None)

Cooked Recipes: Failed Dish, (salad) Tofu Salad, (appetizer) Sashimi, Roasted Eggplant, Tofu, Okara, Fried Tofu, Dried Tofu, Boiled Tofu, Cold Tofu, Yuba Tofu, Boiled Daikon, Shredded Daikon, (main dish) Tofu Burger, (other) Green Tea, Matcha Tea, Sencha Tea, Puer Tea, Oolong Tea, Buckwheat Tea, Ginseng Tea
Horror Gift:
-1000 FP
Rice Porridge


Cooked Recipe (Main): Cooked Rice + Pot
Schedule
Sunday, Monday, Tuesday, Thursday, Friday, Saturday: Sunny, Snowy, or half-day Rainy:
6:00 am to midnight - Jessica's Animals shop
Wednesday; Sunny, Snowy, or half-day Rainy:
6:00 am to 10:00 am - Jessica's Animals shop
10:30 am to 11:00 am - (walking to the Town Hall)
11:00 am to 2:30 pm - Bluebell Town Hall
2:30 pm to 3:00 pm - (walking back to the shop)
3:00 pm to midnight - Jessica's Animals shop
Sunday through Saturday; Stormy or full-day Rainy:
6:00 am to midnight - Jessica's Animals shop
---
Help and Admin Contact | Site Map | Harvest Moon News | Privacy Policy | Twitter | Game Credits