Rutger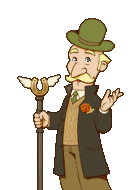 The mayor of Bluebell Town, Rutger manages the day-to-day operations of the town. He lives in the upstairs area of the Bluebell Town Hall along with his wife, Rose. He is generally a cheerful fellow until he has to interact with Ina at the cooking festival. He becomes much happier when his town wins!
Birthday: Spring 16
Family: Rose (wife)
Favorite Wild Animals: None
Disliked Wild Animals: None
Friendship Tips: Rutger is fond of insects and most large-size fish. The only one of the "large" fish that he won't go crazy for is the Large Killifish; any other fish with the word "large" in it will earn you 300 FP. Insects are always plentiful in the mountain area.
Two easy cooking recipes he likes are Bread and Cooked Rice. You can simply by Rice and Flour from the triplets' shops, and then combine each in a pot to get Cooked Rice and Bread. Rice costs 180 G each and Flour is 150 G each.
Giving Gifts
Favorite Gift
+800 FP
Okara


Cooking Recipe (hordurve): Carrot + Soybeans + Deep-Fried Tofu + Pot

Liked Gifts
+300 FP
Normal Items: Buckwheat Tea Can, Casablanca Bouquet, Fish Fossil, Ginseng Tea (Can), Green Tea (Can), Legendary Treasure, Matcha Tea (Can), Moondrop Flower, Oolong Tea (Can), Puer Tea (Can), Sencha Tea (Can)

Insects: Ancient Dragonfly, Ant Hill Cricket, Atlas Beetle, Bear Cicada, Brown Cicada, Chattering Cicada, Crimson Dragonfly, Emma Field Cricket, Emperor Dragonfly, Emperor Firefly, Helena Morpho, Hercules Beetle, Kaempfer Cicada, Lanturn Firefly, Migratory Locust, Moustache Firefly, Oki Butterfly, Princess Cicada, Spotted Pond Frog, Spring Cicada, White Giant Beetle, White Morpho

Fish: Bonito, Dogfish Shark, Flounder, Large Black Bass, Large Bluegill, Large Char, Large Eel, Large Funa, Large Goby, Large Icefish, Large Loach, Large Masu Salmon, Large Sea Bass, Large Smelt, Large Snakehead, Large Sweetfish, Large Trout, Tuna, Mackerel, Moray Eel, Ocean Sunfish, Small Blue Crab

Cooked Recipes: (hordurve) Miso Eggplant, Roasted Eggplant, Sashimi, Fish Paste, Fried Tofu, Deep-Fried Tofu, Dashi Egg, Simmered Potato, Boiled Pumpkin, Ganmodoki, Boiled Daikon, Tuna Yukhoe, (main) Marinated Fish, Farmer's Breakfast, Sushi, Grilled Fish, Fish Stew, Rice Porridge, Fried Rice, Mixed Rice, Mushroom Rice, Shimeji Rice, Tempura Bowl, Inari Sushi, Fried Udon, Cold Soba Noodles, Tempura Soba, Chestnut Rice, Natto Rice, Bamboo Shoot Rice, Milk Stew, Tekka Roll, Oshinko Roll, (misc) Cooked Rice, Bread, Green Tea, Macha Tea, Sencha Tea, Puer Tea, Oolong Tea, Buckwheat Tea, Ginseng Tea
Standard Gifts
+50 FP
All other items not listed
Disliked Gifts
-300 FP
Normal Items: Animal Medicine, Apricot Wine, Branch, Chicken Feed, Chestnut Wine, Cocoa, Fish Bones, Fish Food, Fish Treat, Fodder, Fruit Wine, Grain Treat, Honey Wine, Horse Treat, Lumber, Material Stone, Nutra Treat, Old Ball, Old Boot, Owl Food, Pet Food, Plum Wine, Poison Mushroom, Scrap Metal, Snowball, Stone, Treat, Vegetable Treat, Weed

Insects: (None)

Fish: (None)

Cooked Recipes: Failed Dish, (hordurve) French Fries, Potato Pancake, Croquette, Cream Croquette, Cheese Croquette, (main) Omelet, Omelet Rice, Cheese Fondue, Tomato Fondue, Pink Fondue, Raclette, Gratin, Pizza, Meuniere, Risotto, Doria, Macaroni & Cheese, Penne Pasta, Dry Curry, Curry Rice, Vegetable Curry, Spicy Curry, Seaweed Curry, Milk Curry, Rainbow Curry, Ultimate Curry, Supreme Curry, Spaghetti, Mushroom Pasta, Stew, Herb Spaghetti, Spaghetti Soup, Lasagna, Pizzoccheri, (misc) Honey Tea, Honey Shake, Mixed Juice, Mixed Smoothie, Peach Juice, Banana Juice, Apple Juice, Mandarin Juice, Plum Juice, Plum Wine (Glass), Apricot Wine (Gls), Honey Wine (Glass), Chestnut Wine Gls,
Horror Gift:
-1000 FP
Paella


Cooked Recipe (main): Cooked Rice + Onion + Frying Pan
Daily Schedule
Sunday, Tuesday through Saturday; Sunny, Snowy, or half-day Rainy:
6:00 am to 5:00 pm - Bluebell Town Hall
5:00 pm to 6:30 pm - (walking through Bluebell Town)
6:30 pm to 9:30 pm - Bluebell Entrance (by the shipping bin)
9:30 pm to 10:00 pm - (walking through Bluebell Town)
10:00 pm to midnight - Bluebell Town Hall
Monday, before the tunnel is completed; Sunny, Snowy, or half-day Rainy:
6:00 am to 12:30 pm - Bluebell Town Hall
1:00 pm to 5:30 pm - Blubell Town Entrance
6:00 pm to midnight - Bluebell Town Hall
Monday, after the tunnel is completed; Sunny, Snowy, or half-day Rainy:
6:00 am to 10:30 am - Bluebell Town Hall
10:30 am to 1:30 pm - (walking through the tunnel to Konohana)
1:30 pm to 4:00 pm - Konohana Town Hall
4:00 pm to 7:00 pm - (walking through the tunnel to Bluebell
7:00 pm to midnight - Bluebell Town Hall
Sunday through Saturday; Stormy or full-day Rainy:
6:00 am to midnight - Bluebell Town Hall
---
Help and Admin Contact | Site Map | Harvest Moon News | Privacy Policy | Twitter | Game Credits