Emiko
This mysterious maiden lives behind the waterfall south of your farm. She maintains the water shrine in a secret world that most people can't get to. Emiko is a timid person, and since her duities with the shrine is a solitary task, she enjoys your visits.
The path to Emiko's water shrine can not be unlocked until you've reached your second year in the game. Leave your farm area on a non-rainy day between 9:00 pm and 2:00 am and you'll discover something unusual with the waterfall by Lloyd's house. As you investigate the waterfall, you will observe a path leading through it. As you go down the path, you'll meet Emiko for the first time.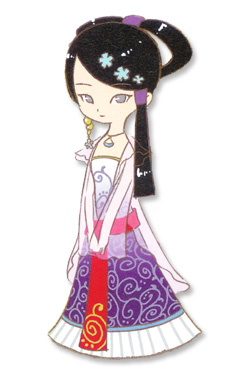 Birthday: Spring 5
Wrapping Paper Color: Blue
Favorite Farm Animal: Cat, Dog, Chick, Chicken
Rival: NONE
Special Gift (+800 FP): Soy Milk Pudding
Horror Gift (-1000 FP): Ultimate Curry
Notes: Emiko's marriage is different than the Others girls. Her Black Heart Event is the event where you unlock her for the first time, so she only has Purple, Blue, and Yellow heart events. Before you can propose, you must meet an additional requirement of giving her at least 120 gifts. The wedding will be at the waterfall shrine, instead of at the town plaza, with just the two of you in attendance.
Emiko won't accept any bug or fish as a gift, and you can't go into her shrine on a rainy day.
Schedule:
Sunday through Saturday - Sunny, Cloudy, or Snowy

6:00 am to 8:00 pm: inside the waterfall shrine
8:00 pm to 12:00 am (midnight): outside the waterfall shrine
Simple Item Gifts
| | |
| --- | --- |
| +500 FP | Magic Water |
| +150 FP | Fall Tea Leaves, Asparagus, Strawberry, Orange, Turnip, Pumpkin, Chamomile, Califlower, Cabbage, Cucumber, Chestnut, Walnut, Yam, Potato, Onion, Cherry, Toy Flower, Corn, Tomato, Eggplant, Carrot, Pineapple, Banana, Yellow Pepper, Spring Tea Leaves, Bell Pepper, Pink Cat Flower, Grape, Blueberries, Spinach, Magic Blue Flower, Magic Red Flower, Muscat, Matcha Tea, Mint, Moondrop Flower, Peach, Radish, Lavendar, Apple |
| -200 FP | Stone, Branch, Rice Ball, Fodder, Weed, Material Stone |
| -500 FP | Blue Necklace, Blue Bracelet, Blue Brooch, Red Wine, Fall Wine, Empty Can, Adamantite, Amethyst, Strawberry Wine, Horse Treat, Emerald, Orichalcum, Orange Wine, Yellow Brooch, Yellow Ring, Gold, Silver, Scrap Metal, Chestnut Wine, Black Necklace, Small Coin, Ore Rock, Fish Fossil, Coffee Pack, Gold Coin, Fish Bone, Sangria, Sandrose, Four Seasons Wine, Champagne, Silver Coin, White Wine, Diamond, Cherry Wine, Chicha, Letter in a Bottle, Legendary Treasure, Copper, Animal Medicine, Poisonous Mushroom, Topaz, Tomato Wine, Long Boots, Summer Wine, Chicken Feed, Pineapple Wine, Honey Wine, Banana Wine, Spring Wine, Beer, Pink Diamond, Pink Brooch, Blueberry Wine, Bronze Coin, Peridot, Fluorite, Light Blue Brooch, Blue Ring, Mithril, Green Bracelet, Green Brooch, Green Ring, Moon Stone, Purple Necklace, Purple Bracelet, Purple Brooch, Purple Ring, Agate, Lumber, Peach Wine, Snowball, Apple Wine, Ruby, Rose Wine, Pet Food |
Cooked Recipe Gifts

+500 FP
Appetizer: Tofu, Cold Tofu, Boiled Tofu, Yuba Tofu

Others: Soy Milk

+150 FP
Salad: Onion Salad, Turnip Salad, Caprese Salad, Tomato Salad, Paprika Marinade, Macaroni Salad, Potato Salad, Mixed Salad, Pasta Salad

Appetizer: Fried Okara, Steamed Mushrooms, Sandwich, Chop Suey, Fruit Sandwich, Roasted Mushrooms, Roasted P.Mushrooms

Main Dish: Rice Porridge, Okara, Milk Rice Porridge, Vegetable Stir Fry

Others: Oolong Tea, Sencha Tea, Summer Tea. Puer Tea

-200 FP
Salad: Herb Salad,

Soup: Asparagus Soup, Vichyssoise, Onion Soup, Pumpkin Soup, Corn Soup, Spaghetti Soup, Herb Soup, Bouillabaise, Miso Soup, Radish Soup,

Appetizer: Fried Tofu, Soft-Boiled Egg, Gazpacho, Sautéed Turnips, Fish Paste, Cauliflower Sauté, Curry Bread, Curry Dumpling, Galette, Quiche, Pot Sticker, Cream Croquette, Dried Tofu, Corn Cereal, Croquette, Boiled Potato, Jelly Bread, Scone, Dashi Egg, Egg Rice, Egg Rice Bowl, Cheese Dumpling, Egg Custard, Chinese Dumpling, Tempura, Tofu Steak, Miso Eggplant, Seaweed Stew, Herb Pasta, Herb Bread, Butter Roll, Hash Browns, Spring Roll, Fish & Chips, Focaccia, Raisin Bread, French Fries, French Toast, Popcorn, Potato Pancake, Steamed Bread, Baked Yam, Roasted Corn, Roasted Eggplant, Boiled Egg, Cabbage Rolls, Herb Sandwich

Main Dish: Inari Sushi, Udon Noodles Oil Fondu, Okonomiyaki, Marinated Fish, Sushi, Omelet Rice, Omelet, Spicy Curry, Carpaccio, Curry Rice, Mushroom Rice, Milk Curry, Milk Stew, Gratin, Chestnut Rice, Fish Stew, Sashimi, Cold Soba Noodles, Supreme Curry, Stew, Shimeji Rice, Mixed Rice, Cheese Croquette, Cheese Fondu, Sushi Bowl, Tempura Noodles, Tempura Soba, Tempura Rice, Tomato Fondu, Dry Curry, Doria, Rainbow Curry, Farmer's Breakfast, Seaweed Curry, Paella, Spaghetti, Pizza, Pink Fondue, Penne Pasta, Macaroni & Cheese, Meuniere, Fried Egg, Fried Udon, Fried Rice Balls, Grilled Fish, Yakisoba, Fried Rice Noodles, Fried Rice, Vegetable Curry, Raclette, Risotto, Herb Porridge,

Dessert: Bamboo Dumplings,

Others: Café au Lait, Cappachino, Hot Coffee, Hot Milk

-500 FP
Others: Beer (Glass), Champagne (Glass), Cherry Wine (Gls), Chestnut Wine Gls, Chicha (Glass), Honey Wine (Glass), Orange Wine (Gls), Red Wine (Glass), Fall Wine (Glass), Strawb. Wine (Gls), 4 Season Wine Gls, White Wine (Glass), Tomato Wine Glass, Summer Wine (Gls), Pineapple Wine Gls, Banana Wine (Gls), Spring Wine (Gls), Berry Wine (Glass), Peach Wine (Glass), Apple Wine (Glass), Rose Wine (Glass), Failed Dish
Purple Heart Event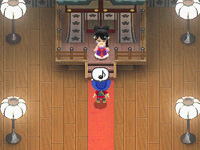 » Enter the waterfall shrine
» 5:00 pm to 7:00 pm
» Sunny, Cloudy, or Snowy weather
» Not on a Bazaar or Festival day
» Emiko has 10,000 FP or more
» You have given her 30 or more gifts
Emiko wants to ask you a question; you give her so many gifts, and she wonders if you are a person of great wealth.
You bet. I'm loaded! (-2000 FP)
It seems that you can get anything you want in the world. She explains every object has a spirit, and if you have too many objects then you can't connect with their spirits. Maybe someday you'll understand.
No, but I like to give. (+2000 FP)
Emiko can tell you value the spirit of the items that you give. She thanks you for your gifts and would like to know where the gifts came from.
Blue Heart Event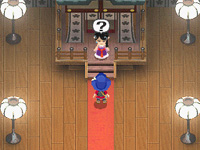 » Enter the waterfall shrine
» 5:00 pm to 7:00 pm
» Sunny, Cloudy, or Snowy weather
» Not on a Bazaar or Festival day
» Emiko has 20,000 FP or more
» You have given her 50 or more gifts
» You have unlocked the second crop field
» You have seen the Purple Heart Event
Today, Emiko has a question to ask. You have such a gentle aura, so she is curious to know what you do. She doesn't understand what a "farm" is, so you show her some things you do like water crops and plant seeds. Emiko figures that must be why you have such a gentle aura, but it must be tough to be responsible for so many animal lives.
Yea. It's a pain. (-3000 FP)
Emiko guesses that the animals you take care of must feel the same towards you. Perhaps you should care more about them.
They're like my family. (+3000 FP)
She's pleased with your positive attitude. Your animals are lucky to have a owner like you. Emiko reminds you to never lose your compassion.
Yellow Heart Event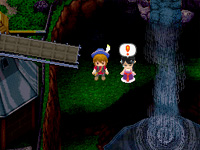 » Walk through the waterfall
» 12:00 am (midnight) to 2:00 am
» Sunny or Cloudy weather
» Not Winter season
» Not on a Bazaar or Festival day
» Emiko has 40,000 FP or more
» You have given her 80 or more gifts
» You have seen the Blue Heart Event
Emiko is glad to see you; she decided that she wants to go outside and look at the world that you've talked about, but she's never done it before. She's afraid to go by herself.
I'll go with you! (+4000 FP)
She figured she could count on you, and the two of you head outside.
Emiko is amazed by what she sees, and thinks everything is very pretty. The outside world is full of the spirits of living things. Emiko thanks you for accompanying her, but she has to go back to her world. She hopes to see you again soon.
Maybe some other time. (-5000 FP)
She's disappointed in you, and she storms off back to her shrine.
Extra Marriage Requirements
Besides the required Big Bed, 60,000 FP, and all heart events, you have to of given her 120 or more gifts before she will accept your Blue Feather.
Emiko's Fortune Telling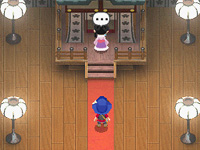 » Walk into the waterfall shrine
» 6:00 am to 9:00 am - Sunny or Cloudy weather
» Spring, Summer, and Fall
» Year 2 and later
» Emiko at 40,000 FP or higher
This is an event that can be viewed multiple times. Simply walk into the shrine behind the waterfall and Emiko will offer to use the water to tell your fortune. You can accept her offer ("Let's go for it") or turn it down ("Actually, never mind"). Even if you don't want your fortune told at the time, you can come back later and trigger the event again.
If you accept her offer, Emiko will use the shrine to try and predict a fortune. The fortunes don't have any affect in the game. They're mainly informational hints on how to be a better farmer.
Emiko can't tell your fortune during the Winter season because the waterfall is frozen.