Full report:
http://so94atg8.blogspot.com/2010/11/f1148-ps3wii.html
Farming:
The main characters can use magic of spirit wands to help with crop growth.
New weapon: iaitou (居合刀)
Iaitou are katanas specially made for iaijutsu (attacking with the momentum of sword-drawing).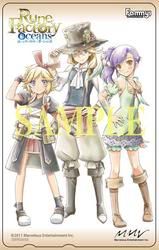 Characters:
-That short, blonde girl in a long coat is Elena. She's an expert on golems, and is responsible for the maintenance of Ymir.
(In summary: she's a smith who looks like a little girl, makes golems, and talks in a rude way. The article doesn't confirm whether she's James' little sister.)
-Mikoto is hired to safeguard this island. She has a long ponytail.
-Joe is a treasure hunter with spikey purple red hair and googles, who searches the sea for treasures. A troublemaker who likes playing pranks.
-Bacchus is Joe's grandpa. He's very old yet still strong, and drinks at the pub every day. He looks like a Viking.
-Gray is the priest. He's a kind person trusted by people.
Antagonists:
-The goblin captain is a leader of pirates.
-A mysterious man whose face is entirely obscured by a mask and a hood.
Festivals:
-Fireworks
-Swimsuit contest
-Jumbo lottery: held at Day 27 of each month, winning an item through roulette