Finally playing this Hm in 6 year (in game) I got build the hot spring
Request Eileen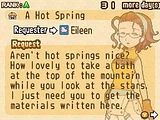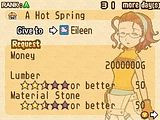 After you Completed the request Hot Spring will be like this:
And if you go to go in the hot spring time will be pass
And Now Your Hot Spring Ready Enjoy
Ah What a great Bath
After you completed request about Hot spring from Eileen
Now She will Post request About Unlock THE MINE
Here the request: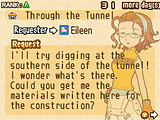 She Need
*500.000 G
*10 Lumber (2,5 Star)
*10 Material Stone (2,5 star)
Second Quest
*1.000.000G
*10 Lumber (2,5 Star)
*10 Material Stone (2,5 star)
She will post the same request after you complete the first request
because mine will be like this (North & South)
If you in mine, you must carry "Night Vision" with you (Oracle Alchemy:Strawberry + Carrot + Flourite)
To see further because the mine is so dark & scary.....
There are many interesting thing you will be found in Mine
Like This One
just like ore stone, when weather is rainy you can get the chance to find a RARE ORE!!
Don't Forget to carefully in MINE because you will be attack by BATS!!!
And The Geyser Sprout UP from the floor
Once you trapped with the geyser you will be send out to "Waterfall Basin"
So be careful!!!
Now, What will we do in mine?
Unlike the previous Harvest moon . HM tale of two towns don't need hammer to get the GEMS
Because you Foraging "GEMS" On the cracked wall or crystal stone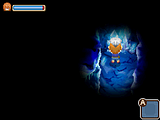 WOW DIAMOND 4,5 star Yay
What You Can Get By Foraging In Mine
*Common Scrap Metal
*Bronze,Silver,Gold
*Mithril,Adamantite,Sandrose,Mythic Stone,Orichalc
*Ruby,Agate,Jade,Amethyst,Topaz,Peridot,Fluorite
*Stone Tablet
*Ore stone
*Diamond,Pink diamond
*etc
Now that's about MINE GUYS
Happy Mining!!!!
A Second Home
After we completed the renovation our both farm to 100%
Now in next month Eileen will be post a request about
YOUR SECOND HOME
This true here the request
as you completed her request
what she DO?
I don't know why she need too many Item and money althought she just give you a KEY!!
And NOW You can go to both farm to stay
KONO AND BLUE!!
PS: If you go to your second home this look like a same if you live in there
but your second home not have a trophy(if you get from festival)
In The Same Day
Where I get the MONEY yo say!!
Well Me and My girl friend tried to always trading crops (WaterMelon 5 Stars) via multiplayer mode
and make it into another item (Cured,Drink,etc) of course my own profit too (Crops,Livestock,Mining,etc)
and now after one month trading I got that money!!
Thank You!!! Honey!!!
Although this already published by FOGU but I enjoy Share this To you ALL!!
There are Five King Fish Available in the game
"Snapping Turtle"
Only appear when weather Stormy in Summer,30cm
You can catch this by "Bare Handed Fishing"
In Both Location/Blue-Low&Kono-Low
Description"A King Turtle.Can it run fast?"
The King Fish Caught By Rod Fishing
"Dragon Carp"
The next King fish is Dragon Carp
Appear in Spring Season when weather sunny,155cm
In Kono-Mid (TOP),Fishing Rod
Description"A King Fish. Has a beautiful coloring."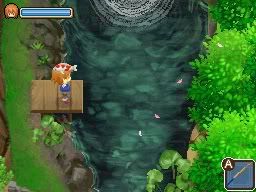 "Giant Catfish"
Appear in Summer when weather is Rainy,170cm
In Blue-High&Kono-mid(Bottom),Fishing Rod
Description"A King Fish. Comes out in the rain."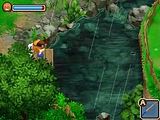 "Giant Salamandar"
Only appear in Fall enter the area after 00.00am,185cm
In Kono-High,Fishing Rod
Description"A King Fish. Comes out at night."
PS:"I always almost pass out To catch this king fish because the fish hard to catch
and the time it appear always after 04.00am"
"Giant Huchen"
Only appear in Winter and must catch the other King Fish First!!!,200cm
In Kono/Blue-High area,Master Rod
Description"A King Fish. Most legendary of fish."
PS:"I spend 3 days of winter to find this King Fish and finally I Found IT!!"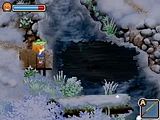 Alright that all about KING FISH If you have question about The King Fish Just Post in this TOPIC OK!!!
You can increase your overall stamina points to a maximum of 300. Randomly on the bulletin board you'll find a request from the Oracle. If you complete her request then you'll receive Magic Water as a reward. You can only obtain 10 Magic Waters in the game and after that, they won't appear anymore. When you drink a Magic Water you'll increase your stamina points by 10. And your stamina will be UPGRADE When once you drink it.
And this one too.
After you give the request.
After you get the Magic water once you drink it
Look!! your Stamina Bar Goes up longer than before.
I will update again again and again, about something missing.