I have a bad feeling my Pokemon party is going to be swamped with Fire-types.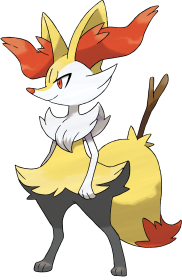 I WANT.
This is easily my favourite middle-stage Fire-type starter since Quilava. I can't wait to see its final stage. :D
Then of course there's Charmander, and I absolutely love Pyroar (though I'm not sure which gender I like more - they're both awesome). I've always kept my teams fairly balanced (usually having no more than two of the same type of Pokemon), but there are so many great Fire Pokemon to pick from this time around, and Fire has always been my favourite type. Let's hope their second types (assuming Fennekin eventually gets one) will help to balance them out if I do decide to go with all three of them.
Overall, I'm really liking the Pokemon this generation has given us so far. It'll be a hard choice deciding who I want for my party.