Bachelors of Beacon Town
If you are playing as the girl main character, there are five potential boy marriage candidates you can woo; more become available if you buy the separate Download Content for the Ps4 or Switch editions of the game. To get married you'll need to raise your sweetie's friendship music notes by giving gifts and talking with him. Romantic events trigger as you raise your music note friendship level with the boys. Each fellow has three love events that trigger as you raise your friendship music note level.
After the third romance event, and with a little bit more affection, most of the candidates will trigger a confession event by greeting you inside your farm house in the morning, where they'll take you to a romantic place to confess their feelings towards you. This confession is not a dedication or lock-in for that candidate; you can continue to raise your music notes with the other guys after being confessed to, triggering their confession events too. The Lighthouse may need to be fixed for the confessions to trigger.
Edward's and Gareth's confessions are a little different than the rest and require you to trigger them by walking into a specific location.
When playing as the boy main character, you will see the first and second event as a friendship event.
Information about marriage candidate Soleil can be found on the Soleil information page.
---
Dean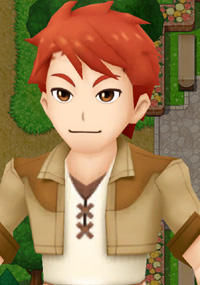 When he was younger, Dean was too sick to go outside, so he spent a lot of time looking through guidebooks of flowers. He's been captivated by flowers ever since. Dean spend a lot of time taking care of his mom, Carol. Dean will often be outside their house or somewhere close by.
He moves back to Beacon Town after you fix their house during your journey to locate the second lighthouse tablet.
Birthday: Spring 21
Loved gifts (hearts): flowers
Liked gifts (notes): Apple
Romantic Events
Walk from your farm to Beacon Town to see Dean help Sally with picking out a flower for her mom.
Exit your farm to the mountain to find Dean awestruck over discovering some wild flowers.
Visit Carol's house to see Dean having some troubles picking red roses or tulips to give as a gift to a friend.
Confession: Farm house in the morning, where together you go to view flowers along the mountain path.
---
Cyril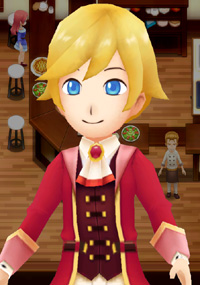 Cyril left for a journey to discover how the world is outside of his aristocratic circle. While he grew up with servants, chefs, and others caring for his needs, he felt he needed to try things out himself. He ended up stranded on Beacon Island after being swindled of his traveling money by another person, but it is a good opportunity to be independent for once. Since Cyril was sheltered most of his life, he tends to be a bit gullible though in a sweet way.
He will appear as you locate the third lighthouse tablet.
Birthday: Spring 14
Loved gifts (hearts): Carnation, Pink Pansy, Yellow Dahlia
Liked gifts (notes): Apple, Mosquitofish, Strawberry, Orange
Romantic Events
Walk into Beacon Town and you'll find Cyril exhausted on the ground (again). You'll hear stories about his misadventures and boost his confidence.
Exit your farm to the mountain to see Tabitha, Sally, Elise watching Cyril ride a horse until he eventually hurts his ankle when dismounting.
Walk from Beacon Town to the Beach area to see Cyril pondering a letter sent to him from his family, summoning him to return home. He is reluctant to leave though.
Confession: Farm house in the morning. Head to the beach to talk about the reason why he doesn't want to go home.
---
Edmond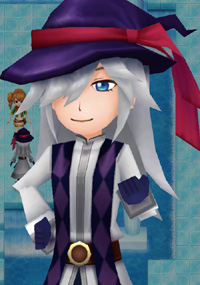 Edmond is a scholarly wizard who is also researching what happened to the lighthouse and the impact it has on Beacon Island. He has become a master of mythical arts, and as such he no longer ages! Edward is actually over one hundred years old, though you couldn't tell just by his appearance. He is teacher to Tabitha and Gareth, who both respect their master's wisdom (even though they don't really expect each other). Watching his two apprentices bicker back and forth seems to bring a fatherly smile to Edmond's face.
You'll first meet Edmond as you work through unlocking third lighthouse tablet, though he'll pop up after you set the first stone tablet.
Birthday: Winter 2
Loved gifts (hearts): Seashell, Poinsettia, gem ores, gems, Fried Egg
Liked gifts (notes): Flour, Mushroom, tree fruit, milk (all qualities), egg (all qualities), sheep and donkey wool (all qualities)
Disliked gifts: jam, Sugar, Salt, Stone, Glass Material, metal ores, metals, lumber
Romantic Events
Unlock Gareth and Tabitha, then walk to Beacon Town from the beach. Edward gets stuck breaking up an argument between his apprentices.
Walk from the beach to the lighthouse area to listen to Edward's story about how he was almost relieved when the lighthouse's light faded. Mysterious...
Walk into the Goddess Spring to find Edmond visiting the Harvest Goddess. The topic of eternal youth pops up.
Confession: Walk from your farm into the mountain area at night after 9pm to watch the stars.
---
Gabriel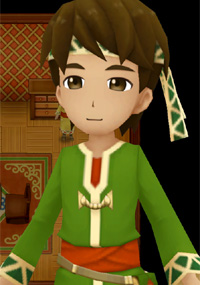 Gabriel lives with his mom Sofia and little brother Michael. He is a little bit shy and has an easier time talking to animals than with normal people. Gabriel cares for all types of animals and can often be found inside of your livestock barn on your farm. He hopes to someday become the world's best livestock herder.
You'll meet Gabriel and his family after you obtain an Axe to repair the bridge to their shop in the mountain area, then repair Sofia's shop.
Birthday: Fall 28
Loved gifts (hearts): Grilled Piranha, Strawberry Jam, Fried Egg
Liked gifts (notes): Corn, Blueberry, Pumpkin, Mushroom, Strawberry
Disliked gifts: Grapefruit
Romantic Events
Walk from your farm to the Mountain at night to see Gabriel give animal medicine to the bobcat.
Walk into Sofia's house to learn from Sophia how Gabriel wants to be a master animal caretaker.
Walk into Sofia's house to see Sofia selling milk, eggs, wool, and trying to interest customers in her "handsome" son. Since there's no other takers, Sofia suggests you might be a good match.
Confession: Farm house in the morning. Visit the mountain peak to see the morning view.
---
Gareth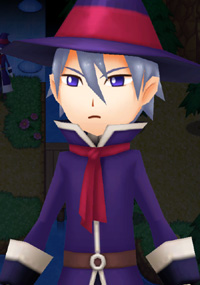 This magical wizard has come to the island to study its lifeforms. He tends to over-evaluate what he sees; even the simplest tasks require much research and study for him. Because of his serious nature, Tabitha tends to pick on him often. Gareth prefers night time, so you'll want to keep an eye on your in-game map to see when he makes an appearance on the island. If you do happen to talk to him when he's inside of his house, he'll use his fortunetelling skills to predict the next day's weather along with other various ingenious insights such as, "It seems that you don't need to water your crops on snowy days."
Gareth will unlock in the game as you locate the fourth lighthouse tablet.
Birthday: Winter 21
Loved gifts (hearts): Poinsettia, Fried Egg
Liked gifts (notes): Apple, Milk, Great Pink Pansy, Orange, Grapefruit
Disliked gifts: fish
Walk from your farm to the Mountain to see Gareth debating whether or not to pick up an apple off the ground that had "fell" on the ground, in his words.
Go into his house at night when Gareth is inside, where he tells you about his family and how he feels about Edmond and Tabitha. The World's Number One Witch will then pop in for a visit.
Visit Gareth's house when Gareth is inside to see him forecasting the weather for Sofia, Gabriel, and Michael. They try to invite him over for breakfast but Gareth is uncomfortable with the offer, though he eventually accepts. Their family bonds interests Gareth, and he wonders what it would be like to live with someone you love.
Confession: Walk from your farm to the lighthouse area.