Friend Event - Frank's Romance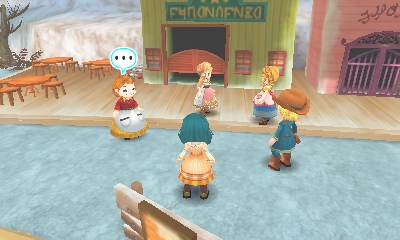 Walk from Crossroads to South Westown
10:00 to 16:00
Any day of the week
Sunny weather
Frank has more than 20,000 FP
As you walk up the path to your uncle's house you'll bump into Wayne, who is also here to see Frank to drop off a delivery. The two of you hear a voice coming from the house. Does Frank have a visitor? You vaguely hear your uncle say "I love you..." and how he likes this mysterious person more than anyone else! Wayne is incredibly curious as to who Frank is whispering these sayings to. Maybe Frank has a girlfriend?! You becomes so excited that you run off to tell everyone else about it before Wayne has a chance to say anything.
Lisette, Carrie, and Miranda are the first ones you run into. Carrie and Lisette are happy for Frank, but Mirana is a bit more skeptical. Lisette wonders what kind of person she is, although Wayne admits that you guys didn't actually see her. The young ladies continue to fantasize what kind of person this mystery woman is, with Miranda still in disbelief about the sudden news of Frank's romantic relationship.
Frank himself shows up to see what everyone is up to. Lisette congratulates him on his sweetheart status, which leaves Frank puzzled as to what is going on. This is the first he has heard of it! Miranda asks if he was confessing his love to someone back at his house. Frank laughs and explains that he was working on song lyrics. He didn't realize that he was saying it aloud for all to hear. Oops...
Everyone is rather embarrassed about the misunderstanding. Wayne even apologizes to you for not speaking up about what you heard before you ran off. The only one who doesn't seem to be upset about the no-girlfriend news is Miranda, who starts laughing about how silly everyone was being. Carrie tells him that it is fine, as it might actually happen someday. Oh now Frank is rather discouraged. Lisette wanders over to Miranda and tries to tell her that she only now realized what Miranda was thinking, but Miranda brushes her off as a misunderstanding.
On the way back to the farm, Frank feels like everyone was making fun of him. He apologizes for making you worry about his single status. His farm life keeps him satisfied, and he prefers to spend his time doing farm work. He's given up on ever getting married anyway. At this point you can respond that work is more important or that his special someone might be closer than he thinks. Either option will be fine. Frank will explain that he isn't that concerned about getting married, although it would be like seeing a snowball during summer if it actually happens.
Result: +2000 FP with Frank