Light Blue Love Event
The Moderator Takes Control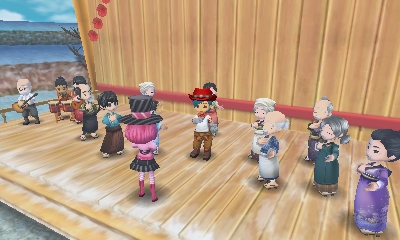 Walk from South Westown to North Westown
9:00 to 12:00
Monday through Friday
Sunny weather
Stephanie has more than 20,000 FP (light blue flower color)
You have seen Cafe Reward Time
You bump into Stephanie along the path. She's busy with work at the moment and had just stopped by the Postio to mail a letter to her family. Now she's off to a nearby town to host a singing contest. Hey, maybe you would like to come with her and watch the contest? The participants this year are really high-level singers!
At the town's festival grounds, Stephanie welcomes the audience to the 20th Song Tournament and then introduces the musicians who will be playing the songs for the contestants. When she moves onto the contestants, the first one doesn't appear on the stage when Stephanie introduces her. Turns out that the contestants are really late and the event might be cancelled! The audience starts to get restless, as some of them traveled a long distance to see the singing. Stephanie detects the growing audience annoyance and suggests that perhaps she could sing them a song? The band starts to play and Stephanie sings a song to the audience.
After it is over, the audience cheers! They're glad they were able to see her sing. Stephanie gets an idea and invites members of the audience to come on stage and sing too. The audience is shy and timid though. Maybe you can do something?
Choice 1: Participate
You take the first step and bravely join Stephanie on stage.
Choice 2: Don't participate
You are cautious too, but Stephanie calls you out onto the stage to sing with her. Oh well!
Now that there's an audience member on stage, the others want to join in too. Soon, the whole audience is on stage singing together. The audience traveled to see the contestants sing, but turns out they enjoyed singing together just as much. Everyone also complements Stephanie on her singing. After everyone leaves, the contest organizer thanks Stephanie. It was inevitable that the contest needed to be cancelled, but thanks to her the event was successful.
Stephanie apologizes for singling you out. She's really happy that you participated on stage with her. You tell her that you enjoyed the event too. Even though she invited you to the contest with her, she's glad you you stepped up. Singing together with you was fun! Since she's an event moderator, she is expected to be skilled in a variety of entertainment. Stephanie even trains her signing while lifting dumbbells or when sitting under a waterfall. She's happiest when signing with children though.
Someday she hopes to have a family of her own, but festival moderators are prohibited from having romantic relationships. It is said that having a household to care for is an obstacle for refining their entertainment arts. At the moment she wants to keep working, but the dream of having a family is something she looks forward to.
Result: +2000 FP with Stephanie
Dark Blue Love Event
Walk from North Westown to South Westown
16:00 to 20:00
Any day of the week
Sunny weather
Stephanie has more than 30,000 FP (dark blue flower color)
You have seen Stephanie's light blue love event
Light Green Love Event
Walk from South Westown to North Westown
18:00 to 22:00
Any day of the week
Sunny weather in Westown
It is not Spring 18 or your birthday
Stephanie has more than 40,000 FP (light green flower color)
You have seen Stephanie's dark blue love event
Your house has been upgraded at least twice
You have the Wedding Ring in your bag
You have participated in at least one Cooking Festival