There are three crops you can grow on your farm that require a special water-based crop field. These crops are slow growing and don't sell for a lot of money, yet can be useful if you want to cook high star rank dishes rather than buying the low-ranked versions at the town shops.
Before you can grow water crops you'll need to create Paddy Farm Circles. This object is for sale at Ludus' shop in North Lulukoko after you have reached Town Rank D with Tsuyukusa. Each water Paddy requires 5 Dry Soil, 5 Soft Soil, and 500 G. You'll then use the Fun Time Workbench to place the Paddy out on your farm, till the soil, and then plant the water crop seedling. The Paddy field cannot be placed in your underground cellar.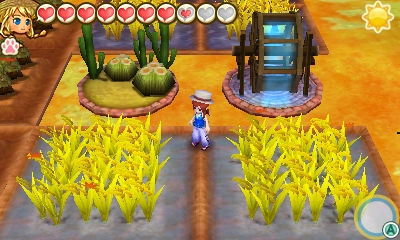 Paddy fields need to be flooded with water for the crops to grow. You can use your watering can to fill up the field. The fields take some time to dry out, so keep an eye on the Paddy and refill using your watering can when you notice the water looks lighter in color. Rain, hurricanes, and snow storms help to fill the Paddy water level too, but regular snow weather won't add to the Paddy water level. It takes approximately 6 days for the water in a Paddy field to completely evaporate if you don't maintain the field water level.
There are several Farm Circles that can reduce the evaporation rate of the water in a Paddy field:
The Watertower has a one-square influence from its four sides. It unlocks once Westown has reached Town Link Rank C and you have harvested a total of 30 water paddy crops.
The Water Wheel affects Paddy fields on all sides at three squares of distance. It is at Ludus' shop once Tsuyukusa has reached town Link Rank B and you have harvested a total of 30 water paddy crops.
Paddy crops do not have the Size crop attribute, so you can use all other fertilizers except for Uniform Fertilizer; water crops will not become giant-sized or golden. The juiciness quality increases rather quickly because the water-based crops grow in a wet environment. When applying fertilizer, the Paddy field act the same as a regular soil field; the quality of the harvested crops from one side is independent of the other side. Fertilizer applied to one side of the Paddy field will not transfer through the water to the other side.
Wasabi can be grown all year long, but Rice and Sticky Rice can only be planted during Spring season for a Fall harvest. Paddy crops will be harvested by using your sickle. For Rice and Sticky Rice, the crop will change to a brighter shade of brown in Fall. For Wasabi, you'll see the tuber emerging out of the water.
Paddy Crop Varieties
Crop Name
Seeds
Grow Time
Regrows
Profit


1 Star / 5 Stars


Rice
Tsuyukusa
Ra Man's General Goods
240 G
Tsuyukusa is Rank D
60 days
No Regrow
66 G | 154 G

Sticky Rice
Tsuyukusa
Ra Man's General Goods
240 G
Tsuyukusa is Rank C
60 days
No Regrow
66 G | 154 G

Wasabi
Tsuyukusa
Ra Man's General Goods
500 G
Tsuyukusa is Rank C
20 Days
No Regrow
150 G | 350 G
Note: For converting your harvested Sticky Rice back into seedling for replanting next Spring, it first needs to be processed by using the Grinder Farm Circle (this is the case in the Japanese version of the game too). Regular Rice and Wasabi can be converted back into seedlings with the Seed Maker without any additional processing.
You can buy harvested Rice at Ittetsu's booth inside of Ra Man's, but he doesn't sell Wasabi crop or Sticky Rice crop. He does sell processed Rice and processed Sticky Rice too.