April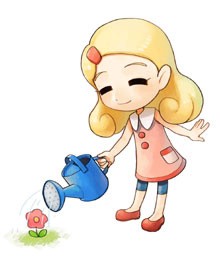 April is the daughter of the Hillsville florest, Iris. The two ladies come to the valley in search of exotic flowers to use in their bouquets. April is still learning about flower arrangements, so she is a little unsure of her abilities. She is also a little bit shy, but wants to be more outgoing. Perhaps becoming better friends with you will help her bloom.
You'll find April in front of your house on Wednesdays and Thursdays, so she is pretty easy to track down. She doesn't sell any flower seeds, but her mother will buy flowers from you at a higher price than Sam does as well as sell flower seeds for you to grow in the valley.
Birthday:
Schedule:
In front of your house on Wednesdays and Thursdays, 10:00 am to 6:00 pm.
Wanders the valley on Mondays and Fridays.
April's Bouquets
April's requests will be for flower. Starting at Request #6, you'll need to have restored the valley's seasons so that you may grow the flowers in the appropriate season for them to mutate into new colors.
No.
Items Requested
Notes
Reward


(Mouseover to View)

1
3 Pink Pansy
Seeds are 60 G at Iris' shop
5 Yellow Pansy Seeds
2
6 Pink Pansy
Same as before
5 Purple Pansy Seeds
3
3 Marguerite
6 Pink Pansy
Marguerite Seeds are 60 G each at Iris' shop
Recipe for Fertilizer
4
6 Marguerite
1 Tulip
Tulip Seeds are 50 G each at Iris' shop
Recipe for Berry Blend (fertilizer)
5
3 Sunflower
6 Marguerite
6 Pink Dahlia
Sunflower Seeds are 60 G at Iris' shop after you unlock Summer. Pink Dahlia Seeds are 50 G at Iris' shop
Recipe for Tomato Blend (fertilizer)
6
6 Sunflower
2 White Dahlia
2 Yellow Dahlia
Plant Pink Dahlia during Summer to randomly grow white and yellow ones.
Recipe for Corn Blend (fertilizer)
7
3 Cosmos
6 Sunflower
6 Carnations
Carnation Seeds are 65 G each and Cosmos Seeds are 60 G each after you unlock Fall.
Recipe for Barley Blend (fertilizer)
8
6 Cosmos
3 Sunny Red
3 Pink Carnations
Plant Cosmos during Fall to randomly grow Sunny Red. Plant Carnation during Fall to randomly grow pink ones.
Recipe for Durum Wheat Blend (fertilizer)
9
6 Pink Roses
6 Red Roses
6 Purple Pansy
Plant Pink Pansy during Winter to randomly grow purple ones.
Recipe for Organic Compost (fertilizer)
10
6 White Roses
6 Blue Roses
6 Viola
Viola are a mutation of Purple Pansys. Sell Purple Pansys to Iris to unlock the seeds, then grow Purple Pansys during Winter.
5 SP Organic (fertilizer)
Love Events
Love Event 1
Talk to April when she is in front of your house on Wednesdays or Thursdays. She thanks you for the flowers you supplied for her first request, and comments on how neat she thinks you are. April admires you for being the first to find the Lost Valley, and loves the fresh air and green plants. She asks if you have any recommendations where she can see more of it.
Choice 1: I could show you my house

Your house is probably really cozy, but April is uncomfortable imposing such a thing on you.

Result: +1% Chemistry

Choice 2: The Harvest Goddess Spring

The spring where the Harvest Goddess lives sounds like a lovely place. You take her to the spring, where she is awed by its beauty. Afteward, she thanks you for taking here there. April had a really good time.

Result: +4% Chemistry

Choice 3: Not really, no

April is a little disappointed. She assumes that because you see this place every day, nothing really seems that special to you.

Result: +1% Chemistry
Love Event 2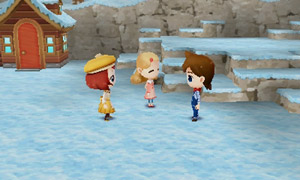 Walk from the valley to your farm house area on Wednesday or Thursday when April is in front of your house and you've finish April's Bouquet 4. You'll see April and Emily talking to each other. When you walk up to greet them, Emily threatens that if you are ever mean to her friend, you'll have to answer to her! You understand, and Emily heads back out to work at the bakery.
April likes a lot of things about Emily. She's so perky and pretty! April wonders if she should try to be more like her friend.
Choice 1: You don't need to change.

She laments that she doesn't have Emily's sunny personality. She just needs to have some confidence in herself to talk to other people. You encourage her, which she thinks is sweet. She promises to try harder.

Result: +4% Chemistry

Choice 2: Be more outgoing!

April doesn't think she can be outgoing right away, but she's going to aim for it.

Result: +1% Chemistry

Choice 3: I don't think you can...

Yes, you're probably right. Even if April emulates Emily, she could never really be like her.

Result: +1% Chemistry
Love Event 3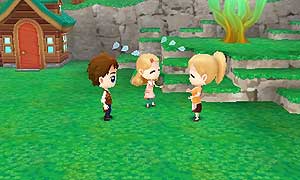 Talk to April when she is in front of your house on Thursday or Friday after you have completed April's Bouquet 6. She seems very happy today; even her mom noticed how cheery she is because you have come to talk with her. April is embarrased as her mom continues on about how April waits for you to come by.
After Iris leaves, April apologizes and asks you to forget what her mother had said.
Choice 1: If you say so...

April thanks you for your understanding.

Result: +1% Chemistry

Choice 2: I've already forgotten.

She's glad that you're already forgotten about what her mom said.

Result: +1% Chemistry

Choice 3: Were you waiting for me?

Yikes! April denies it and accuses you of teasing her. She finally admits that she was actually looking forward to seeing you.

Result: +4% Chemistry
Love Event 4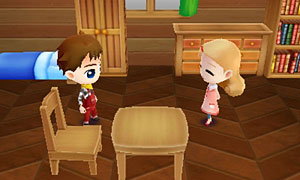 Talk to April when she is in front of your house on Wednesday or Thursday after you have finished the April's Bouquet 8 request. April wants to tell you something, but she is shy about it. You invite her inside of your farm house for a bit of privacy. Inside the house, April says she just really wanted to see you and didn't mean to be pushy, but she wonders why you've gone out of your way to do so much for her.
Choice 1: You're important to me.

Your kind words mean a lot to April.

Result: +4% Chemistry

Choice 2: Somebody had to.

April apologizes for taking advantage of your kindness.

Result: +1% Chemistry

Choice 3: I have my reasons.

Well, you're not like anyone else she knows.

Result: +1% Chemistry