The Cheese Factory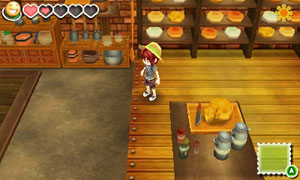 The cheese shaped shed will process your milk and eggs into products that sell for more money. You can buy the blueprint for the Cheese Factory from Cabin Country at the Trade Depot for 40,000 G. You'll need to combine 10 Small Lumber, 15 Lumber, 10 Black Stone, and 3 Gold ore. The ore can be found by traveling to the Safari and digging at the mine point, or at Mistel's Antique Shop for 15,000 G each. You can't find it while diving like you can with Iron and Copper.
Inside the Cheese Factory there are three sections:
The Curdling Pot will coagulate the milk into green cheese, which is fresh cheese that hasn't been aged yet.
A Maturing Rack where you can place your green cheese for a few days so it will mature into aged cheese.
A Fermenter pot that can turn milk into yogurt or butter, and eggs into mayonnaise.
Making cheese requires two steps: first put the milk into the Curdling Pot, and after it has been processed you'll receive green cheese. The pot-made cheese sells for the same price as milk, so there's no increase in profit when selling it in this form. The next step is to put the green cheese on the maturing shelf, where you can let the plain cheese mature or you can add herbs or other types of cheese to increase the sell price.
Yogurt and mayonnaise just involves using the Fermenter. Yogurt requires combining milk with herbs or fruit, butter requires combining milk and Oil with optional herbs, and mayonnaise is mixing eggs and Oil with herbs.
If you win the Moo-Moo or Cluck-Cluck Festivals, your brand will affect the sell price of your products. Bronze rank is a 110% increase, silver rank is a 120% increase, gold rank is a 130% increase, and platinum rank is a 150% increase. There isn't a higher brand than platinum. The prices shown here are based on no rank (100%).
Curdling Pot
Name
Ingredients
Process Time
Profit


1 Star | 3 Stars | 5 Stars

Green Cheese
Milk
35 minutes
240 G | 400 G | 560 G
Green Cheese +
Milk +
35 minutes
720 G | 1200 G | 1680 G
Jersey Green Cheese
Jersey Milk
35 minutes
480 G | 800 G | 1120 G
Jersey Green Cheese +
Jersey Milk +
35 minutes
1440 G | 2400 G | 3360 G
Zebu Green Cheese
Zebu Milk
40 minutes
600 G | 1000 G | 1400 G
Zebu Green Cheese +
Zebu Milk +
40 minutes
1800 G | 3000 G | 4200 G
Maturing Rack
Name
Ingredients
Process Time
Profit


1 Star | 3 Stars | 5 Stars

Cheese
Green Cheese
7 hours
300 G | 500 G | 700 G
Cheese +
Green Cheese +
7 hours
720 G | 1200 G | 1680 G
Jersey Cheese
Jersey Green Cheese
7 hours
840 G | 1400 G | 1960 G
Jersey Cheese +
Jersey Green Cheese +
7 hours
1560 G | 2600 G | 3640 G
Zebu Cheese
Zebu Green Cheese
7 hours
960 G | 1600 G | 2240 G
Zebu Cheese +
Zebu Green Cheese +
7 hours
1920 G | 3200 G | 4480 G
Gorgonzola Cheese
Green Cheese + Great Green Cheese
8 hours
1200 G | 2000 G | 2800 G
Roquefort Cheese
Jersey Green Cheese + Great Jersey Green Cheese
8 hours
2160 G | 3600 G | 5040 G
Stilton Cheese
Zebu Green Cheese + Great Zebu Green Cheese
8 hours
2640 G | 4400 G | 6160 G
Herb Cheese
Green Cheese + Rosemary
7 hours, 30 minutes
360 G | 600 G | 840 G
Herb Cheese +
"Green Cheese +" + Basil
7 hours, 30 minutes
840 G | 1400 G | 1960 G
Jersey Herb Cheese
Jersey Green Cheese + Rosemary
7 hours, 30 minutes
960 G | 1600 G | 2240 G
Jersey Herb Cheese +
"Jersey Green Cheese +" + Basil
7 hours, 30 minutes
1680 G | 2800 G | 3920 G
Zebu Herb Cheese
Zebu Green Cheese + Rosemary
7 hours, 30 minutes
1080 G | 1800 G | 2520 G
Zebu Herb Cheese +
"Zebu Green Cheese +" + Bail
7 hours, 30 minutes
2040 G | 3400 G | 4760 G
Fermenter
Name
Ingredients
Process Time
Profit


1 Star | 3 Stars | 5 Stars

Yogurt
Milk + Mint
3 hours
300 G | 500 G | 700 G
Yogurt +
"Great Milk +" + Mint
3 hours
960 G | 1600 G | 2240 G
Jersey Yogurt
Jersey Milk + Mint
3 hours, 30 minutes
660 G | 1100 G | 1540 G
Jersey Yogurt +
"Jersey Milk +" + Mint
3 hours, 30 minutes
1680 G | 2800 G | 3920 G
Zebu Yogurt
Zebu Milk + Mint + Aloe
3 hours, 30 minutes
840 G | 1400 G | 1960 G
Zebu Yogurt +
"Zebu Milk +" + Mint + Aloe
3 hours, 30 minutes
2160 G | 3600 G | 5040 G
Fruit Yogurt
Milk + Honey + Banana + Peach
4 hours, 30 minutes
1140 G | 1900 G | 2660 G
Fruit Yogurt +
"Milk +" + Polyfloral Honey + Banana + Peach
4 hours, 30 minutes
1800 G | 3000 G | 4200 G
Jersey Fruit Yogurt
Jersey Milk + Honey + Orange + Apple + Cherry + Mango
4 hours, 30 minutes
1620 G | 2700 G | 3780 G
Jersey Fruit Yogurt +
"Jersey Milk +" + Polyfloral Honey + Orange + Apple + Cherry + Mango
4 hours, 30 minutes
2640 G | 4400 G | 6160 G
Zebu Fruit Yogurt
Zebu Milk + Honey + Grape + Kiwi + Lemon + Muscat
4 hours, 30 minutes
1680 G | 2800 G | 3920 G
Zebu Fruit Yogurt +
"Zebu Milk +" + Polyfloral Honey + Grape + Kiwi + Lemon + Muscat
4 hours, 30 minutes
3000 G | 5000 G | 7000 G
Butter
Milk + Oil
10 minutes
360 G | 600 G | 840 G
Butter +
"Milk +" + Oil
10 minutes
960 G | 1600 G | 2240 G
Jersey Butter
Jersey Milk + Oil
10 minutes
660 G | 1100 G | 1540 G
Jersey Butter +
"Jersey Milk +" + Oil
10 minutes
1680 G | 2800 G | 3920 G
Zebu Butter
Zebu Milk + Oil
10 minutes
840 G | 1400 G | 1960 G
Zebu Butter +
"Zebu Milk +" + Oil
10 minutes
2160 G | 3600 G | 5040 G
Herb Butter
Milk + Oil + Thyme
15 minutes
480 G | 800 G | 1120 G
Herb Butter +
"Milk +" + Oil + Chamomile
15 minutes
1080 G | 1800 G | 2520 G
Name
Ingredients
Process Time
Profit


1 Star | 3 Stars | 5 Stars

Jersey Herb Butter
Jersey Milk + Oil + Lavender
15 minutes
780 G | 1300 G | 1820 G
Jersey Herb Butter +
"Jersey Milk +" + Oil + Sage
15 minutes
1800 G | 3000 G | 4200 G
Zebu Herb Butter
Zebu Milk + Oil + Laurier
15 minutes
960 G | 1600 G | 2240 G
Zebu Herb Butter +
"Zebu Milk +" + Oil + Bergamot
15 minutes
2280 G | 3800 G | 5320 G
Mayonnaise
Egg + Oil
15 minutes
204 G | 340 G | 476 G
Mayonnaise +
Gold Egg + Oil
15 minutes
480 G | 800 G | 1120 G
Silkie Mayonnaise
Silkie Egg + Oil
15 minutes
300 G | 500 G | 700 G
Silkie Mayonnaise +
Golden Silkie Egg + Oil
15 minutes
720 G | 1200 G | 1680 G
Araucana Mayonnaise
Araucana Egg + Oil
15 minutes
420 G | 700 G | 980 G
Araucana Mayonnaise +
Golden Araucana Egg + Oil
15 minutes
1200 G | 2000 G | 2800 G
Herb Mayonnaise
Egg + Oil + Thyme
20 minutes
240 G | 400 G | 560 G
Herb Mayonnaise +
Golden Egg + Oil + Chamomile
20 minutes
516 G | 860 G | 1204 G
Silkie Herb Mayo
Silkie Egg + Oil + Lavender
20 minutes
336 G | 560 G | 784 G
Silkie Herb Mayo +
Golden Silkie Egg + Oil + Sage
20 minutes
756 G | 1260 G | 1764 G
Araucana Herb Mayo
Araucana Egg + Oil + Laurier
20 minutes
456 G | 760 G | 1064 G
Araucana Herb Mayo +
Golden Araucana Egg + Oil + Bergamot
20 minutes
1236 G | 2060 G | 2884 G