The Pottery Studio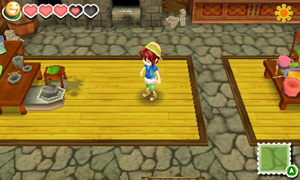 The Pottery Studio can be used to craft ceramics to sell at the Trade Depot or to give as gifts, but they aren't to be used as decorations in your farm house. To build the Pottery Studio, buy the blueprint from the Sakura Country vendor for 40,000 G. The shed requires 10 Small Stone, 15 Stone, 10 Soft Soil, and 10 Solid Soil. You can receive soil in exchange for completing a vendor's message board request or by purchasing it directly from the Silk Country vendor. Ashe sells Soft Soil for 600 G each and Solid Soil for 900 G each. As basic as it sounds, you can't simply go around picking up dirt off the ground to be used for construction materials.
Inside the pottery shed there are three machines:
The wheel can be used to throw your clay pots into specific shapes.
The kiln will cook the thrown pots into fired pots.
The glazing bench can add color to your baked ceramics.
The Pottery Studio is a three-step process: 1) throw the pot, 2) bake it in the kiln, and 3) apply glaze. You can't just jump from step 1 to step 3. Each recipe correlates with a finished product, so if you start a Green Clay Cup then you have to fire it as a Green Fired Cup and finally paint it as a Green Glazed Cup.
Using the pottery shed takes some investment on your part because the soil required to throw the pots will (most often) be purchased from the Silk Country vendor. Asche's shop inventory will have a limited number of Dry Soil (300 G), Soft Soil (600 G), and Solid Soil (900 G) each time she comes to town. Soil does not have a Star Rank, and neither do any of the resulting products made using the pottery shed, so you're just working with hard price numbers. By calculating the cost of materials compared to the sale of the 3-step finish product, you'll receive between 37% and 42% return on investment if you bought all your materials. The more complex the items that you craft, the greater ROI you'll earn. You will still come out ahead in overall profit, so it all depends on how much you're willing to spend to make money.
Potter's Wheel
Name
Ingredients
Process Time
Profit


No Star Rank

Light Br. Ceramic Cup
Dry Soil
1 hour, 20 minutes
200 G
Green Ceramic Cup
Dry Soil
1 hour, 20 minutes
200 G
Coppery Ceramic Cup
Dry Soil
1 hour, 20 minutes
200 G
Black Ceramic Cup
Dry Soil
1 hour, 20 minutes
200 G
White Ceramnic Cup
Dry Soil
1 hour, 20 minutes
200 G
Light Br. Ceramic Bowl
Soft Soil
1 hour, 20 minutes
350 G
Green Ceramic Bowl
Soft Soil
1 hour, 20 minutes
350 G
Coppery Ceramic Bowl
Soft Soil
1 hour, 20 minutes
350 G
Black Ceramic Bowl
Soft Soil
1 hour, 20 minutes
350 G
White Ceramic Bowl
Soft Soil
1 hour, 20 minutes
350 G
Light Br. Ceramic Plate
Solid Soil
1 hour, 20 minutes
500 G
Green Ceramic Plate
Solid Soil
1 hour, 20 minutes
500 G
Coppery Ceramic Plate
Solid Soil
1 hour, 20 minutes
500 G
Black Ceramic Plate
Solid Soil
1 hour, 20 minutes
500 G
White Ceramic Plate
Solid Soil
1 hour, 20 minutes
500 G
Light Br. Ceramic Pot
Dry Soil + Soft Soil
1 hour, 20 minutes
550 G
Green Ceramic Pot
Dry Soil + Soft Soil
1 hour, 20 minutes
550 G
Coppery Ceramic Pot
Dry Soil + Soft Soil
1 hour, 20 minutes
550 G
Black Ceramic Pot
Dry Soil + Soft Soil
1 hour, 20 minutes
550 G
White Ceramic Pot
Dry Soil + Soft Soil
1 hour, 20 minutes
550 G
Ceramic Doll
Soft Soil + Solid Soil
1 hour, 20 minutes
900 G
Big Ceramic Pot
Dry Soil + Soft Soil + Solid Soil
1 hour, 20 minutes
1050 G
Kiln
Name
Ingredients
Process Time
Profit


No Star Rank

Unglazed Light Br. Cup
Light Br. Ceramic Cup
20 hours
400 G
Unglazed Green Cup
Green Ceramic Cup
20 hours
400 G
Unglazed Coppery Cup
Coppery Ceramic Cup
20 hours
400 G
Unglazed Black Cup
Black Ceramic Cup
20 hours
400 G
Unglazed White Cup
White Ceramic Cup
20 hours
400 G
Unglazed Light Br. Bowl
Light Br. Ceramic Bowl
20 hours
700 G
Unglazed Green Bowl
Green Ceramic Bowl
20 hours
700 G
Unglazed Coppery Bowl
Coppery Ceramic Bowl
20 hours
700 G
Unglazed Black Bowl
Black Ceramic Bowl
20 hours
700 G
Unglazed White Bowl
White Ceramic Bowl
20 hours
700 G
Unglazed Light Br. Plate
Light Br. Ceramic Plate
20 hours
1000 G
Unglazed Green Plate
Green Ceramic Plate
20 hours
1000 G
Unglazed Coppery Plate
Coppery Ceramic Plate
20 hours
1000 G
Unglazed Black Plate
Black Ceramic Plate
20 hours
1000 G
Unglazed White Plate
White Cerammic Plate
20 hours
1000 G
Unglazed Light Br. Pot
Light Br. Ceramic Pot
20 hours
1100 G
Unglazed Green Pot
Green Ceramic Pot
20 hours
1100 G
Unglazed Coppery Pot
Coppery Ceramic Pot
20 hours
1100 G
Unglazed Black Pot
Black Ceramic Pot
20 hours
1100 G
Unglazed White Pot
White Ceramic Pot
20 hours
1100 G
Unglazed Doll
Ceramic Doll
20 hours
1800 G
Big Unglazed Pot
Big Ceramic Pot
20 hours
2100 G
Glazing Bench
Name
Ingredients
Process Time
Profit


No Star Rank

Deep Brown Cup
Unglazed Light Br. Cup
2 hours, 35 minutes
800 G
Bright Green Cup
Unglazed Green Cup
2 hours, 35 minutes
800 G
Gorgeous Crimson Cup
Unglazed Coppery Cup
2 hours, 35 minutes
800 G
Beautiful Bl.-Gray Cup
Unglazed Black Cup
2 hours, 35 minutes
800 G
Pale Wht.&Jet Blk. Cup
Unglazed White Cup
2 hours, 35 minutes
800 G
Deep Brown Bowl
Unglazed Light Br. Bowl
2 hours, 35 minutes
1400 G
Bright Green Bowl
Unglazed Green Bowl
2 hours, 35 minutes
1400 G
Gorgeous Crims. Bowl
Unglazed Coppery Bowl
2 hours, 35 minutes
1400 G
Beautiful Bl.-Gray Bowl
Unglazed Black Bowl
2 hours, 35 minutes
1400 G
Pale Wht.&Jet Blk. Bowl
Unglazed White Bowl
2 hours, 35 minutes
1400 G
Deep Brown Plate
Unglazed Light Br. Plate
2 hours, 35 minutes
2000 G
Bright Green Plate
Unglazed Green Plate
2 hours, 35 minutes
2000 G
Gorgeous Crims. Plate
Unglazed Coppery Plate
2 hours, 35 minutes
2000 G
Beautiful Bl.-Gray Plate
Unglazed Black Plate
2 hours, 35 minutes
2000 G
Pale Wht.&Jet Blk. Plate
Unglazed White Plate
2 hours, 35 minutes
2000 G
Deep Brown Pot
Unglazed Light Br. Pot
2 hours, 35 minutes
2200 G
Bright Green Pot
Unglazed Green Pot
2 hours, 35 minutes
2200 G
Gorgeous Crims. Pot
Unglazed Coppery Pot
2 hours, 35 minutes
2200 G
Beautiful Bl.-Gray Pot
Unglazed Black Pot
2 hours, 35 minutes
2200 G
Pale Wht.&Jet Blk. Pot
Unglazed White Pot
2 hours, 35 minutes
2200 G
Pointing Doll
Unglazed Doll
3 hours
3600 G
Big Pretty Jadeite Pot
Big Unglazed Pot
4 hours
4200 G