The Spice Factory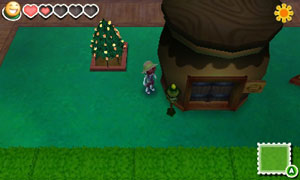 The Spice Factory will convert raw materials into cooking staples such as Flour, Oil, and jams. To build the shed you can buy the blueprint from Wheat Country at the Trade Depot for 40,000 G. The building requires 10 Small Lumber, 15 Lumber, 15 Stone, and 5 Black Stone.
Inside the building are three areas:
The Spice Maker makes Oil, Salt, Sugar, Chili Powder, and jams.
A little-purpose Vat that turns soybeans into Soy Sauce or Miso.
The Grinder will mill ingredients into flour. It can even make Chicken Feed!
In general you probably won't use this building very often. Most of the basic cooking staples can be purchased from vendors at the Trade Depot or received as a reward for completing board requests from Jonas. If you want cooking ingredients that are more than the basic .5 Star Rank then you can create them yourself using the Seasoning Shed; although you can't purchase Rice Flour, Breadcrumbs, Cocoa Powder, Almond Butter, or any of the jams from the vendors.
Grinder
Name
Ingredients
Process Time
Profit


1 Star | 3 Stars | 5 Stars

Rice
Rice Stalk
15 minutes
360 G | 600 G | 840 G
Rice Flour
Rice
15 minutes
480 G | 800 G | 1120 G
Flour
Wheat
15 minutes
360 G | 600 G | 840 G
Bread Crumbs
Bread
15 minutes
216 G | 360 G | 504 G
Cocoa Pack
Cocoa
15 minutes
600 G | 1000 G | 1400 G
Chicken Feed
Corn
5 minutes
25 G (no Star Rank)
Vat
Name
Ingredients
Process Time
Profit


1 Star | 3 Stars | 5 Stars

Soy Sauce
Soybean
1 day
360 G | 600 G | 840 G
Miso
Soybean
2 days
360 G | 600 G | 840 G
Spice Maker
Name
Ingredients
Process Time
Profit


1 Star | 3 Stars | 5 Stars

Salt
Rock Salt
15 minutes
252 G | 420 G | 588 G
Sugar
Sugar Cane
15 minutes
252 G | 420 G | 588 G
Spice
Chili Pepper
15 minutes
480 G | 800 G | 1120 G
Oil
Olive
30 minutes
120 G | 200 G | 280 G
Vegetable Jam
Spinach + Sugar
1 hour
600 G | 1000 G | 1400 G
Strawberry Jam
Strawberry + Sugar
1 hour
804 G | 1340 G | 1876 G
Pineapple Jam
Pineapple + Sugar
1 hour
1188 G | 1980 G | 2772 G
Watermelon Jam
Watermelon + Sugar
1 hour
2256 G | 3760 G | 5264 G
Kiwi Jam
Kiwi + Sugar
1 hour
552 G | 920 G | 1288 G
Peach Jam
Peach + Sugar
1 hour
456 G | 760 G | 1064 G
Cherry Jam
Cherry + Sugar
1 hour
480 G | 800 G | 1120 G
Banana Jam
Banana + Sugar
1 hour
552 G | 920 G | 1288 G
Mango Jam
Mango + Sugar
1 hour
720 G | 1200 G | 1680 G
Apple Jam
Apple + Sugar
1 hour
516 G | 860 G | 1204 G
Grape Jam
Grape + Sugar
1 hour
552 G | 920 G | 1288 G
Chocolate Spread
Cocoa + Sugar
1 hour
840 G | 1400 G | 1960 G
Orange Jam
Orange + Sugar
1 hour
600 G | 1000 G | 1400 G
Blueberry Jam
Blueberry + Sugar
1 hour
420 G | 700 G | 980 G
Milk Spread
Milk + Sugar
1 hour
600 G | 1000 G | 1400 G
Yogurt Spread
Yogurt + Sugar
1 hour
660 G | 1100 G | 1540 G
Herb Spread
Mint + Lavender + Sugar
1 hour
480 G | 800 G | 1120 G
Almond Butter
Almond + Butter
1 hour
720 G | 1200 G | 1680 G