Ice Country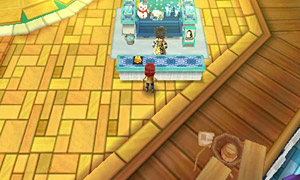 Ice Country will typically be the sixth vendor that players unlock at the Trade Depot, as it has less requirements than Tropical Country. Katrina will set up her frozen booth according to the schedule on your Desk Calendar, and she will sell few regularly-stocked items. Her main selling points are construction blueprints and the last-level farm tool blueprints.
While Asche at Silk Country sells a small amount of Ice per visit, Katrina sells a lot more of it. You'll use this item for making smoothies and ice cream in your kitchen, and for constructing the Iceberg expansion within the Safari. You'll need to use 900 Ice in the area's construction, and buying it three at a time from Asche is incredibly inefficient. Katrina will sell up to 99 Ice when she visits, and Ice is also given to you as a reward for completing special shipment requests from her.
Katrina doesn't have any animals or cooking recipes for sale.
To unlock Ice Country, you need to ship a total of 3 million G to the other vendors, be in year 2 or later, have Rose Country unlocked, and ship the following items, depending on the difficulty mode you are playing in:
Original mode = 100 fences, 200 decorations, 200 garden objects, 100 streets, 100 furniture, and 100 wallpaper/flooring
Seedling mode = 70 fences, 140 decorations, 140 garden objects, 70 streets, 70 furniture, and 70 wallpaper/flooring
General Items
Item Name
Price
Season
Requirements
Wardrobe
Penguin Costume
67,000 G
Any
Spring of year 3 or later
Others
Elli Leaves
4400 G
Any
Spring of year 2 or later
Orichalcum
17,000 G
Any
Spring of year 3 or later
Mithril
17,000 G
Any
Spring of year 3 or later
Philosopher's Stone
777,777 G
Any
Spring of year 4 or later
Old Coin
400 G
Any
(None)
Ice
1000 G
Any
Winter of year 1 or later
Blueprints
Item Name
Price
Requirements
Fences
White Fence Set
2500 G
Ship 300,000 G to Ice Country
Silver Fence Set
3000 G
Ship 500,000 G to Ice Country
Guardrail Set
1500 G
(None)
Decorations
White Bench
3000 G
Ship 250,000 G to Ice Country
Silver Bench
3000 G
Ship 650,000 G to Ice Country
Snow Maiden with Spear
15,000 G
Have 7000 Customer Points with Ice Country
Snow Maiden with Shield
15,000 G
Have 7000 Customer Points with Ice Country
Snowman
8000 G
Have 3000 Customer Points with Ice Country
Igloo
6500 G
Have 3000 Customer Points with Ice Country
Ice Lamp
4300 G
(None)
Snow Cow Statue
10,000 G
Have 4000 Customer Points with Ice Country
Snow Sheep Statue
10,000 G
Have 4000 Customer Points with Ice Country
Snow Bird Statue
10,000 G
Have 4000 Customer Points with Ice Country
Blue Illuminated Tree
2400 G
(None)
Blue Illuminated Pole
2600 G
(None)
White Framed Ball
3500 G
Have 2000 Customer Points with Ice Country
Silver Framed Ball
4000 G
Ship 500,000 G to Ice Country
White Star Ball
3700 G
Have 3500 Customer Points with Ice Country
Pur. Octagon Ornament
3800 G
Have 2500 Customer Points with Ice Country
White Octagon Ornament
3800 G
Have 3000 Customer Points with Ice Country
Silver Octagon Ornament
4300 G
Ship 500,000 G to Ice Country
Silver Cone
4400 G
Ship 650,000 G to Ice Country
White Checkered Blocks
3400 G
Have 4000 Customer Points with Ice Country
Silver Checkered Blocks
3900 G
Ship 650,000 G to Ice Country
White Star Dice
4100 G
Have 5000 Customer Points with Ice Country
Silver Star Dice
4500 G
Ship 750,000 G to Ice Country
Mechanical Penguin
25,000 G
Ship 3000 objects to Ice Country
Item Name
Price
Requirements
Gardening
White Rose Pot
1400 G
(None)
Wh. Rose Flowerbed
2200 G
(None)
Mammoth Topiary
3500 G
Own the Ball Topiary and Double Ball Topiary blueprints and ship 100,000 G to Ice Country
Penguin Topiary
3800 G
Own the Ball Topiary and Double Ball Topiary blueprints and ship 100,000 G to Ice Country
Paths
Red Carpet Set
7000 G
Ship 1,200,000 G to Ice Country
Gold Carpet Set
7000 G
Ship 1,500,000 G to Ice Country
House
White Bed
4000 G
Ship 450,000 G to Ice Country
White Double Bed
5000 G
Ship 650,000 G to Ice Country
Silver Storage Box
3000 G
Ship 350,000 G to Ice Country
Lg. Silver Storage Box
4000 G
Own the Lg. Storage box and Silver Storage Box blueprints
Silver Refrigerator
3000 G
Ship 400,000 G to Ice Country
Lge. Silver Refrigerator
4000 G
Own the Large Refrigerator and Silver Refrigerator blueprints
Silver Toolbox
3000 G
Ship 400,000 G to Ice Country
Large Silver Toolbox
4000 G
Own the Large Tool Box and Silver Tool Box blueprints
Silver Material Bin
3000 G
Ship 350,000 G to Ice Country
Lge. Sil. Material Bin
4000 G
Own the Large Material Bin and Silver Material Bin blueprints
Gray Fireplace
3000 G
Winter of year 1 or later
Black Stove
3000 G
Winter of year 1 or later
Red Stove
3000 G
Winter of year 1 or later
White Dining Chair
1800 G
Own the Dining Chair blueprint and ship 500,000 G to Ice Country
White Armchair
3400 G
Own the Armchair blueprint and ship 700,000 G to Ice Country
White Dining Table
2200 G
Own the Dining Table blueprint
White Chest
2000 G
Own the Cabinet blueprint
White Cabinet
2500 G
Own the Closet blueprint
White Club Chair
3200 G
Own the Club Chair blueprint and ship 500,000 G to Ice Country
Settler's Sofa
5200 G
Own the Sofa blueprint and ship 800,000 G to Ice Country
White Coffee Table
2700 G
Own the Dining Table blueprint
High-end Shelf
4800 G
Own the Shelf blueprint and ship 500,000 G to Ice Country
Old-Fashioned Shelf
3700 G
Own the Shelf blueprint and ship 500,000 G to Ice Country
Vintage Shelf
3100 G
Own the Bookshelf blueprint and ship 650,000 G to Ice Country
Old-Fashioned Globe
6500 G
Ship 850,000 G to Ice Country
Item Name
Price
Requirements
Wallpapers/Floors
Star Prism Print
7400 G
Ship 1,500,000 G to Ice Country
Pk. Patterned Tile
4100 G
Ship 750,000 G to Ice Country
Gn. Patterned Tile
4100 G
Ship 750,000 G to Ice Country
Bl. Patterned Tile
4100 G
Ship 750,000 G to Ice Country
Rd. Patterned Tile
4100 G
Ship 550,000 G to Ice Country
Yw. Patterned Tile
4100 G
Ship 550,000 G to Ice Country
Or. Patterned Tile
4100 G
Ship 550,000 G to Ice Country
Wh. Patterned Tile
4100 G
Ship 900,000 G to Ice Country
Stargazer Rug
7400 G
Ship 1,500,000 G to Ice Country
Tools
Philosopher's Hoe
50,000 G
You own the Orichalcum Hoe blueprint
Philosopher's Watering Can
50,000 G
You own the Orichalcum Watering Can blueprint
Philosopher's Sickle
75,000 G
You own the Master Sickle blueprint
Philosopher's Axe
75,000 G
You own the Master Axe blueprint
Philosopher's Hammer
75,000 G
You own the Master Hammer blueprint
Philosopher's Milker
75,000 G
You own the Master Milker blueprint
Philosopher's Clippers
75,000 G
You own the Master Clippers blueprint
Philosopher's Brush
75,000 G
You own the Master Brush blueprint
Clothing Patterns
| Item Name | Price | Requirements |
| --- | --- | --- |
| Snow Coat | 20,000 G | (None) |
| Hat Set #3 | 5000 G | Winter of year 2 or later |
| Accessory Set #7 | 3000 G | (None) |
Hat Set 3 contains Green Newsboy Cap and Ushanka
Accessory Set 7 contains Crimson Trinity Ring, Canary Yw. Clip-Ons, Violet Necklace, and Snow White Choker