There are eight crops that can grow regardless of the season you are currently in. These crops will not wilt when the season changes, making them rather handy to plant if you need something to grow near the end of a season without wasting seasonal seeds.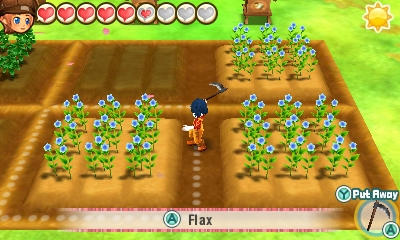 Most of these crops require the use of a sickle when harvesting. Flax, Wheat, Soybeans, Adzuki Beans, Grass, and Sugarcane will be harvested by using your sickle. Since using the sickle typically hurts your crops, you'll want to ensure the grains are mature before pulling out your sickle and slicing the plants. If the ground beneath the crop doesn't get wet when you use your watering can, then the crop is full grown; it is safe for you to hit it with your sickle to harvest, and you won't damage the plant.
Chili Pepper and Cotton do NOT require a sickle to harvest. Just press the A Button on your Nintendo 3DS to pick the crops.
Grass isn't a crop that will earn you much money, but the harvested Fodder will be used for feeding your livestock and pet horse Grass will regrow after you cut it, but will need to be replanted after you have harvested it 30 times. The Fodder obtained from Grass doesn't have any special benefits that would affect an animal's byproduct amount, level, or coat.
Westown Themed Crops
Crop Name
Seeds
Grow Times
Profit


1 Star / 5 Stars


Wheat
Straw Market
200 G
Westown Town Link D
Field (x1): 29 Days
Field (x2): 20 Days
Soft Field (x1): 20 Days
Soft Field (x2): 13 Days
54 G | 126 G

Soybeans
Straw Market
300 G
Westown Town Link Rank B or
Ship 200 grain crops to Westown
Field (x1): 44 Days
Field (x2): 31 Days
Soft Field (x1): 31 Days
Soft Field (x2): 22 Days
90 G | 210 G

Grass/Fodder
Gulliver's
30 G
No Special Requirements
Any field: 3 Days

Regrows:
Any field: 2 Days
1 G | 1 G
Tsuyukusa Themed Crops
Crop Name
Seeds
Grow Time
Profit


1 Star / 5 Stars


Adzuki Beans
Ra Man's
300 G
Tsuyukusa Town Link Rank C or
Ship 200 grain crops to Tsuyukusa
Field (x1): 38 Days
Field (x2): 25 Days
Soft Field (x1): 25 Days
Soft Field (x2): 16 Days
90 G | 210 G

Chili Pepper
Ra Man's
600 G
Tsuyukusa Town Link Rank B or
Ship 50 Wasabi to Tsuyukusa
Field (x1): 11 Days
Field (x2): 8 Days
Soft Field (x1): 8 Days
Soft Field (x2): 5 Days
174 G | 406 G

Sugarcane
Ra Man's
600 G
Tsuyukusa Town Link Rank B or
Ship 70 Chili Pepper to Tsuyukusa
Field (x1): 15 Days
Field (x2): 11 Days
Soft Field (x1): 11 Days
Soft Field (x2): 7 Days
174 G | 406 G

Cotton
99 G and Up
410 G
Tsuyukusa Town Link Rank C
Field (x1): 11 Days
Field (x2): 8 Days
Soft Field (x1): 8 Days
Soft Field (x2): 5 Days
126 G | 294 G

Flax
99 G and Up
260 G
Tsuyukusa Town Link Rank B or
Ship a total of 100 Cotton
Field (x1): 9 Days
Field (x2): 6 Days
Soft Field (x1): 6 Days
Soft Field (x2): 5 Days
78 G | 182 G
Lulukoko Themed Crops
(None)