Cooking and Cooking Recipes
Your farm house will start out with a kitchen. Check the back room of your house to locate it. To use the kitchen, step up to it and press the B button. You can choose to "Cook from recipe" or "Cook without recipe."
To learn recipes, you can buy cooked dishes from Zephyr Café, Joan's Café, Claire's Café, or Nellie's Café. When you purchase a cooked dish, the recipe will be added into your recipe list. The other way to learn recipes is to simply experiment in your kitchen using the "Cook without recipe" option. If the combination of cooking ingredients you used results in a successful dish, then you will learn the recipe.
You will also need to buy the cooking utensils from the cookware stand at the bazaar, level 25%. The Pot, Frying Pan, and Seasoning Set cost 10,000 G each. There are some recipes that don't require a utensil, but most of them do.
You can find a complete list of your known recipes in your bookcase or kitchen.
Cook From Recipe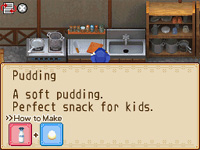 Select this option if you want to cook a recipe that you already know. If you have the ingredients in your rucksack or in your storage house, you can select the recipe and make the cooked dish. The kitchen will automatically select the first "stack" of ingredients you have, which may not be the one with the highest star quality rank. If you want to select different ingredients, just press A on the one you'd rather use.
When you are looking at a recipe, you will see each ingredient with colored background:
A

pink background

means you have to use this specific ingredient in the recipe.
A

blue background

means that this ingredient can be swapped out with another like-ingredient. For example, the Pudding recipe calls for Milk and an Egg; in case you don't have an Egg, it can be exchanged for a Gold Egg or a Black Egg and still make a successful recipe.
If you see a recipe and you can't tell what the ingredients are just by looking at the picture icons, press the X button to swap the recipe to the lower touch screen of your DS. You can then tap on the pictures of the ingredients to get their names.
To cook a recipe you know, select the recipe, press A, select the quantity, and press A again.
Cook Without Recipe
If you want to experiment with combining ingredients together, you can choose to cook without using a known recipe. The kitchen will list all of the items in your rucksack and storage house (press X to swap between the two menus) and to cook, just press A to select your ingredients. When you're done selecting, press the Start button.
If your combined ingredients results in a successful recipe, it will be added to your known list of recipes. If not, you will receive a Failed Dish. Yuck!
You can only discover recipes if you also have the appropriate utensils. You can't combine an Egg and Milk and expect to learn the recipe for Pudding if you don't own the Frying Pan. You will receive a Failed Dish until you own the utensil.
All 239 Cooking Recipes
Besides the basic ingredients for a recipe, you often can add additional ingredients to increase a cooked dishes stamina recovery value. It is more beneficial to sell your cooked dishes than it is to eat them.
Salad Recipes (10)
Name
Utensil
Ingredients
Additions
Profit
.5 stars
Profit
2.5 stars
Profit
5 stars
Turnip Salad
None
Turnip
Asparagus, Cabbage, Carrot, Cauliflower, Cucumber, Onion, Tomato, Yellow Pepper
240 G
430 G
670 G
Tomato Salad
None
Tomato
Asparagus, Cabbage, Carrot, Cauliflower, Cucumber, Onion, Turnip
200 G
360 G
560 G
Onion Salad
None
Onion
Asparagus, Carrot, Cauliflower, Cucumber, Tomato, Turnip
320 G
570 G
890 G
Potato Salad
None
Potato + Milk
Yam
400 G
720 G
1120 G
Mixed Salad
None
Cucumber + (Asparagus or Cabbage or Carrot or Cauliflower or Onion or Tomato or Turnip or Yam or Yellow Pepper)
Asparagus, Cabbage, Cauliflower, Carrot, Onion, Tomato, Turnip, Yam, Yellow Pepper
460 G
830 G
1290 G
Caprese Salad
None
Tomato + Oil + (Cheese or Good Cheese or Great Cheese)
(no additions)
360 G
640 G
1000 G
Herb Salad
Pot
Mint + Chamomile + Lavender
Good Herb Cheese, Good Herb Mayonnaise, Great Herb Cheese, Great Herb Mayonnaise, Herb Cheese, Herb Mayonnaise
240 G
430 G
670 G
Macaroni Salad
None
Spaghetti + Cucumber + (Asparagus or Cabbage or Cauliflower or Herb Spaghetti or Onion or Penne Pasta or Tomato or Turnip)
(no additions)
360 G
640 G
1000 G
Pasta Salad
Pot
Spaghetti + Mixed Salad
(no additions)
640 G
1150 G
1790 G
Paprika Marinade
None
Yellow Pepper + Olive Oil
Herb Cheese, Onion, Radish
560 G
1000 G
1560 G
Soup Recipes (13)
Name
Utensil
Ingredients
Additions
Profit
.5 stars
Profit
2.5 stars
Profit
5 stars
Vichyssoise
Pot
Potato + Onion + Butter
Asparagus, Golden Milk, Jersey Milk, Milk
760 G
1360 G
2120 G
Gazpacho
Pot
Tomato + Cucumber + Onion + Bread
White Wine (Glass), Yellow Pepper
320 G
570 G
890 G
Bouillabaisse
Pot
Onion + Tomato + (Flounder or Olive Oil or Salmon)
(no additions)
560 G
1000 G
1560 G
Corn Soup
Pot
Corn + Butter + (Golden Milk or Jersey Milk or Milk)
(no additions)
400 G
720 G
1120 G
Onion Soup
Pot
Onion + Butter
Cheese
570 G
1030 G
1610 G
Pumpkin Soup
Pot
Pumpkin
Milk, Onion, Potato, Soy Milk
600 G
1080 G
1680 G
Herb Soup
Pot
Chamomile + Onion + (Good Herb Cheese or Great Herb Cheese or Herb Cheese)
(no additions)
680 G
1220 G
1900 G
Asparagus Soup
Pot
Asparagus
Milk, Onion, Soy Milk
480 G
860 G
1340 G
Radish Soup
Pot
Radish + (Golden Milk or Jersey Milk or Milk)
(no additions)
600 G
1080 G
1680 G
Egg Soup
Pot
Egg + Onion
Black Egg
400 G
720 G
1120 G
Soy Milk
Pot
Soybeans + Edamame
(no additions)
320 G
570 G
890 G
Miso Soup
Pot
Miso + (Fried Okara or Onion or Potato or Tofu or Spinach)
(no additions)
520 G
950 G
1470 G
Spaghetti Soup
Pot
Spaghetti + (Bouillabaisse or Vichyssoise)
(no additions)
1040 G
1870 G
2910 G
Appetizer Recipes (61)
Name
Utensil
Ingredients
Additions
Profit
.5 stars
Profit
2.5 stars
Profit
5 stars
Sautéed Turnips
Frying Pan
Turnip + (Butter or Good Butter or Great Butter)
(no additions)
360 G
640 G
1000 G
French Fries
Frying Pan
Potato + Oil
Grape Oil, Nut Oil
480 G
860 G
1340 G
Potato Pancakes
Frying Pan
Potato + Flour + Oil
(no additions)
560 G
1000 G
1560 G
Hash Browns
Frying Pan
Potato + Flour + Oil + (Herb Butter or Herb Cheese)
(no additions)
560 G
1000 G
1560 G
Boiled Potato
None
Potato + (Butter or Good Butter or Great Butter)
(no additions)
520 G
930 G
1450 G
Cabbage Rolls
Pot
Cabbage
Bread Crumbs, Onion, Tomato, White Bread Crumbs
720 G
1290 G
2010 G
Roasted Corn
Frying Pan
Corn + (Butter or Good Butter or Great Butter)
(no additions)
600 G
1080 G
1680 G
Popcorn
Frying Pan
Corn
(no additions)
400 G
720 G
1120 G
Corn Cereal
Frying Pan
Corn + (Golden Milk or Jersey Milk or Milk)
(no additions)
400 G
720 G
1120 G
Miso Eggplant
None
Eggplant + Miso
Nut Oil, Oil, Pumpkin Oil
440 G
790 G
1230 G
Roasted Eggplant
None
Eggplant
Nut Oil, Oil, Pumpkin Oil
240 G
430 G
670 G
Baked Yam
None
Yam
Butter, Good Butter, Great Butter
160 G
280 G
440 G
Boiled Egg
None
Egg
(no additions)
80 G
140 G
220 G
Soft-Boiled Egg
None
(Black Egg or Golden Egg)
(no additions)
160 G
280 G
440 G
Fried Egg
None
Oil + Egg (Note: Egg is on a blue bkg, but it can not be swapped)
(no additions)
160 G
280 G
440 G
Egg Custard
None
Egg + (Shimeji or Shitake or Truffle)
(no additions)
440 G
790 G
1230 G
Sashimi
None
(Char or Kokanee or Ocean Sunfish or Rainbow Trout or Sculpin or Tuna)
(no additions)
360 G
690 G
1070 G
Fish Paste
None
(Dark Chub or Flounder or Sea Bass)
(no additions)
80 G
140 G
220 G
Cauliflower Sauté
None
Cauliflower + Oil
Butter, Olive Oil
720 G
1290 G
2010 G
Roasted Mushroom
None
Oil + (Shimeji or Shitake or Truffle)
(no additionss)
400 G
720 G
1120 G
Name
Utensil
Ingredients
Additions
Profit
.5 stars
Profit
2.5 stars
Profit
5 stars
Roast P. Mushrooms
None
Oil + Poison Mushroom
(no additions)
40 G
70
110 G
Steamed Mushrooms
None
(Shimeji or Shitake or Truffle)
(no additions)
360 G
640 G
1000 G
Vegetable Stir Fry
None
Oil + Cabbage
Carrot, Green Pepper, Onion, Shimeji, Yellow Pepper
680 G
1220 G
1900 G
Chop Suey
Frying Pan
Oil + Cabbage + Carrot + Shitake
Onion, Shimeji
1040 G
1870 G
2910 G
Sandwich
None
Bread + Cucumber + Tomato
Boiled Egg, Good Mayonnaise, Great Mayonnaise, Mayonnaise
400 G
720 G
1120 G
Fruit Sandwich
None
Bread + Yogurt + (Apple or Banana or Blueberry or Cherry or Grape or Muscat or Orange or Peach or Pineapple or Strawberry)
(no additions)
480 G
860 G
1340 G
Herb Sandwich
None
Herb Bread + Mint + Chamomile + Lavender
Good Herb Mayo, Great Herb Mayo, Herb Mayonnaise
520 G
930 G
1450 G
Raisin Bread
None
Bread + (Grape or Muscat)
(no additions)
360 G
640 G
1000 G
Jelly Bread
None
Bread + (Apple Jam or Blueberry Jam or Grape Jam or Strawberry Jam)
(no additions)
360 G
640 G
1000 G
Herb Bread
None
Bread + (Chamomile or Good Herb Butter or Great Herb Butter or Herb Butter or Lavender or Mint)
(no additions)
320 G
570 G
890 G
Curry Bread
None
Bread + Curry Powder
Oil
280 G
500 G
780 G
Toast
None
(Bread or White Bread)
(no additions)
140 G
250 G
400 G
French Toast
None
Bread + (Black Egg or Egg or Golden Egg)
(no additions)
200 G
360 G
560 G
Steamed Bread
None
Flour + Egg + Yam
(no additions)
240 G
430 G
670 G
Butter Roll
None
Bread + (Butter or Good Butter or Great Butter)
(no additions)
300 G
540 G
850 G
Croquette
Frying Pan
Potato + Oil + Bread Crumbs
Egg
480 G
860 G
1340 G
Cream Croquette
Frying Pan
Potato + Oil + White Bread Crumbs + (Golden Milk or Jersey Milk or Milk)
(no additions)
560 G
1000 G
1560 G
Cheese Croquette
Frying Pan
Potato + Oil + White Bread Crumbs + (Cheese or Good Cheese or Great Cheese)
(no additions)
640 G
1150 G
1790 G
Steamed Dumpling
Frying Pan
Onion + Cabbage + Flour + (Black Egg or Egg or Golden Egg)
(no additions)
620 G
1130 G
1740 G
Curry Dumpling
Frying Pan
Flour + Curry Powder
Apple
320 G
570 G
890 G
Cheese Dumpling
Frying Pan
Flour + (Cheese or Good Cheese or Great Cheese)
(no additions)
320 G
570 G
890 G
Name
Utensil
Ingredients
Additions
Profit
.5 stars
Profit
2.5 stars
Profit
5 stars
Pot Sticker
Frying Pan
Flour + Onion + Cabbage + Shitake
Shimeji
620 G
1130 G
1740 G
Focaccia
None
Flour + Oil + (Good Herb Butter or Great Herb Butter or Herb Butter)
(no additions)
460 G
830 G
1290 G
Quiche
Frying Pan
Flour + Pumpkin + Spinach + Potato
(no additions)
960 G
1720 G
2680 G
Stew
Pot
Flour + Potato + (Asparagus or Cabbage or Carrot or Cauliflower or Milk or Turnip)
(no additions)
590 G
1060 G
1650 G
Tempura
Pot
Flour + Oil + Egg + (Eggplant or Icefish or Shitake or Smelt or Yam)
(no additions)
560 G
1000 G
1560 G
Galette
Pot
Buckwheat Flour + Egg + (Cheese or Good Cheese or Great Cheese)
(no additions)
640 G
1150 G
1790 G
Chinese Dumpling
Pot
Flour + Carrot + Shitake + Shimeji
Cabbage, Onion
560 G
1000 G
1560 G
Seaweed Stew
Pot
Seaweed
(no additions)
280 G
500 G
780 G
Spring Roll
Pot
Rice Flour + Cabbage + (Carrot or Shimeji or Shitake)
(no additions)
800 G
1440 G
2240 G
Tofu
None
Soybeans
(no additions)
200 G
360 G
560 G
Okara
None
Soybeans + Fried Okara + Carrot
(no additions)
440 G
790 G
1230 G
Fried Okara
None
Tofu + Oil
(no additions)
280 G
500 G
780 G
Dried Tofu
Pot
Tofu
(no additions)
200 G
360 G
560 G
Fried Tofu
Pot
Tofu + Flour + (Nut Oil or Oil)
(no additions)
420 G
760 G
1180 G
Boiled Tofu
Pot
Tofu + Soy Milk
Bonito
600 G
1080 G
1680 G
Cold Tofu
None
Tofu + Seaweed
(no additions)
240 G
430 G
670 G
Yuba Tofu
None
Soy Milk
(no additions)
90 G
170 G
260 G
Dashi Egg
Frying Pan
Oil + Black Egg
(no additions)
400 G
720 G
1120 G
Fish & Chips
None
Potato + Flour + Oil + (Black Bass or Three-Lips)
(no additions)
520 G
930 G
1450 G
Scone
None
Flour + Good Butter + Jersey Milk
Fruit Yogurt
710 G
1270 G
1990 G
Main Dish Recipes (57)
Name
Utensil
Ingredients
Additions
Profit
.5 stars
Profit
2.5 stars
Profit
5 stars
Omelet
None
Oil + Milk + (Black Egg or Egg or Golden Egg)
(no additions)
300 G
540 G
850 G
Omelet Rice
Frying Pan
Oil + Milk + Cooked Rice + (Black Egg or Egg or Golden Egg)
(no additions)
360 G
640 G
1000 G
Egg Rice
Frying Pan
Cooked Rice + (Black Egg or Egg or Golden Egg)
(no additions)
200 G
360 G
560 G
Egg Rice Bowl
Frying Pan
Cooked Rice + Seaweed + (Black Egg or Egg or Golden Egg)
(no additions)
520 G
930 G
1450 G
Cheese Fondue
Pot
Bread + (Cheese or Good Cheese or Great Cheese)
(no additions)
320 G
570 G
890 G
Tomato Fondue
Pot
Tomato + Bread + Olive Oil
Cauliflower
390 G
700 G
1090 G
Pink Fondue
Pot
Bread + Cheese + (Red Wine or Red Wine (Glass))
(no additions)
520 G
930 G
1450 G
Oil Fondue
Pot
Bread + Cheese + (Grape Seed Oil or Nut Oil or Pumpkin Seed Oil)
(no additions)
480 G
870 G
1360 G
Raclette
Pot
Potato + (Cheese or Good Cheese or Great Cheese)
(no additions)
520 G
930 G
1450 G
Gratin
Pot
Penne Pasta + Onion + (Cheese or Good Cheese or Great Cheese)
(no additions)
720 G
1290 G
2010 G
Pizza
Frying Pan
Flour + Tomato + (Cheese or Good Cheese or Great Cheese)
(no additions)
400 G
730 G
1140 G
Sushi
None
Cooked Rice + Sashimi
Sea Urchin
640 G
1150 G
1790 G
Sushi Bowl
None
Cooked Rice + Sashimi + (Black Egg or Cucumber or Egg or Fish Paste or Shitake)
(no additions)
700 G
1260 G
1970 G
Grilled Fish
None
(Big Head Carp or Silver Carp or Sweetfish or Three-Lips or Willow Gudgeon)
(no additions)
240 G
430 G
670 G
Fish Stew
Pot
(Dark Sleeper or Gin-Buna or Mackerel or Red-spotted Trout or Silver Goby)
(no additions)
280 G
500 G
780 G
Meuniere
None
Flour + Oil + (Flounder or Masu Salmon or Salmon or Sea Bass)
(no additions)
360 G
640 G
1000 G
Carpaccio
None
Olive Oil + (Flounder or Salmon or Sashimi or Tuna)
(no additions)
620 G
1130 G
1740 G
Marinated Fish
None
Olive Oil + Onion + (Salmon or Sashimi or Tuna)
(no additions)
620 G
1130 G
1740 G
Rice Ball
None
Cooked Rice + Seaweed
Mushroom Rice, Shimeji Rice
280 G
500 G
780 G
Fried Rice Ball
None
Rice Ball + Oil
(no additions)
400 G
720 G
1120 G
Name
Utensil
Ingredients
Additions
Profit
.5 stars
Profit
2.5 stars
Profit
5 stars
Rice Porridge
Pot
Cooked Rice
(no additions)
200 G
360 G
560 G
Herb Rice Porridge
Pot
Cooked Rice + (Good Herb Cheese or Great Herb Cheese or Herb Cheese)
(no additions)
440 G
790 G
1230 G
Milk Rice Porridge
Pot
Cooked Rice + (Golden Milk or Jersey Milk or Milk)
(no additions)
320 G
570 G
890 G
Fried Rice
Frying Pan
Cooked Rice + Oil + (Black Egg or Egg or Golden Egg or Shitake)
Carrot
360 G
640 G
1000 G
Risotto
Pot
Cooked Rice + Oil + Tomato + Onion
Carrot, Cauliflower, Shimeji
520 G
930 G
1450 G
Doria
Pot
Cooked Rice + Onion + Flour + Milk + (Butter or Good Butter or Great Butter)
(no additions)
680 G
1220 G
1900 G
Farmer's Breakfast
Pot
Onion + Potato + Cheese + Butter
Egg, Nut Oil
750 G
1350 G
2100 G
Macaroni & Cheese
Pot
Spaghetti + (Cheese or Good Cheese or Great Cheese)
(no additions)
400 G
720 G
1120 G
Penne Pasta
Pot
Spaghetti + (Herb Oil or Tomato)
(no additions)
640 G
1150 G
1790 G
Mixed Rice
None
Cooked Rice + Carrot + Fried Okara + (Shimeji or Shitake)
(no additions)
560 G
1000 G
1560 G
Mushroom Rice
None
Cooked Rice + Shitake + Shimeji
Fried Okara
400 G
720 G
1120 G
Shimeji Rice
None
Cooked Rice + Shimeji
Fried Okara
440 G
790 G
1230 G
Tempura Bowl
None
Cooked Rice + Tempura
(no additions)
710 G
1270 G
1990 G
Inari Sushi
None
Cooked Rice + Fried Okara
(no additions)
360 G
660 G
1030 G
Dry Curry
Pot
Cooked Rice + Curry Powder
(no additions)
280 G
500 G
780 G
Curry Rice
Pot
Cooked Rice + Curry Powder + Potato + (Good Yogurt or Great Yogurt or Yogurt)
(no additions)
520 G
930 G
1450 G
Vegetable Curry
Pot
Cooked Rice + Curry Powder + Spinach + (Asparagus or Green Pepper or Soybeans)
(no additions)
620 G
1130 G
1740 G
Spicy Curry
Pot
Cooked Rice + Curry Powder + Chili Pepper + (Carrot or Radish or Tomato or Yellow Pepper)
(no additions)
620 G
1130 G
1740 G
Seaweed Curry
Pot
Cooked Rice + Curry Powder + Seaweed
Eggplant, Sea Urchin, Truffle
620 G
1130 G
1740 G
Milk Curry
Pot
Cooked Rice + Curry Powder + (Golden Milk or Jersey Milk or Milk)
(no additions)
620 G
1130 G
1740 G
Name
Utensil
Ingredients
Additions
Profit
.5 stars
Profit
2.5 stars
Profit
5 stars
Rainbow Curry
Pot
Curry Rice + Spinach + Tomato + Seaweed + Jersey Milk
(no additions)
2400 G
4320 G
6720 G
Ultimate Curry
Seasong Set
Rainbow Curry + Seaweed Curry + Failed Dish
Good Fruit Yogurt
4000 G
7200 G
11,200 G
Supreme Curry
Seasoning Set
Rainbow Curry + Milk Curry + Failed Dish
Great Fruit Yogurt
8000 G
14,400 G
22,400 G
Okonomiyaki
Frying Pan
Flour + Cabbage + Oil
Egg, Good Mayonnaise, Great Mayonnaise, Mayonnaise, Udon Noodles
760 G
1360 G
2120 G
Udon Noodles
None
Flour + Fish Paste
(no additions)
240 G
430 G
670 G
Tempura Udon
Pot
Udon Noodles + Tempura
Fish Paste
800 G
1440 G
2240 G
Fried Udon
None
Udon Noodles + Oil
Cabbage, Fish Paste, Green Pepper
360 G
640 G
1000 G
Cold Soba Noodles
None
Buckwheat Flour
(no additions)
200 G
360 G
560 G
Tempura Soba
Pot
Cold Soba Noodles + Tempura
Fish Paste
800 G
1440 G
2240 G
Yakisoba
None
Cold Soba Noodles + Oil
(no additions)
320 G
570 G
890 G
Spaghetti
Pot
Flour + Oil
Olive Oil
200 G
360 G
560 G
Herb Spaghetti
Pot
Flour + Herb Oil + (Good Herb Butter or Great Herb Butter or Herb Butter)
(no additions)
600 G
1080 G
1680 G
Tofu Steak
Frying Pan
Tofu + Oil + Shimeji
(no additions)
400 G
720 G
1120 G
Fried Rice Noodles
None
Rice Flour + Oil + Cabbage + (Carrot or Green Pepper or Onion or Shimeji or Shitake)
(no additions)
280 G
500 G
780 G
Milk Stew
None
Carrot + Onion + (Golden Milk or Jersey Milk or Milk)
(no additions)
620 G
1130 G
1740 G
Paella
None
Cooked Rice + Onion + (Carrot or Tomato or Yellow Pepper)
(no additions)
490 G
890 G
1380 G
Chestnut Rice
None
Cooked Rice + Bottled Chestnut
(no additions)
320 G
570 G
890 G
Dessert Recipes (39)
Name
Utensil
Ingredients
Additions
Profit
.5 stars
Profit
2.5 stars
Profit
5 stars
Yam Dessert
None
Yam + Butter + (Black Egg or Egg or Golden Egg)
(no additions)
360 G
640 G
1000 G
Pumpkin Pudding
Pot
Pumpkin + Butter + (Black Egg or Egg or Golden Egg)
(no additions)
440 G
790 G
1230 G
Chocolate Banana
None
Banana + Chocolate
(no additions)
400 G
720 G
1120 G
Stewed Apples
None
Apple + (Butter or Good Butter or Great Butter)
(no additions)
400 G
720 G
1120 G
Apple Pie
Frying Pan
Apple + Flour + Butter + Egg
Black Egg, Good Butter
640 G
1150 G
1790 G
Pineapple Pie
Frying Pan
Pineapple + Flour + Butter + Egg
Black Egg, Good Butter
640 G
1150 G
1790 G
Cherry Pie
Frying Pan
Cherry + Flour + Butter + Egg
Black Egg, Good Butter
440 G
800 G
1250 G
Strawberry Pie
Frying Pan
Strawberry + Flour + Butter + Egg
Black Egg, Good Butter
440 G
800 G
1250 G
Blueberry Pie
Frying Pan
Blueberry + Flour + Butter + Egg
Black Egg, Good Butter
640 G
1150 G
1790 G
Strawberry Sweet
Frying Pan
Strawberry + Rice Candy
Soy Flour
240 G
430 G
670 G
Sponge Cake
Frying Pan
Flour + Egg
Black Egg
250 G
460 G
710 G
Pudding
Frying Pan
Milk + (Black Egg or Egg or Golden Egg
(no additions)
280 G
500 G
780 G
Soy Milk Pudding
Pot
Soy Milk + (Black Egg or Egg or Golden Egg)
(no additions)
320 G
570 G
890 G
Egg Tart
None
Flour + (Black Egg or Golden Egg)
(no additions)
280 G
510 G
800 G
Cheesecake
None
Egg + Milk + (Cheese or Good Cheese or Great Cheese)
(no additions)
400 G
720 G
1120 G
Pancake
None
Egg + Milk + Flour + Butter + Honey
(no additions)
320 G
570 G
890 G
Donut
None
Flour + Oil + Egg + Milk + Butter
(no additions)
440 G
790 G
1230 G
Cookies
None
Flour + Egg + Butter
(no additions)
360 G
640 G
1000 G
Walnut Cookies
None
Bottled Walnuts + Flour + Egg + Butter
Nut Oil
480 G
860 G
1340 G
Herb Cookies
None
Chamomile + Flour + Egg + (Good Herb Butter or Great Herb Butter or Herb Butter)
(no additions)
560 G
1000 G
1560 G
Name
Utensil
Ingredients
Additions
Profit
.5 stars
Profit
2.5 stars
Profit
5 stars
Chocolate Cookies
None
Chocolate + Cookies
(no additions)
480 G
860 G
1340 G
Ice Cream
None
Black Egg + (Butter or Good Butter)
(no additions)
400 G
720 G
1120 G
Cake
None
Flour + Butter + Egg + Milk
(no additions)
320 G
570 G
890 G
Honey Cake
Frying Pan
Cake + Honey
(no additions)
520 G
930 G
1450 G
Steamed Cake
None
Flour + Milk + Carrot
Egg
300 G
540 G
850 G
Chocolate Cake
Frying Pan
Chocolate + Cake
(no additions)
620 G
1130 G
1740 G
Sweet Dumplings
None
Rice Candy
Soy Flour
200 G
360 G
560 G
Party Cake
Frying Pan
Flour + Good Butter + Black Egg
Golden Egg, Strawberry
800 G
1440 G
2240 G
Choc. Party Cake
Seasoning Set
Chocolate + Party Cake
Strawberry
960 G
1720 G
2680 G
Party Cheesecake
Seasoning Set
Party Cake + (Good Cheese or Great Cheese)
(no additions)
1120 G
2010 G
3130 G
Toasted Rice Candy
Frying Pan
Rice Candy + Seaweed
(no additions)
380 G
690 G
1070 G
Bamboo Dumpling
None
Rice Candy + Summer Tea Leaves
(no additions)
640 G
1150 G
1790 G
Fruit Shiratama
None
Shiratama Flour + two fruit (Apple or Banana or Blueberry or Cherry or Grape or Muscat or Orange or Peach or Pineapple or Strawberry)
(no additions)
600 G
1080 G
1680 G
Chocolate Fondue
Pot
Chocolate + Bread
Apple, Banana, Blueberry, Cherry, Grape, Muscat, Orange, Peach, Pineapple, Strawberry
280 G
500 G
1120 G
Trifle
Frying Pan
Sponge Cake + Black Egg + Jersey Milk + (Apple or Banana or Blueberry or Cherry or Grape or Muscat or Orange or Peach or Pineapple or Strawberry)
(no additions)
640 G
1150 G
1790 G
Baumkuchen
Frying Pan
Flour + Black Egg + (Golden Milk or Jersey Milk)
(no additions)
400 G
720 G
1120 G
Churro
None
Flour + Oil + (Black Egg or Golden Egg)
(no additions)
320 G
590 G
910 G
Mont Blanc
None
Bottled Chestnut + Cake
(no additions)
600 G
1080 G
1680 G
Kurikinton
None
Bottled Chestnut
Yam
230 G
410 G
640 G
Others Recipes (59)
Name
Utensil
Ingredients
Additions
Profit
.5 stars
Profit
2.5 stars
Profit
5 stars
Red Wine (Glass)
None
Red Wine
(no additions)
410 G
740 G
1160 G
White Wine (Glass)
None
White Wine
(no additions)
410 G
740 G
1160 G
Rose Wine (Glass)
None
Rose Wine
(no additions)
860 G
1550 G
2400 G
Champagne (Glass)
None
Champagne
(no additions)
750 G
1350 G
2100 G
Strab. Wine (Gls)
None
Strawberry Wine
(no additions)
750 G
1350 G
2100 G
Tomato Wine Glass
None
Tomato Wine
(no additions)
750 G
1350 G
2100 G
Chicha (Glass)
None
Chicha
(no additions)
750 G
1350 G
2100 G
Pineapple Wine Gls
None
Pineapple Wine
(no additions)
2040 G
3680 G
5730 G
Peach Wine (Glass)
None
Peach Wine
(no additions)
1180 G
2130 G
3310 G
Banana Wine (Gls)
None
Banana Wine
(no additions)
1290 G
2330 G
3620 G
Orange Wine (Gls)
None
Orange Wine
(no additions)
1070 G
1920 G
3000 G
Cherry Wine (Gls)
None
Cherry Wine
(no additions)
800 G
1440 G
2240 G
Apple Wine (Glass)
None
Apple Wine
(no additions)
970 G
1750 G
2730 G
Berry Wine (Glass)
None
Blueberry Wine
(no additions)
1290 G
2330 G
3620 G
Beer (Glass)
None
Beer
(no additions)
510 G
920 G
1430 G
Honey Wine (Glass)
None
Honey Wine
(no additions)
1420 G
2560 G
3980 G
Chestnut Wine Gls
None
Chestnut Wine
(no additions)
1290 G
2330 G
3620 G
Spring Wine (Gls)
Pot
Spring Wine
(no additions)
10,650 G
19,180 G
29,830 G
Summer Wine (Gls)
Pot
Summer Wine
(no additions)
7050 G
12,700 G
19,750 G
Name
Utensil
Ingredients
Additions
Profit
.5 stars
Profit
2.5 stars
Profit
5 stars
Fall Wine (Glass)
Pot
Fall Wine
(no additions)
6640 G
11,950 G
18,590 G
4 Seasons Wine Gls
Seasoning Set
Four Seasons Wine
(no additions)
44,400 G
79,920 G
124,320 G
Sangria
Seasoning Set
Red Wine + 2 fruit (Apple or Banana or Blueberry or Cherry or Grape or Muscat or Orange or Peach or Pineapple or Strawberry)
(no additions)
560 G
1000 G
1560 G
Macha Tea
None
Macha Tea (Can)
(no additions)
1050 G
1900 G
2950 G
Sencha Tea
None
Sencha Tea (Can)
(no additions)
620 G
1130 G
1740 G
Puer Tea
None
Puer Tea (Can)
(no additions)
570 G
1030 G
1610 G
Oolong Tea
None
Oolong Tea (Can)
(no additions)
1050 G
1900 G
2950 G
Straight Tea
Pot
Straight Tea (Can)
(no additions)
480 G
860 G
1340 G
Strawberry Tea
Pot
Strawberry Tea Can
(no additions)
620 G
1130 G
1740 G
Pineapple Tea
Pot
Pineapple Tea Can
(no additions)
3360 G
6040 G
9400 G
Banana Tea
Pot
Banana Tea (Can)
(no additions)
1050 G
1900 G
2950 G
Orange Tea
Pot
Orange Tea (Can)
(no additions)
860 G
1550 G
2400 G
Cherry Tea
Pot
Cherry Tea (Can)
(no additions)
620 G
1130 G
1740 G
Apple Tea
Pot
Apple Tea (Can)
(no additions)
810 G
1460 G
2280 G
Grape Tea
Pot
Grape Tea (Can)
(no additions)
860 G
1550 G
2400 G
Muscat Tea
Pot
Muscat Tea (Can)
(no additions)
890 G
1610 G
2500 G
Blueberry Tea
Pot
Blueberry Tea Can
(no additions)
1050 G
1900 G
2950 G
Mint Tea
Pot
Mint Tea (Can)
(no additions)
540 G
970 G
1530 G
Chamomile Tea
Pot
Chamomile Tea Can
(no additions)
590 G
1060 G
1650 G
Lavender Tea
Pot
Lavender Tea (Can)
(no additions)
590 G
1060 G
1650 G
Name
Utensil
Ingredients
Additions
Profit
.5 stars
Profit
2.5 stars
Profit
5 stars
Spring Tea
Pot
Spring Tea (Can)
(no additions)
2650 G
4780 G
7430 G
Summer Tea
Pot
Summer Tea (Can)
(no additions)
1310 G
2360 G
3670 G
Fall Tea
Pot
Fall Tea (Can)
(no additions)
1070 G
1920 G
3000 G
Gold Tea
Seasoning Set
Gold Tea (Can)
(no additions)
12,960 G
21,710 G
33,770 G
Milk Tea
Pot
Straight Tea (Can) + (Golden Milk or Jersey Milk or Milk)
(no additions)
480 G
860 G
1340 G
Royal Milk Tea
Seasoning Set
Gold Tea + (Golden Milk or Jersey Milk)
(no additions)
12,800 G
23,040 G
35,840 G
Russian Tea
Pot
Straight Tea + (Apple Jam or Blueberry Jam or Grape Jam or Strawberry Jam)
(no additions)
480 G
860 G
1340 G
Apple Jam
Pot
Apple
(no additions)
320 G
570 G
890 G
Strawberry Jam
Pot
Strawberry
(no additions)
160 G
280 G
440 G
Grape Jam
Pot
Grape
(no additions)
400 G
720 G
1120 G
Blueberry Jam
Pot
Blueberry
(no additions)
560 G
1000 G
1560 G
Hot Coffee
Pot
Coffee Pack
(no additions)
320 G
570 G
890 G
Café au Lait
Pot
Hot Coffee + Milk
(no additions)
400 G
720 G
1120 G
Cappuccino
Pot
Hot Coffee + (Golden Milk or Jersey Milk)
(no additions)
480 G
860 G
1340 G
Hot Milk
Pot
(Golden Milk or Jersey Milk or Milk)
(no additions)
240 G
430 G
670 G
Cooked Rice
None
Rice
(no additions)
110 G
200 G
3110 G
Bread
None
Flour
Butter
90 G
170 G
260 G
White Bread
None
Rice Flour
(no additions)
90 G
170 G
260 G
Green Tea
None
Green Tea (Can)
(no additions)
480 G
860 G
1340 G
Peach Tea
Pot
Peach Tea (Can)
(no additions)
960 G
1720 G
2680 G