Marian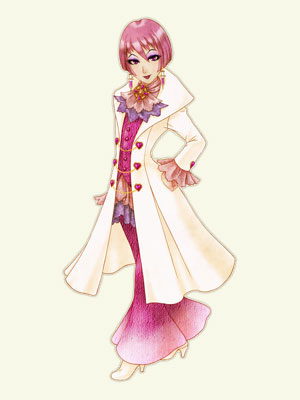 The town's doctor is the fashion-friendly Marian. His medical clinic can be found in the Oak Tree Town Guild Hall, behind Veronica's information counter. Her daughter, Angela, is Marian's assistant. Marian seeks to tie in a person's spirit and inner beauty to their health. Before moving to Oak Tree Town, Marian worked at a large hospital, but changing his course (and fashion sense) to concentrate on pursuing beauty.
Marian and Giorgio are close friends, as they both understand how beautiful minds result in beautiful health. Marian and Klaus have been friends since their school days and were surprised to find out that Marian moved to the same town that Klaus calls home.
His house is in the western side of Oak Tree Town between Jonas' and Klaus' dwellings. Marian stays there in the morning, then goes to the clinic from 8:00 to 17:30. After work he simply goes home. On Sundays he will visit other areas such as Giorgio's farm.
Birthday: Fall 27
Favorite Wrapping Paper Colors: Yellow, Blue, and White
Favorite Outfits: Work Apron, Blue Work Clothes, Aqua Blue V-Neck Dress, Black Smith's Outfit, Short Cheongsam, Sky-Blue Raincoat, Casual Jacket or Casual Dress, Kosovorotka, Bluebell Dress, Dashing Prince Uniform, Yellow High-Neck Jkt., Stylish Blue Jacket, Orange Jacket, White Doctors' Uni., White Habit, Sky Blue Chef's Uniform, White Ninja Garb, Magical Girl Costume, Super Maid's Uniform, Blue Butler's Uniform
Favorite Accessories: White Newsboy Cap, Blue Mini Hat, Wh. Large-Frame Glasses, Stylish Sunglasses, Black Eyepatch, White Eyepatch
Loved or Liked Animals: None
Gift Preferences
Favorite Gift (+1000 FP)
Boiled Radish = Radish. Yep, it is a pretty easy dish to cook! The recipe can be bought from Sakura Country for 1500 G starting in Winter of year 1. Radish Seeds are also sold at Sakura Country during Winter.
Loved Gifts (+500 FP)
Marian likes white flowers (Lily, White Rose, Snowdrop, and Marguerite Daisy), White Pearl, Diamond, and Pink Diamond. An easy gift is the Stethoscope tool, which you can buy from Silk Country for 5500 G each. He also likes Canary yellow accessories.
Some easy cooked recipes are Grilled Fish, Radish Salad, and Simmered Potato. Marian also likes Plum Vinegar Salad, Soy Milk Pudding, Soy Milk Ice Cream, and Mushroom Spaghetti.
Liked Gifts (+300 FP)
Pineapple, Watermelon, Melon, herbs, tree fruit, Cherry Wine, Lemon Wine, Mango Wine, Orange Wine, perfume, bouquets, yogurt, Snow White accessories, Yellow Cloth, Blue Cloth, White Cloth, Blue Downy Tuft, Blue Pearl, Yellow Pearl, Agate, Emerald, Jade, Moonstone, Peridot, Topaz, salad recipes (except Milk Salad), veggie soup recipes (Turnip Soup, Carrot Soup, etc.), soy milk recipes, Grilled Tomato, Roasted Mushrooms, Turnip Stew, Stuffed Tomatoes, Boiled Spinach, Boiled Broccoli, Simmered Eggplant, Shredded Radish, Vegetable Bread, Yogurt Bread, Green Pasta, Sakura Pasta, Spaghetti A&O, Candied Sweet Potato, Chocolate Truffles, Corn Muffin, Cheesecake, Cherry Pie, Blueberry Pie, Herb Pie, Pancakes, Pumpkin Pudding, Pumpkin Ice Cream, Herb Ice Cream, Mushroom Ice Cream, Kiwi Sherbet, Lemon Sherbet, Watermelon Sherbet, fruit shakes, Grass Drink
Disliked Gifts (-300 FP)
Oil, Scrap Ore, Empty Can, Boot, Fish Bone, Fish Feed, fishing bait, Snowball, Honeycomb, butter, cheese, mayonnaise, eels and squid, insects, Iron, Fodder, Mashed Potatoes, Milk Salad, dairy cooked recipes (Milk Salad, Boiled Egg, Buttered Corn, Macaroni and Cheese, etc.), Shrimp Chili, Marlin Steak, Eel Rice Bowl, Cod Rose Pasta, Fried Rice, Doria, Curry Rice, Paella, Potato Bread, Cornbread, Lasagna, Corn Pasta, Carbonara
Hated Gifts (-500 FP)
Poison Mushroom, Borscht, Clam Chowder, Pizza, Gratin, Stew, Cheese Fondue, Corn Stew, Bagna Cauda, Omelet Rice, Spicy Curry
HORROR Gift (-800 FP)
Milk Stew