Maurice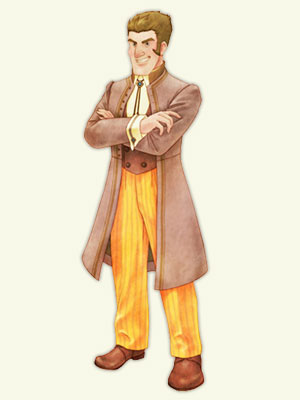 This single father runs the inn next to the Guild Hall. His oldest daughter, Lillie, works as a weather reporter while his youngest daughter, Melanie, spends her time playing and trying to set her dad up with potential spouses. He's a generous soul and doesn't mind giving things for free to those who can't afford to pay. He tends to the needs of his inn's guests, which include Nadi (Room 201), Licorice (Room 202), and Kamil (Room 204).
Maurice doesn't leave his inn very often. He can typically be found behind the check-out counter in the Inn Lobby or in the Living Room area on the first floor. On Tuesdays and Saturdays between 13:00 and 18:00 you can find him in random areas, but then he just goes back to the inn for the rest of the day.
Birthday: Fall 22
Favorite Wrapping Paper Colors: Orange and Red
Favorite Outfits: Boys' Jumpsuit, Girls' Jumpsuit, Orange Work Outfit, Red Hoodie, Yellow Hakama & Apron, Kung Fu Farmer, Golden Coat, Boys' Kimono, Girls' Kimono, Strawberry Hoodie, Blue Down Vest, Red Formal Kilt, Orange Shortalls, Orange Jacket, Red Ninja Garb, Red Cheongsam, Panda Costume, Knight's Armor
Favorite Accessories: Top Hat, Red Tyrolean Hat, Yellow Mini Hat, Brown Cowboy Hat, Black Eyepatch, White Eyepatch
Loved or Liked Animals: None
Gift Preferences
Favorite Gift (+1000 FP)
Eel Rice Bowl = Rice + Eel. The recipe costs 3500 G from Sakura Country starting in Summer of year 3. You can either buy Rice from Silk Country or Sakura Country, or grow it yourself in the Rice Paddy public field. Eel requires you to go fishing using a Sacred Rod at the northwestern fishing dock at the Safari pond. You will need to have caught all of the available fish at that location before the Eel will become available.
Loved Gifts (+500 FP)
An easy loved gift to give to Maurice is Mushroom Soup. The recipe comes from buying at least 6 dishes from Raeger's Restaurant once you own all of the basic recipe sets. Then just combine a mushroom and milk together to make Mushroom Soup.
His other loved gifts are a bit more challenging: Lemon Wine, Bibimbap, Anglerfish Stew, Grouper Stew, King Bait, and Magic Bait. He also likes specific insects: Dorcus Curvidens Beetle, Caucasus Beetle, Hercules Beetle, Megasoma Anubis Beetle, and Megasoma Elephant Beetle.
Liked Gifts (+300 FP)
Refined Bait, Carnation, Hilton Daisy, mushrooms (except Poison Mushroom), fish, Fish Feed, fruit wine, insects, Grilled Fish, Mitten Crab Soup, Sturgeon Soup, Fried Anglerfish, Puffer Stew, Squid Rice, Seafood Omelet Rice, Octopus Pasta, Mushroom Pie, Mushroom Ice Cream
Disliked Gifts (-300 FP)
Weeds, Empty Can, Boot, Scrap Ore, Iron, Pebble, Rock, Honeycomb, Chicken Feed, Pet Food, Rabbit Feed, honey, fruit jam, animal treats, pumpkin cooked recipes (Grilled Pumpkin, Pumpkin Salad, Pumpkin Croquette, etc.), Milk Stew, Milk Soup, sweet potato cooked recipes (Sweet Potato Salad, Sweet Potato Rice, etc.), dessert cooked recipes, drink cooked recipes (tea, juices, shakes, etc.)
Hated Gifts (-500 FP)
Milk Salad, Chocolate Cookie, Chocolate Drink, Chocolate Fondue, Chocolate Ice Cream, Chocolate Pudding, Peach Pie, Pumpkin Ice Cream, Pumpkin Pie, Pumpkin Pudding, Apricot Cake, Grape Cake, Mango Cake, Mango Ice Cream, Mango Juice, Muscat Tart, Almond Caramel, Fruit Punch, Banana Au Lait, Banana Ice Cream
HORROR Gift (-800 FP)
Chocolate Cake