Agate
Agate is the ranger for the Safari Park. She has a soft spot for wild animals, and likes to keep an eye on them to ensure they don't get into dangerous situations. Agate spends a lot of time wandering around the wild areas between the farms and the town, being friendly towards the local creatures. She is has a friendly personality and would love to tell you all about the animals in the area.
Agate is not in the area when you move to Oak Tree Town. Her house is the empty, unlocked place just to the south of Jonas' house in the western side of town. To unlock Agate, walk into the Guild Hall on Fall 1 or later. She will introduce herself and show you how to go to the Safari Park. Agate's role is similar to pilot Charles from Harvest Moon: A New Beginning; she will shuttle you from town to a remote location (and back again). You just have to talk to Vernoica at the Guild Hall and ask about going to the Safari Park.
Alternatively, you can just ride your horse to the Safari Park and bypass Agate's transportation, but only Agate's method allows you to bring your farm animals with you to graze in the Safari.
Birthday: Summer 1
Favorite Wrapping Paper Colors: Orange and Red
Favorite Outfits: Navy Streetwear, Apron Skirt, Boys' Jumpsuit, Girls' Jumpsuit, Orange Work Outfit, Traditional Farmer, Kung Fu Farmer, Boys' Kimono, Girls' Bright Kimono, Blue Down Vest, Yellow Sweater, Funky Jeans, Orange Shortalls, Orange Jacket, Cat Costume, Dog Costume, Bear Costume, Panda Costume, Penguin Costume
Favorite Accessories: Bandana, Cowboy Hat, Sunglasses, White Cat Ears, White Dog Ears, Witch's Hat, Yellow Mini Hat
Loved Animals (+250 FP) All animals
Gift Preferences
Favorite Gift (+1000 FP)
Cold Noodles = Flour + Egg + Cucumber + Tomato. The recipe can be purchased from Suzanne the traveling salesperson. The hiccup is the fact that she's a traveling salesperson. She and the other two, Reiner and Dieter, will visit your house starting after Fall 7 of year 2. You'll receive one of the visitors a minimum of 20 days apart; the longer it is between visits, the greater the chance of seeing one when you exit your house. The salespersons will rotate, and you can't request a specific one. Even then, the item that he/she offers is random and it is set in advance (i.e., you can't just reload your game and hope the person offers something different. I've tried, it doesn't work). You'll have to get lucky and hope that Suzanne sells the Cold Noodles recipe for 3000 G when she stops by.
Loved Gifts (+500 FP)
The simpliest loved gift for Agate is Magic Bait. You can have this crafted by Otmar at his General Store. The shopkeeper will require you to bring him 2000 G, a crab, a prawn, a medium-sized fish, and a large-sized fish. Otmar will combine the four fish together and give you one bag of Magic Bait.
Other items that Agate loves are Pink Diamonds, Zebu Yogurt+, Jersey Fruit Yogurt+, Zebu Fruit Yogurt+, Zebu Green Cheese+, Zebu Herb Cheese+, Rabbit Cloth+, and Suffolk Cloth+.
Liked Gifts (+300 FP)
Head to Otmar's shop and pick up Fish Feed, Pet Feed, Rabbit Feed, or Chicken Feed for 50 G each. If you're looking for something less expensive, you can catch insects for free around the wild areas outside of town.
Agate also likes animal treats, golden crops (Tomato, Strawberry, Carrot, Cabbage, Radish, Cucumber), fruit jams, fruit pies, some fish (Squid, giant fish such as Conger Eel, Black Bass, Salmon, and Arowana), Glass Stone, Turnip Salad, and mushrooms (except for Poison Mushroom).
Disliked Gifts (-300 FP)
Tea-based cooked recipes, tea leaves, Grape, Poison Mushroom, wild materials (Pine Tree Branch, Pebble, Weed, etc.), junk items (Empty Can, Coin), perfume, Soup category cooked recipes, Baked Yam, Baked Tomato
Hated Gifts (-500 FP)
Fish-based cooked recipes (Angler Fish Stew, Grouper Stew, King Crab Stew, Shark Fin Soup, etc.), Spicy Curry, Pumpkin Doria, Cheese Fondue
HORROR Gift (-800 FP)
Tom Yun Goong (cooked recipe)
Flower Events
White Flower Event
Mountain Friends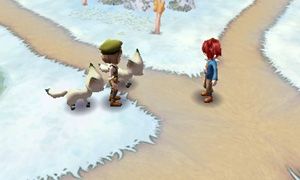 » Walk from your farm area to the Forest Road
» 9:30 to 12:00
» Tuesday, Thursday, or Friday
» Sunny weather
» Agate has 5000 FP or more
Agate is on the mountain path with some foxes, giggling about being ticklish. She explains that she is playing with the little foxes. She was walking by and got tackled by them. Agate asks if you want to play together with them.
Choice 1: You bet!

Result: +2000 FP with Agate

Agate lets the foxes know that you're going to play with them too. The foxes are quite happy, but their energetic movements cause you and Agate to loose balance, and you crash into each other! Agate asks if you are all right (since she ended up landing on top of you) and quickly jumps off when she realizes the strange situation she finds herself in. You are okay though, so she's happy about that. Agate isn't terribly happy with the foxes though, and scolds them for potentially harming you.

The foxes seem apologetic (as much as a fox can be), but they too are uninjured so all is well. The foxes still want to frolic and play and end up chasing you around. Once you're tired out, Agate is glad that the foxes were able to play a lot. You really are a great farmer, being so familiar with animals! Agate really enjoyed the time she spent with you today.

Choice 2: Sorry, Iím busy.

Result: -1000 FP with Agate

Agate is a little disappointed that you don't want to play together with them. Maybe next time.
If you see this event in Spring, Summer, or Fall, the foxes will be brown. The white foxes are only available during Winter. The event will be the same.
Event Helper: Daniel B.
Purple Flower Event
Looking for the Night Child
» Walk from your farm to the Forest Road
» 21:00 to 23:30 pm
» Tuesday, Thursday, or Friday
» Sunny weather
» Agate has a purple flower color or higher
» You have seen Agate's white flower event
Agate is searching for her rabbit friend and asks if you have seen it. It seems one of the Safari rabbits slipped into her bag while she was there. As she came through this area, it suddenly jumped out of her bag, and now she can't find it. She's really worried because the local foxes don't get along very well with rabbits.
Choice 1: I hope you find it soon

Result: -1000 FP with Agate

She becomes more worried, and excuses herself so that she can continue searching.

Choice 2: Let's search together

Result: +2000 FP with Agate

Agate appreciates your help, as one person alone couldn't search through the area. Surely the rabbit is lonely! The two of you search until you eventually locate the rabbit, who is very glad to be found. Agate scolds her long-eared friend and is glad that it wasn't injured. Agate thanks you for searching with her. She is ready to take the rabbit back with her, but you are concerned since it is too dark for her to walk home. Agate tells you not to worry; it's not like there are night-time lions and jaguars around!

Agate feels that you are a kind person and someone she can depend on.
You must give Agate a Ring to see her remaining flower events. You can make a Ring when using the Sewing Studio Accessory Bench, by combining a Silver ore and a Fluorite. Give the Ring on a sunny Saturday or Sunday before 11:00 pm when Agate has a blue flower color or higher and you have seen the white and purple flower events.
Yellow Flower Event
An Important Collection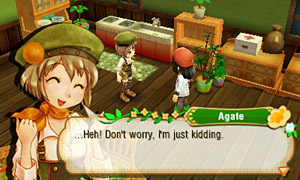 » Agate's house
» 22:30 to 23:30
» Saturday or Sunday
» Sunny weather
» Agate has a yellow flower color or higher
» You are going steady with Agate
You visit Agate's house and she invites you to have dinner with her. As you go to sit down, you notice a collection of objects on her desk. It looks to be a variety of animal fossils and minerals. Agate starts to explain that she brought them back from one of her travels, but then stops once she figures that this conversation might bore you.
Choice 1: Tell me more about it

Result: +3000 FP with Agate

Agate is happy that you're interested in her oddities. As you eat dinner, you hear stories about her travels, her collections, and the animals that she's seen.

Choice 2: Let's tell scary stories!

Result: -2000 FP with Agate

She doesn't want to hear any scary stories, but she'll politely listen to your tales. Your stories frighten her, although she continues to listen. After you're finished, she admits that she doesn't think she'll be able to sleep tonight, and asks if you would stay. When you can't, she reluctantly understand and wishes you a good evening.
Event Helper: Hiroga, Jennome
Pink Flower Event
Strange Confusion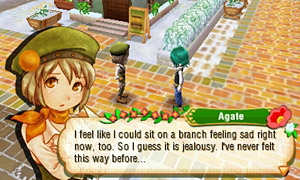 » Walk from Piedmont area to Oak Tree Town (east)
» 10:00 to 13:00
» Saturday or Sunday
» Sunny weather
» Agate has a pink flower color or higher
» Lillie has a purple flower color or higher
» You are going steady with Agate
» You have seen Agate's yellow flower event
You bump into Lillie, who explains that Agate was just searching for you to ask you out on a date. Agate observes the two of you from a distance, and meets up with you after Lillie leaves. She confesses that she felt a strange burning sensation in her chest when she saw you talking with the weather girl.
Choice 1: Heartburn?

Result: -2000 FP with Agate

Maybe she does have heartburn. Agate says it isn't a good idea to ask you out on a date right now. She wants to go home and rest until it goes away.

Choice 2: Jealousy?

Result: +3000 FP with Agate

Agate believes you might be correct. She tells you a story about a monkey couple that she saw, where the boy monkey was playing with another girl monkey, and his monkey sweetie just sadly sat on a branch watching them. Perhaps it was jealousy? Agate doesn't like the sensation, and it feels like she can't trust you and Lillie together, which makes her feel really terrible.

Jealousy must be a sign of how much she likes you, and you admit that you too have felt it. Agate concludes that even if she feels it in the future, it is just a sign that she really cares for you.
Event Helper: Kane, Kitty