Cow Birth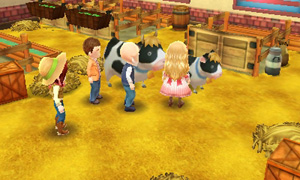 » Walk to the Margret Farm area
» 9:00 am to 11:00 am, or 2:00 pm to 5:00 pm
» Any non-festival day
» Sunny weather
» Elise has 4000 FP or more
» Your Reputation with Elise is 1500 points or more
» You are not married or going steady with Elise
» You have completed Farm Inspection 2
As you enter the area, you hear someone calling out to you. One of Elise's maids wants you to go with her to see Elise, as she's currently in a sticky situation. You agree, and the two of you head to the mansion.
Inside her house, Elise looks worried. She explains that it isn't a big deal, but one of her cows is giving birth! She is trying to play it cool, yet she is clearly worried. You insist that she hurry over to the barn; Elise explains that she's never been present at a cow birthing before, so why should she this time? If you want to see it, why don't you go by yourself. Her maid steps in and explains that the master doesn't have the courage to witness it. You understand and run off to the livestock barn, leaving Elise somewhat ashamed of herself. After a moment, she scolds her maid for saying something like that and insists that they go as well.
Inside the barn, the momma cow has already given birth to the calf. The other farmhands are there, who tell you that it is okay that the master doesn't come since there weren't any birth complications. They invite you to check out the new baby cow. Elise then runs into the barn, and after she catches her breath, asks her workers about the pregnancy. She's glad to hear that everything went smoothly, and is amazed to see how small the little cow is. This really is a strange sensation for her, and it causes her to blush. Her workers want to let the cows rest for a bit and so they head out.
Elise asks if you've ever witnessed a cow birth before, but you have not. She wonder what it is like. Had she not been so hesitant, she could of seen it herself. At the time it wasn't something that appealed to her, but now that she's seen the baby cow, Elise regrets not being here. The experience is something a lot more precious than she realized, whether it is a cow birth or a human birth.
The next time this chance comes around, Elise says she is going to attend. She thanks you for recommending that she witness the calf's birth and is glad that at least you recognized its importance. At first she thought you were just meddling in her affairs, but now she's grateful. Elise suggests that she should visit your livestock barn soon.
After you leave, Elise welcomes the baby cow as a member of her farm.