Catching Fish
Before you can catch fish, you'll need a Fishing Pole. Go to Flute Fields and walk down to the edge of river where you'll find Toby. He will give you an Old Fishing Pole.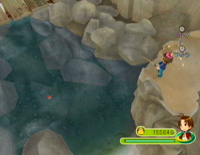 To catch fish, just equip your Fishing Pole and press A where you can find any pool of water. If you get a bite on the line, press A until you reel it in. You will be told what kind of fish you caught and its size (which really doesn't matter at all). There are a large number of watering holes you can cast your line in:
Different fish will appear at the fishing locations depending on the season, time, and weather. There are 47 different fish species in the game, and you need to locate each one if you want to earn the special Fishing Trophy.
Each fish has a "strength" to it, which determines how difficult it is to reel in. Some fish only take a few presses of the A button to pull up, and others are more stubborn. The longer it takes you to reel in the fish, the more stamina is used. More difficult fish have a higher amount of Experience Points that you earn for leveling up your Fishing Pole.
Fish
Sell Price
Location
Season
Weather
Time
EXP
Swordfish
322 G
Toucan Island:
» south shore
» west shore
Any season
Any weather
All day
65
Char
99 G
Goddess Pond:
» shrine waters
» behind the divine tree
Any season
Any weather
5:00 am to 3:00 pm
20
Rainbow Trout
58 G
Clarinet District:
» stream

Garmon Mine:
» waterfall (power level 1 or higher)
» stream

Flute Fields:
» bridge, south
» bridge, north

Toucan Island:
» pond (power level 1 or higher)
Any season
Any weather
5:00 am to 7:00 pm
13
Masu Trout
109 G
Garmon Mine:
» waterfall

Flute Fields:
» bridge, south
» pond
Spring
Summer
Fall
Any weather
5:00 am to 3:00 pm
10
Steelhead
72 G
Flute Fields:
» river, west
» bridge, north
» bridge, south
Any season
Any weather
7:00 pm to 9:00 am
23
Carp
59 G
Clarinet District:
» pond

Goddess Pond:
» shrine (power level 2)
» divine tree (power level 1)

Fugue Forest:
» footbridge, left (power level 3)
Any season
Any weather
Any time
20
Eel
198 G
Garmon Mine:
» waterfall

Flute Fields:
» bridge, south

Water Cave:
» Floor 0 (northeast corner)
» Floor 50
Summer
Fall
Winter
Any weather
3:00 pm to 5:00 am
55
Pond Smelt
7 G
Clarinet District:
» pond
» stream

Garmon Mine:
» waterfall
» stream

Goddess Pond:
» shrine water
» divine tree

Flute Fields:
» bridge, north
» bridge, south
» pond

Fugue Forest:
» footbridge, east
» footbridge, west

Toucan Island:
» pond
Any season
Any weather
Any time
10
Huchen
250 G
Garmon Mine:
» waterfall

Flute Fields:
» bridge, south
Spring
Winter
Rain
Thunderstorm
Hurricane
Snow
Snowstorm
7:00 pm to 9:00 am
80
Salmon
277 G
Flute Fields:
» bridge, north
» bridge, south
Fall
Any weather
5:00 am to 7:00 pm
32
Fish
Sell Price
Location
Season
Weather
Time
EXP
Catfish
106 G
Clarinet District:
» pond
» stream

Fugue Forest:
» footbridge, left
» footbridge, right

Goddess Pond:
» shrine water
» divine tree
Any season
Any weather
3:00 pm to 5:00 am
15
Puffer
17 G
Clarinet District:
» southeast shore
» southwest shore

Harmonica Town:
» seawall
» boat dock
» lighthouse
» beach

Water Cave
» floor 0
Spring
Winter
Any weather
Any time
13
Goby
13 G
Clarinet District:
» southeast shore
» southwest shore

Harmonica Town:
» seawall
» boat dock
» lighthouse
» beach

Toucan Island
» south shore
» west shore
» north shore
» northeast shore

Water Cave
» floor 0
» floor 50
Any season
Any weather
5:00 am to 7:00 pm
10
Sardine
17 G
Clarinet District:
» southwest shore

Harmonica Town:
» seawall
» boat dock
» lighthouse
» beach

Water Cave
» floor 0
Any season
Any weather
Any time
12
Mahi-mahi
286 G
Toucan Island
» east shore
» south shore
» west shore
» north shore
» northeast shore
Any season
Sunny
Clear
Cloudy
Any time
33
Horse Mackerel
81 G
Clarinet District:
» southwest shore

Harmonica Town:
» seawall
» boat dock
» lighthouse
» beach

Water Cave
» floor 0
Any season
Any weather
Any time
15
Sea Bream
149 G
Clarinet District:
» southwest shore

Harmonica Town:
» seawall
» boat dock
» lighthouse
» beach
Spring
Summer
Fall
Any weather
5:00 am to 9:00 am
3:00 pm to 7:00 pm
32
Bonito
120 G
Clarinet District:
» southeast shore

Harmonica Town:
» seawall
» lighthouse
» beach

Toucan Island:
» south shore
» northeast shore
Summer
Fall
Any weather
8:00 am to 7:00 pm
25
Mackerel
85 G
Clarinet District:
» southwest shore

Harmonica Town:
» seawall
» boat dock
» lighthouse
» beach

Water Cave
» floor 0
Spring
Fall
Winter
Any weather
5:00 am to 7:00 pm
18
Saury
92 G
Clarinet District:
» southeast shore
» southwest shore

Harmonica Town:
» boat dock
» lighthouse
» beach

Toucan Island:
» south shore
» northeast shore
Any season
Any weather
3:00 pm to 9:00 am
8
Fish
Sell Price
Location
Season
Weather
Time
EXP
Manta Ray
173 G
Toucan Island:
» south shore
» west shore
» north shore
» northeast shore
» east shore
Any season
Sunny
Thunderstorm
Hurricane
Snow
Snowstorm
5:00 am to 3:00 pm
30
Rockfish
76 G
Toucan Island:
» south shore
» west shore
» north shore
» northeast shore
» east shore

Water Cave:
» floor 0 (right side, by staircase)
Spring
Summer
Fall
Any weather
Any time
20
Cod
84 G
Clarinet District:
» southeast shore
» southwest shore

Harmonica Town:
» boat dock
» lighthouse
» beach

Toucan Island:
» east shore
Fall
Winter
Any weather
7:00 pm to 3:00 pm
8
Angler Fish
330 G
Harmonica Town:
» lighthouse
» beach

Water Cave:
» floor 50
Fall
Winter
Any weather
3:00 pm to 9:00 am
80
Rock Trout
119 G
Clarinet District:
» southeast shore
» southwest shore

Harmonica Town:
» boat dock
» lighthouse
» beach

Toucan Island:
» northeast shore
Spring
Winter
Any weather
7:00 pm to 3:00 pm
24
Yellowtail
153 G
Toucan Island:
» south shore
» west shore
» north shore
» northeast shore
» east shore
Spring
Winter
Any weather
3:00 pm 9:00 am
25
Tuna
317 G
Harmonica Town:
» lighthouse
» beach

Toucan Island:
» south shore
» west shore
Any season
Sunny
Cloudy
Rain
Snow
Snowstorm
Any time
80
Conger Eel
139 G
Harmonica Town:
» seawall
» lighthouse
» beach

Toucan Island:
» south shore
» west shore
» northeast shore

Water Cave:
» floor 50
Summer
Fall
Any weather
3:00 pm 5:00 am
21
Halibut
125 G
Clarinet District:
» southeast shore
» southwest shore

Harmonica Town:
» seawall
» lighthouse
» beach

Toucan Island:
» south shore
» west shore
» north shore
» northeast shore

Water Cave:
» floor 50
Any season
Any weather
3:00 pm to 9:00 am
25
Flounder
67 G
Clarinet District:
» southwest shore

Harmonica Town:
» seawall
» boat dock
» lighthouse

Toucan Island:
» northeast shore
Any season
Any weather
5:00 am to 7:00 pm
11
Fish
Sell Price
Location
Season
Weather
Time
EXP
Squid
51 G
Toucan Island:
» south shore
» west shore
» north shore
» northeast shore
Any season
Any weather
7:00 pm to 9:00 am
11
Octopus
60 G
Clarinet District:
» southeast shore
» southwest shore

Harmonica Town:
» boat dock
» lighthouse
» beach

Toucan Island:
» south shore
» west shore
» north shore
» northeast shore
» east shore

Water Cave:
» floor 0
Any season
Any weather
3:00 pm to 9:00 am
12
Crawfish
7 G
Clarinet District:
» pond
» stream

Goddess Pond:
» shrine waters
» divine tree (right side)

Flute Fields:
» river, west side

Fugue Forest:
» foot bridge, left
» foot bridge, right

Toucan Island:
» pond
Any season
Any weather
Any time
10
Freshwater Prawn
23 G
Clarinet District:
» pond
» stream

Garmon Mine:
» stream

Flute Fields:
» west shore
» bridge, south

Fugue Forest:
» footbridge, west

Water Cave:
» floor 50
Any season
Any weather
7:00 pm to 9:00 am
12
Rock Lobster
91 G
Clarinet District:
» southeast shore
» southwest shore

Harmonica Town:
» seawall
» boat dock

Toucan Island:
» south shore

Water Cave:
» floor 0 (right side)
» floor 50
Any season
Any weather
3:00 pm to 5:00 am
18
Lobster
180 G
Toucan Island:
» south shore
» west shore
» north shore
» northeast shore
» east shore
Any season
Any weather
7:00 pm to 5:00 am
55
Shark
347 G
Toucan Island:
» south shore
» north shore
» northeast shore
Any season
Any weather
5:00 am to 9:00 am
3:00 pm to 9:00 pm
80
Skull Jellyfish
665 G
Water Cave:
» floor 50 (south end)
Spring
Fall
Any weather
7:00 pm to 5:00 am
120
Giant Arowana
650 G
Goddess Pond:
» shrine waters (right side)
Spring
Summer
Fall
Rain
Thunderstorm
Hurricane
5:00 am to 7:00 pm
130
Barracuda
680 G
Toucan Island:
» south shore
Any season
Sunny
Cloudy
Snow
Snowstorm
8:00 am to 7:00 pm
130
Fish
Sell Price
Location
Season
Weather
Time
EXP
Tarpon
800 G
Toucan Island:
» northeast shore
Spring
Winter
Sunny
Cloudy
Snow
Snowstorm
7:00 pm to 3:00 pm
130
Dorado
700 G
Fugue Forest:
» footbridge, left
Spring
Summer
Rain
Thunderstorm
Hurricane
Any time
130
Nautilus
830 G
Water Cave:
» floor 0
Spring
Summer
Fall
Sunny
Cloudy
Thunderstorm
Hurricane
3:00 pm to 5:00 am
130
King Salmon
760 G
Flute Fields:
» bridge, south
Summer
Fall
Sunny
Cloudy
Hurricane
7:00 pm to 9:00 am
110
Giant Halibut
850 G
Harmonica Town:
» lighthouse
Spring
Winter
Sunny
Any time
110
Brown Trout
79 G
Clarinet District:
»pond (along northern edge, by the 3 rocks)

Garmon Mine:
» stream

Flute Fields:
» bridge, north
» bridge, south
» river, west
Any season
Any weather
5:00 am to 7:00 pm
19
Herring
76 G
Clarinet District:
» southeast shore
» southwest shore

Harmonica Town:
» seawall
» lighthouse
» beach

Toucan Island:
» northeast shore

Water Cave:
» floor 0
Spring
Winter
Any weather
7:00 pm to 5:00 am
12
---
Index | Help and Admin contact | Site map | Help Forum | Harvest Moon News | Privacy Policy | Other Harvest Moon Guides