Birthdays in this season are:
Summer 2: Mikey (Best: Banana. Good: Pizza, Gibeon Stone, Fulgurite, Pancakes, Cocoa.)
Summer 7: Norman (Best: Golden Apple, Mysterious Bait, Apple Juice, Apple Jam. Good: Apple, Potato Salad, Fashionable Bracelet, Wristwatch.)
Summer 9: Laura (Best: Olive, Fashionable Bracelet, Blazing Waltz, Bouquet Perfume. Good: Sunflower, Ruby, Jewelry Ring, Marigold.)
Summer 10: Karina (Best: Fruit Perfume, Bouquet Perfume, Earth Concerto. Good: Ruby, Black Pansey, Tea, Floral Perfume.)
Summer 15: Emilio (Best: Watermelon, Jewelry Locket, Fashionable Bracelet. Good: Sunflower, Jewelry Ring, Cheesecake, Aqua Pazza.)
Summer 21: Ralph (Best: Pot au Feu, Fashionable Bracelet. Good: Seafood Soup, Bread, Yellow Potage, Mixed Soup.)
Summer 23: Marco (Best: Giant Yam, Large Seafood Pizza. Good: Yam, Pascatori, Aqua Pazza.)
Summer 24: Georg (Best: Egg+, Silkie Egg+, Egg Salad. Good: Egg, Silkie Egg, Potato Salad.)
Summer 28: Reina (Best: Lemon, Jewelry Locket, Bouquet Perfume, Fulgurite. Good: Orange, Glass, Jewelry Ring, Orange Jam.)
Summer 14: Summer Jamboree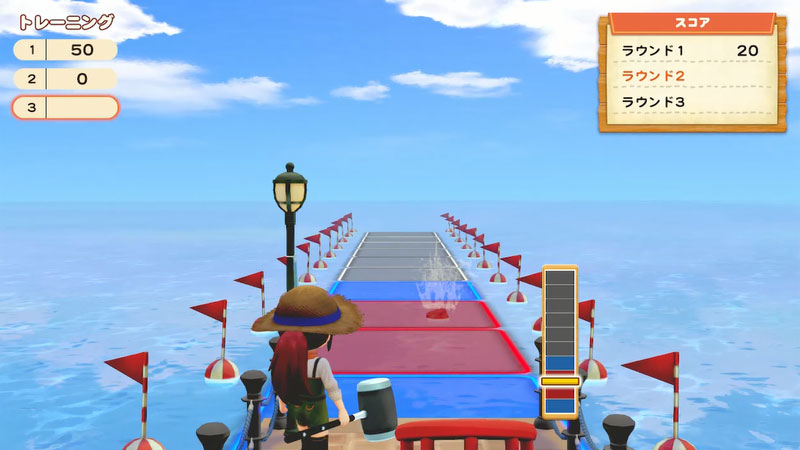 This festival starts at 10:00 am. Walk into Olive Town and visit the beach area. Sally, Manuela, and Patricia have set up a barrel-launching game down by the dock. In this game, a distance course is in the water, where you can launch barrels from the dock. The goal is to hit the barrel launcher with just enough strength that the barrel will land in the goal area marked in red. You'll earn the most points for hitting the right spot, fewer points for landing your barrel in the blue area, and no points for landing in the gray area.
Each game places you in three rounds against the other competitors. In each round, you have three chances to land the barrel in the sweet spot. You earn more points for landing in the red or blue zones as the rounds progress, as the last round is the hardest to hit the sweet spot. The barrel will always earn 0 points if it lands in the out-of-bounds grey area.
Round 1: Red area is worth 20 points, Blue area is 10 ponts.
Round 2: Red area is worth 50 points, Blue area is 30 points.
Round 3: Red area is worth 60 points, Blue area is 40 points.
Your best-of-three attempts will become the score for that round. Earn more points over all three rounds to win the festival.
You can also go through a practice round if you want to give the contest a try before participating in the contest.
First place is a Gold Summer Jamboree Trophy and 5000 G. Second place is a Silver Summer Jamboree Trophy and 3000 G. Third place is a Copper Summer Jamboree Trophy and 1000 G. In year 2 or later, the prize money awards become 10,000 G, 6000 G, and 3000 G.
Summer 22: Fireworks Display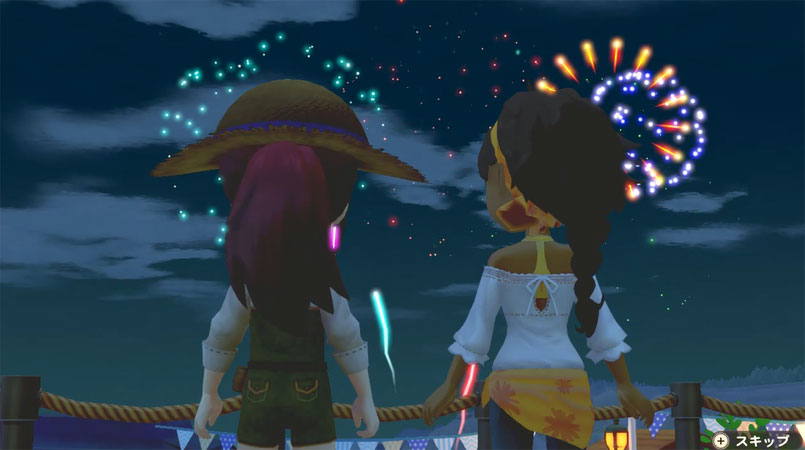 Visit Olive Town after 10:00 am to see everyone gathered close to the beach. During this festival, you'll watch the sky show, either by yourself or with your sweetheart. If you are alone, talk to Nigel to start the festivities. If you have someone you are going-steady with, talk to them to ask if they would like to watch the fireworks with you. Confirming your date selection will immediately start the fireworks, so pick your date last if you're trying to talk to all of the other participants first.
The festival will switch to night so you can watch the fireworks light up the sky. If you have someone to watch with, you'll have a little conversation with them during the show.
The DLC marriage candidates will not attend this festival unless you are married to a DLC marriage candidate, and only then will your DLC spouse participate.
This event ends at 9:00 pm.