Release Dates:

(No Release Date)

September 26, 2023

October 6, 2023
An unofficial guide covering
Harvest Moon: The Winds of Anthos
for Nintendo Switch, PlayStation 4/5, Steam, and XBox One S/X
NOTE: Actual game content pages won't be posted until closer to the release date, but you can ask me questions via the helper chat.
All guide updates are documented on the UNoT change log.
Harvest Moon: The Wind of Anthos is a farming and marrige simulation game published by Natsume for PlayStation 4/5, Nintendo Switch, Steam, and Xbox One X/S. Both physical and digital editions are available either at select retailers, on platform digital stores, or directly from Natsume's online store in North America. In Europe, physical editions are published by Numskull Games.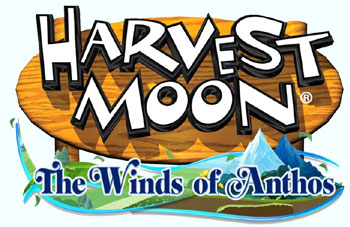 The story of Anthos starts ten years ago when the large volcano in the middle of the land started to erupt violently. The Harvest Goddess and her four Harvest Sprites, the guardians of Anthos, pooled their powers together to protect the villages from certain doom. The sprites transformed into large walls to shield the towns from the volcano's debris while the goddess used her strength to calm the lava-barfing mountain. Through their efforts, the magical deities saved the villages from destruction. Unfortunately, they were too exhausted to return to their original forms. The Harvest Goddess had enough strength to write a note and insert it into a protective bottle before she faded away.
Now, in the present day, the bottle has made its way to the ocean and washed up in the barrier-protected town of Lectenbury. It is then discovered by the protagonist and their super-attractive friend, who is unfortunately not a marriage candidate. The two friends decide to help the message writer, starting their adventure to break the barriers and learn what exactly happened.
Game Stuff
Like the past Natsume-developed Harvest Moon games, this one improves upon the previous entry. While this game has a large land with separate villages like in Harvest Moon: One World, Anthos dramatically expands upon the theme by making the world even more extensive. And while players could explore along defined routes in One World, players in this game can freely walk all over the world map.
Besides the greatly expanded world map, Anthos also features:
multiple farm locations the player can move to whenever they want, though moving does take a whole day.
10 marriage candidates to choose from with no restricitons based on protagonist gender (i.e., same-sex marriage).
a very handsome fellow in a white lab coat to help the player using his equally-awesome inventions.
crop and flower mutations that trigger based on the plants' growing season and location.
wild animals of various sizes that can be tamed for livestock or pets, such as birds, horses, sheep, bears, and jaguars.
an improved mining system with a radar for locating hidden goodies and ladders.
farm house decorations such as furniture, wallpaper, and flooring.
a very convienent teleport sytem so players don't have to walk everywhere.
many help requests available that can be mailed to the player or requested directly.
a new Cultural Level system that improves a town's visual appeal and shop inventory options.
take photographs of the landscape, animals, and even selfies with the new camera function.
... and much more!
Anthos also features optional download content, to be released in the future.
Harvest Moon: The Winds of Anthos is © Natsume, Inc. This is a personal fan site and is not officially sponsored or employed by Natsume. This guide is built off of personal gameplay experiences as well as feedback from other Harvest Moon players and fans. Web site design © 2023 fogu.com