Doc Jr has been your bestest friend forever. He lives next door to your mom's house, where he invents all sorts of things in his laboratory as he tries to out-invent his ancestor, the mighty silver fox, Doc. The mini version of Doc has a contraption in the back of his house where he can process ore and construct objects for you.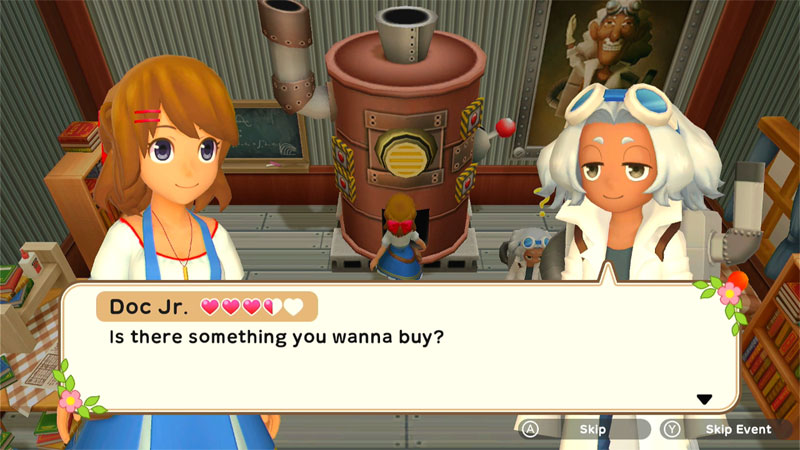 As you raise Doc's friendship, talk to him to receive his Great Ancestors' Challenge tasks.
Great Ancestors' Challenge 1 - Bring 2 Silver to unlock more options in Doc's shop. Silver can be found in the mine located by the Dead Forest to the west of Pastilla or in the mine north of Lebkuchen. This unlocks White Fence, White Fence Post, White Fence Entrance, Large House, Maplewood Interior, and Light Wood Interior.
Great Ancestors' Challenge 2 - Doc Jr requests you bring him 2 Platinum. This ore can be found in the mine by Lebkuchen starting around floor 11. This task will unlock the Large Animal Barn, Large Refrigerator, Large Drawer, Wood Interior, Parquet Interior, and Dark Wood Interior.
Great Ancestors' Challenge 3 - He wants you to bring him 2 Adamantite. This ore can be found starting on floor 61 of the Lebkuchen ore mine. This task unlocks the Huge House, Huge Animal Barn, Huge Refrigerator, Huge Drawer, and Wood-Like Interior.
Doc Jr also helps with the construction of the work bench inside your house. This bench is used to upgrade your tools and customize furniture.
Make a Workbench - To get started, Doc Jr will request that you bring him 5 Bronze. He'll then install a workbench in your house and unlock the Stone furniture style.
Upgrade Your Workbench - After getting the Large House built, Doc Jr will call and ask you to bring him 5 Titanium. After completing this chore, you can make the Halo-Halo Style furniture and the Old Style furniture.
Further Upgrade Your Workbench - Upgrade your house to the Huge House to unlock this task when you talk to Doc Jr. He wants 5 Adamantite to improve your house workbench. The update to your workbench unlocks the Bed you need to get married and the Chic furniture.
The Eastern-style furniture comes from the Far East Adventure DLC.
After completion Great Ancestors' Challenge 3, talk directly to Doc Jr to receive the Researching Sprinklers 1 task. Doc Jr needs help with researching a new type of sprinkler. He requests 4 Titanium to complete his research. Bring him the processed metal to unlock Sprinkler in his shop. Soon afterward, talk to him to receive Researching Sprinklers 2, where he asks for 4 Platinum. You'll then have the Splendid Sprinkler item in his shop.
Mole Brother Raz at the mine in the desert of Pastilla will also unlock options in Doc Jr's shop. Talk to him to obtain the Refining Rare Gems task. Bring Raz 10 Material Stone (processed from Stone at Doc Jr's shop) to unlock the ability for Doc Jr to process sapphire, diamond, emerald, and ruby gemstones. Return to Raz after you find Raw Phosphophyllite Gemstone from the Lebkuchen mine. He'll give you the Refining Ultra Rare Gems task. Give him 30 Material Stone to unlock the ability to process alexandrite, tanzanite, and phosphophyllite.
Farm Items
| Name | Materials | Cost |
| --- | --- | --- |
| Material Stone | 1 Stone | 40 G |
| Iron | 1 Iron Ore | 40 G |
| Bronze | 1 Bronze Ore | 40 G |
| Silver | 1 Silver Ore | 40 G |
| Gold | 1 Gold Ore | 80 G |
| Titanium | 1 Titanium Ore | 150 G |
| Platinum | 1 Platinum Ore | 150 G |
| Adamantite | 1 Adamantite | 250 G |
| Opal | 1 Raw Opal Gemstone | 100 G |
| Sapphire | 1 Raw Sapphire Gemstone | 200 G |
| Glass | 1 Raw Glass Gemstone | 50 G |
| Crystal | 1 Raw Crystal Gemstone | 200 G |
| Diamond | 1 Raw Diamond Gemstone | 200 G |
| Jade | 1 Raw Jade Gemstone | 80 G |
| Emerald | 1 Raw Emerald Gemstone | 200 G |
| Agate | 1 Raw Agate Gemstone | 80 G |
| Garnet | 1 Raw Garnet Gemstone | 150 G |
| Ruby | 1 Raw Ruby Gemstone | 200 G |
| Alexandrite | 1 Raw Alexandrite Gemstone | 300 G |
| Tanzanite Gemstone | 1 Raw Tanzanite Gemstone | 300 G |
| Phosphophyllite | 1 Raw Phosphophyllite Gemstone | 300 G |
| Wooden Fence | 1 Oak Lumber + 1 Iron | 100 G |
| Wooden Fencepost | 1 Oak Lumber + 1 Iron | 100 G |
| Wooden Fence Entrance | 1 Oak Lumber + 1 Iron | 100 G |
| White Fence | 1 Birch Lumber + 1 Silver | 700 G |
| White Fencepost | 1 Birch Lumber + 1 Silver | 700 G |
| White Fence Entrance | 1 Birch Lumber + 1 Silver | 700 G |
| Small Sprinkler | 1 Silver + 1 Glass | 100 G |
| Sprinkler | 1 Gold + 1 Glass | 100 G |
| Splendid Sprinkler | 1 Platinum + 1 Glass | 100 G |
Farming Facilities
Name
Materials
Cost
Large House
10 Cedar Lumber + 5 Titanium
70,000 G
Huge House
Large House + 5 Adamantite + 4 Ebony Lumber
350,000 G
Large Animal Barn
10 Oak Lumber + 5 Silver
50,000 G
Huge Animal Barn
Large Animal Barn + 5 Adamantite + 4 Maple Lumber
250,000 G
Large Refrigerator
5 Iron
10,000 G
Huge Refrigerator
Large Refrigerator + 5 Titanium
50,000 G
Large Drawer
4 Pine Lumber + 2 Iron
10,000 G
Huge Drawer
Large Drawer + 4 Walnut + 2 Titanium
50,000 G
Maplewood Interior
1 Sheep Wool + 1 Crystal
10,000 G
Light Wood Interior
1 Sheep Wool + 1 Opal
10,000 G
Wood Interior
1 Valais Blacknose Sheep Wool + 1 Sapphire
20,000 G
Parquet Interior
1 Valais Blacknose Sheep Wool + 1 Garnet
20,000 G
Dark Wood Interior
1 Valais Blacknose Sheep Wool + 1 Garnet
20,000 G
Interior/Tools DLC
Stone Interior
1 Cashmere + 1 Diamond
30,000 G
Wood-Like Interior
1 Cashmere + 1 Emerald
30,000 G
Farm Interior
1 Cashmere + 1 Diamond
10,000 G
Castle Interior
1 Sheep Wool + 1 Agate
10,000 G
Steampunk Interior
1 Sheep Wool + 1 Crystal
10,000 G
Spaceship Interior
1 Valais Blacknose Sheep Wool + 1 Sapphire
10,000 G
Starlight Interior
1 Valais Blacknose Sheep Wool + 1 Garnet
10,000 G