After you collect the Medallion of Water from Halo Halo, talk to Ahina as she stands outside her mobile coffee cart or inside Cafe Mahalo. She will ask you to help her repair the cart by bringing her 4 Palm Lumber. You can collect Palm Lumber by chopping down the Palm trees around Halo Halo, which grow back on their own.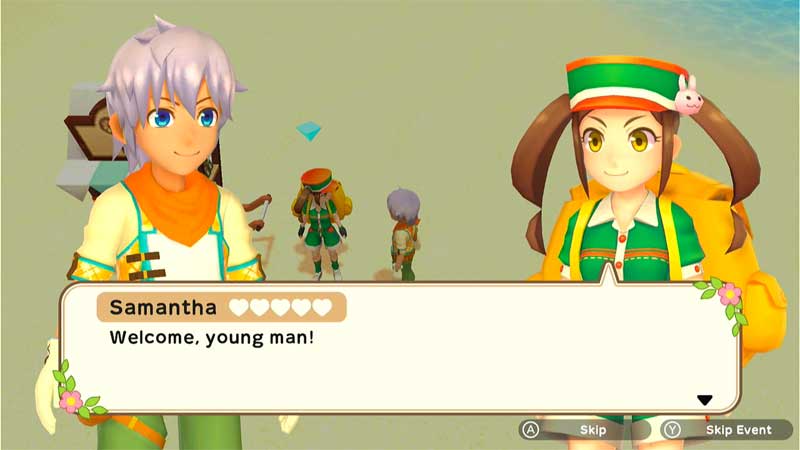 Fixing Ahina's cart will also unlock Samantha's Mobile Cart shop. Samantha is the descendant of the infamous (and shady) Trader Sam from previous version of Harvest Moon. Samantha's mobile cart can be found in every town except for Calisson. She exclusively sells cooking recipes that you can't obtain from Holokai or Laura. Samantha's recipe inventory will expand as you harvest crops and obtain medallions.
Samantha also has a request line. These tasks appear when you talk to her as she wanders around the top of the hill in Calisson. The Samantha-shop versions in other towns don't offer her tasks.
Becoming the Best Merchant 1 - Bring Samantha 4 Watermelon. A watermelon Harvest Wisp can be found in the pond area behind Halo Halo. There's another one in the dead-end area down the path with the banana trees in the jungle area by the Harvest Goddess Shrine. Bring her the 4 Watermelon to receive 4 Opal.
Becoming the Best Merchant 2 - Samantha wants 4 Edelweiss flowers. The wisp can be found in the long, meadow area between Lebkuchen and the bridge to the desert. She'll give you 4 Sapphire.
Becoming the Best Merchant 3 - Now she wants you to bring her 4 Jack-o'-Lanterns. The wisp is located in Salmiakki. Exit the town to the east and then walk up the path past the lake and into a dead-end area where you typically find Strawberry Pansy wisps. The wisp isn't there every day though! The Jack-o'-Lantern plant does produce three harvests. If you would rather mutate the crop on your own, it is the result of planting Giant Squash in the dessert during summer. Bring the four pumpkins to Samantha to receive 4 Diamond.
Cooking Recipe Sets
Strawberry Jam Recipes - 3000 G after you harvest a Strawberry
Peach Jam Recipes - 3000 G after you harvest a Peach
Apple Jam Recipes - 3000 G after repairing Ahina's mobile cart
Carrot Jam Recipes - 3000 G after repairing Ahina's mobile cart
Pumpkin Jam Recipes - 3000 G after repairing Ahina's mobile cart
Tomato Jam Recipes - 3000 G after repairing Ahina's mobile cart
Marmalade Recipes - 3000 G after you harvest an Orange
Cherry Jam Recipes - 3000 G after you harvest a Cherry
Strawberry Milk Recipes - 3000 G after you harvest a Strawberry
Strawberry Milk, White Berry Milk, Angel Lantern Milk, Magical Berry Milk, Princess' Eye Milk, Aqua Strawberry Milk, Burning Lantern Milk, Snow Lantern Milk
Cold Dishes Recipe Sets
Vegetable Juice Recipes - 3000 G (not sure which veggie triggered it to appear, either spinach, tomato, or carrot [or maybe all 3?])
Green Smoothie, Tomato Juice, Carrot Juice
Gazpacho Recipes - 15,000 G after collecting the Medallion of Wood
Fruit Juice Recipe - 3000 G after collecting either an Orange or a Cherry (not sure which)
Mixed Juice, Pineapple Juice, Peach Juice, Orange Juice, Apple Juice, Cherry Juice, Coconut Juice
Watermelon Gazpacho Recipe - 15,000 G after harvesting a watermelon
Watermelon Gazpacho, Yellow Gazpacho, Blue Gazpacho
Pina Colada Recipes - 15,000 G after harvesting a pineapple
Pina Colada, Peach Pina Colada, Gold Barrel Colada, Dragon Pineapple Colada, Crystal Pineapple Colada, Pina Colada Grande, Water Dragon Pineapple Colada, Lava Dragon Pineapple Colada
Banana Shake Recipe 15,000 G after harvesting a Banana
Chocolate Shake Recipe - 15,000 G after making Chocolate
Gelato Recipes - 15,000 G after collecting the Medallion of Wood
Tomato Gelato, Jersey Milk Tomato Gelato, Strawberry Gelato, Jersey Milk Strawberry Gelato, Potato Gelato, Jersey Milk Potato Gelato, Carrot Gelato, Jersey Milk Carrot Gelato, Pumpkin Gelato, Jersey Milk Pumpkin Gelato, Pineapple Gelato, Jersey Milk Pineapple Gelato, Watermelon Gelato, Jersey Milk Watermelon Gelato, Banana Gelato, Jersey Milk Banana Gelato, Peach Gelato, Jersey Milk Peach Gelato, Orange Gelato, Jersey Milk Orange Gelato, Apple Gelato, Jersey Milk Apple Gelato, Acorn Gelato, Jersey Milk Acorn Gelato, Walnut Gelato, Jersey Milk Walnut Gelato, Coffee Gelato, Jersey Milk Coffee Gelato, Chocolate Gelato, Jersey Milk Chocolate Gelato, Cherry Gelato, Jersey Milk Cherry Gelato, Coconut Gelato, Jersey Milk Coconut Gelato
Vichyssoise Recipe - 75,000 G after collecting the Medallion of Time
Vichyssoise, Black Potato Vichyssoise, Titan Potato Vichyssoise, Blue Vichyssoise, Brown Vichyssoise
Bisque Recipe - 75,000 G after collecting the Medallion of Time
Hot Dishes Recipe Sets
Hot Chocolate Recipe - 3000 G after harvesting Cocoa
French Onion Soup Recipes - 15,000 G after you collect the Medallion of Wood
French Onion Soup, Leek Soup, Garlic Soup
Corn Chowder Recipes - 15,000 G after you collect the Medallion of Wood
Corn Chowder, Glass Gem Corn Chowder
Bean Chowder Recipe - 15,000 G after you harvest a Soybean (any type)
Minestrone Recipe - 15,000 G after you collect the Medallion of Wood
Fish Chowder Recipe - 15,000 G after you collect 4 medallions
Corn Potage Recipes - 15,000 G after you collect 4 medallions
Corn Potage Soup, Glass Gem Corn Potage Soup
Pumpkin Potage Recipes - 15,000 G after you collect 4 medallion
Pumpkin Potage Soup, Butternut Squash Soup, Jack-o'-Lantern Potage Soup, Cream Pumpkin Potage Soup, Lava-o'-Lantern Potage Soup