Like in previous editions of our farming game series, a player's activities and achievements will be tallied into a Farm Degree rank. Some versions of Bokujou Monogatari games use Farm Degree towards unlocking in-game rewards, but in Story of Seasons: Friends of Mineral Town, the FD is just for personal gain.
As you play through the game, you'll earn these points that will automatically tally in the background. You can find your current point levels by going to the bookshelf inside you farm house and then selecting the Farm Degree menu. There are 10 categories of points, each with a maximum point value of 1000, for a total of 10,000 FD points.
At certain point levels you'll be assigned a Farm Degree Rank. When starting out your rank will be small, such as Egg Farmer, but it will increase as your point value increase. Your certified Farm Degree Rank will be under your Farm Profile screen: X Button to open your main menu, then tab over using the Left or Right Shoulder Button to reach the Farm Profile.
Earning Points
Shipped Points
For every 100 shipments of a specific item, you will earn 1 point. The most you can earn for that item is 100 points. For example, If you had shipped 600 Turnips you would have earned 6 points. After you ship 10,000 you won't earn any more points for the Turnip shipments.
Shipping the first one of any item will earn you 5 points for each one. Your first Turnip, first Honey, first Large Milk, etc.
Completing the Shipping Memo (ship at least 1 of everything) will earn you 10 points.
Fished Points
The first time you catch something new you'll earn 5 points. That could be a fish species or a piece of junk.
Catching one of the Whopper fish will earn you 10 points each (max 70 points)
Completing the Fish Memo (catching all 57 fish) will earn you 15 points.
Catching 100 of a specific item (fish species, garbage, treasure, etc.) will earn you 1 point, up until you've caught 10,000 of them.
You will earn 1 point for the max size of 10cm per fish. For example, if the largest Ocean Sunfish you've caught was 60cm and you suddenly caught one that was 90cm, you would have earned 3 points. If your fish was only 68cm, you won't earn any points.
Animal Points
If you win the Moo-Moo Festival, Cluck-Cluck Clash, Fluffy Festival, Beach Day, or Horse Race, you will earn 10 points.
Every time you raise an animal's heart level by 1 you will earn 2.5 point, up to a maximum of 25 points per animal.
For your pets, maximizing the green training gauge will earn 25 points.
Townspeople Points
When you train a Harvest Sprite to be maximum skilled (100%) at Watering, Harvesting, or Animal Husbandry, you will earn 25 points. Each sprite can only earn you 75 points (max 525 points).
Earning a music note of friendship (10 FP) with villagers and candidates will earn you 1 point the first time the note is earned (max 20 points per person).
Earning 100 Love Points (LP) with a marriage candidate will earn you 1 point (maximum 655 points per candidate; normal villagers do not have LP).
Cooking Points
Making a recipe for the first time will earn you 5 points. (max 540 points)
Hearing a recipe from a villager will get you 10 points per recipe.
You will earn 10 points every time you win at the Cooking Festival.
House Additions Points
The Vacation Villa, Seaside Cottage, and Mountain Cabin are worth 20 points each. (max 60 points)
Buying Van's Record Player will earn you 30 points. You do not earn points for each Record you purchase.
Obtaining Huang's Flower Vase and Ellen's Socks are worth 50 points each.
Having Saibara build the Butter, Mayo, Cheese, and Yarn Makers will earn you 50 points each (max 200 points).
Hiring Gotts to do the major building upgrades are worth 60 points each. You earn points for the medium house upgrade, large house upgrade, building the bathroom, poultry barn upgrade, livestock barn upgrade, waterwheel upgrade (used to make chicken feed), silo upgrade (to hold more fodder), and the the 4 field upgrades (max 660 points).
Tools Points
Putting an item in your refrigerator, storage shelf, or rucksack will earn 1 point.
Every 500 experience points on your tools will earn 1 point (max 130 per tool). You'll earn 100 tool experience points for using a tool for its intended purpose (e.g., till soil, hit rocks, etc.), or 50 experience points for swinging the tool without any reason.
Buying a rucksack upgrade is worth 20 points (max 40 points).
Letters Points
When you receive a new letter for the first time you will earn 11 points. Lets say you received a New Years letter from Ellen (worth 11 points) and the next year you get a letter from Ellen and Gotts. Ellen's letter won't count a second time, but you'll get another 11 points for Gotts's letter. All letters are stored in the Bookcase inside of your farm house. There are a lot of letters.
Events Points
You'll receive 5 points for each marriage candidate introduction event you trigger (max 60 points) and 50 points for the first introduction event you trigger.
Activating a rival event will earn you 20 points (max 200 points, 2 events per couple).
Each time you see the first Heart Event of a specific color you'll earn 50 points. For example, triggering Doctor's Black Heart event will earn 50 points, but triggering anyone else's black event will not earn points. When you see your first Purple Heart event you'll earn another 50, and so on (max 250 points).
You'll earn 50 points for the first time you hand over a Preserved Flower to a marriage candidate.
The accepted marriage proposal and resulting wedding ceremony are 50 points each (max 100 points)
The pregnancy announcement, child birth event, baby crawl event, and baby first steps events are worth 50 points each (max 200 points).
When you neglect to talk to your spouse for 10 days and you're still childless, the 11th day will result in the spouse staying in bed all day. The next day you'll earn 50 points.
All other random events are worth 1 point when you trigger each one. If a random event has two parts, you'll earn 1 point for each half.
Festivals will not earn Event points. The first time you toss a Cucumber at Kappa will earn 1 point, but additional gifts of Cucumbers won't earn more events points. Celebrating your birthday, your spouse's birthday, or your child's birthday are not worth any event points. The pre-festival visitors that appear at your farm house front door (Zack for the Fetch Fest, Rick for the Cluck-Cluck Clash, etc.) do not earn event points.
Main Character Points
For every Power Berry you eat, you'll earn 10 points (max 100 points).
The Blue Berry from Kappa will get you 50 points.
You will earn 1 point for every year you play the game (max 200 points).
For hitting a mole in your crop field 100 times, you will receive 1 point (max 100 points or 10,000 moles).
Every time you earn 100 steps on your Pedometer, you receive 1 point (max 100 points = 10,000 steps).
When you receive one of the 7 rings, you'll earn 30 points (max 210 points).
Your wedding ceremony, pregnancy, and giving birth events are worth 50 points each.
When you go down into the Mines, you will receive 1 point for every floor you descend for the first time (max 255 points).
The 7 Rings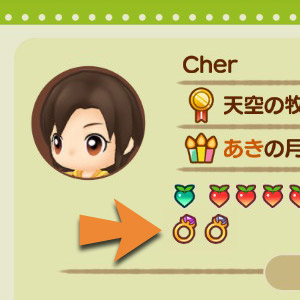 In Harvest Moon: More Friends of Mineral Town, players could collect achievement rings that would count toward earning Heroine Points. These 7 rings are also in Story of Seasons: Friends of Mineral Town, but they count towards earning 30 Farmer Points instead.
When you earn a ring you'll see an alert on your screen, but you won't see a ring. The rings will be noted on your character profile page in the game's main menu:

Pedometer: Carry the little yellow device around in your rucksack, and you'll earn a ring after reaching 10,000,000 (ten million) steps. Yes, that is a ridiculous requirement and is the same as it was in the original GBA game.
The simplest way to complete the step criteria is to move the farmer into an indoor location (so time is paused), wrap a rubber band or tape over the Left Stick of your controller to make the main character run into a wall, then just leave the game to run on its own. You also need to disable the auto-sleep options in your console's configuration settings.
If you do this when the Nintendo Switch is undocked, have the Switch plugged in to charge using an external charging cable. Wrap a rubber band around the Left Joycon stick so it forces the main character to run, and then just leave it be. You'll want to occasionally unwrap the rubber band and move the farmer to another spot inside the farmhouse. While there aren't wide-spread reports of screen burn-in with the Switch, might as well play it safe. This also allows you to occasionally save the game to preserve your step progress.
Doing this overnight is the best method, which would permit the Switch or other console to be powered on with its video feed outputted to a television set or monitor. For the Switch, using a separate controller charging off of the dock works better than using a detached Joycon, as the charge on the mini controller isn't strong enough to last all night. You'll want to ensure that the Switch has recognized and is using the external controller, as the game won't play using attached Joycons on a docked Switch, then wrap the rubber band around the controller stick. Check the video feed outputted to your television or monitor to verify that the farmer is running up against a well, then turn off the TV or monitor and let it run all night.
This method will earn about 15,000 steps per real time hour. One million steps takes about 65 hours, so you can imagine how daunting the 10 million steps task is.
Riding the horse into a wall only collects about 9000 steps per hour. It's faster to run.

Shopping Master: This ring unlocks after you visit and make a purchase at the town shops a total of 35 times. It will then appear inside your farmhouse mailbox.
This ring is based on an internal counter that keeps track of how often you have made purchases at the shops in town. Each time you access a shop, complete your purchases, and then exit a shop's inventory, this internal counter will go up by 1. You want this counter to hit 35. Once that happens, the ring will silently appear in your mailbox without notification. The new-letter indicator above the mailbox will NOT appear; you simply have to investigate the mailbox and see if there is a ring hidden inside.
Once the shop-ring internal counter is no longer at 35, such as if you continued to buy items at the shops, this ring will be gone from the mailbox until you hit 35 again. It's a tricky little bugger!
The best way to unlock this ring is by using the technique discovered by the Japanese players of the game while tracking the shop counter that triggers Van's Favorite; it works for this ring too! The easiest way to modify your counter is with the 10 G Chicken/Rabbit Feed at Lillia's shop. Dudley's 0 G Water at the inn doesn't count as a purchase (yes, I tried). The easiest steps to unlock the ring are:
Head to Lillia's shop
Talk to her to open her shop inventory, then buy 1 bag of Chicken/Rabbit Feed and exit her shop
Run to your farm and check your mailbox for the ring.
If the ring isn't there, go back to her shop, buy another bag of feed, exit her shop, and check the mailbox again. No ring? Then buy 1 more bag of feed from her, check your mailbox, and so on. Ideally, at some point you'll hit the magic 35 on your shop-ring counter, and the ring will appear in your mailbox. Since you don't know what number your shop-ring counter is currently at, you'll have to work your way through one-purchase-at-a-time until you hit 35.
Since running back and forth to Lillia's does take time, an alternate method is to save your game when inside Lillia's shop before making your first purchase. If the ring doesn't appear after buying 1 bag of feed, reload your save game and then buy 2 bags of feed (closing her shop between purchases, of course). Repeat until the ring appears.
You don't have to go to bed like you would with forcing Van's Favorite to appear, which has a shop counter of 10, as there isn't any mail delivery that takes place.
Using the Master Shopper Award on the mirror inside your farmhouse will not unlock this ring. You need to visit a shop in Mineral Town.
Some players have noted that trying for this ring at the very start of their game requires some unknown criteria before the 35-shop counter starts; possibly, players may need to make additional shop purchases before the shop ring counter starts to increment.

Birthday Present: On the first occurrence of your birthday after getting married, your spouse will give you this ring. Walk into your farm house after 6:00 pm to have a celebratory birthday meal with your spouse; afterwards, you'll be given this ring. You don't want to make your birthday on the same day as other post-marriage dinner events such as the Pumpkin Jamoree (Autumn 30) or Starry Night (Winter 24), as those events will occur instead of the birthday party.
Get Married: You'll receive a ring during the ceremony.

Starlight Night: If you're not married, spend the Winter 24 festival with Brandon, Cliff, Doctor, Gray, or Jennifer to earn this ring; basically, a candidate that participates in the Starlight Night party at your house. The other girl marriage candidates don't give the ring before marriage and neither does Rick, as his evening party is at the poultry shop with his mom and sister.
Another player noted that they received this ring after they were married. On Starlight Night, their spouse (Karen) did give the purple ring but only after their child was full grown and attended the evening party with them.

Valentine/White Day: This ring's appearance will either be on Valentine's day (Winter 14) or White Day (Spring 14). These festivals involve the marriage candidates giving you either Chocolate (winter) or Cookies (spring) by stopping by your farm house throughout the day if they have a purple heart color (10,000 LP) or more.
The first visitor in either of these festivals that has a yellow heart color (40,000 LP) or higher will give you with this ring when you talk to them; Kai's mailbox letter could also reward you with this ring if Kai has the required affection.
You can also get this ring from your spouse if you are married before either festival takes place.
Anniversary: Receive this ring after being married for 10 years.
Farm Degree Rank Titles
Novice Farmer: 0 to 99 points
Trainee Farmer: 100 to 199 points
Fledgling Farmer: 200 to 299 points
Amateur Farmer C Rank: 300 to 499 points
Amateur Farmer B Rank: 500 to 999 points
Amateur Farmer A Rank: 1000 to 1499 points
Amateur Farmer S Rank: 1500 to 1999 points
Veteran Farmer C Rank: 2000 to 2499 points
Veteran Farmer B Rank: 2500 to 2999 points
Veteran Farmer A Rank: 3000 to 3499 points
Veteran Farmer S Rank: 3500 to 3999 points
Expert Farmer: 4000 to 4499 points
Master Farmer: 4500 to 4999 points
Legendary Farmer: 5000 to 5999 points
Demi-Divinity Farmer: 6000 to 6999 points
Lesser Divinity Farmer: 7000 to 7999 points
Greater Divinity Farmer: 8000 to 8999 points
Grand Divinity Farmer: 9000 to 9999 points
Farming Universe Master: 10,000 points