In Story of Seasons: Friends of Mineral Town there is an option to get married to that special somebody you meet during your farming adventure on grandpa's old homestead. There are a total of 16 available candidates; some are perfectly normal people, while others are a bit eccentric. A few candidates are even mythical!
There is only one candidate that will not be available for marriage. The Goddess and Kappa both have a marriage criteria that requires you to admit to the Goddess that you're interested in one or the other. If you admit to her that you're interested in Kappa, then you can't marry the Goddess; likewise if you pick the Goddess, then you can't marry Kappa. Other than that small caveat, you can woo all available candidates and marry one of them, regardless of the gender of your farmer.
To get married, you'll need to:
Raise your love level to a red heart color (60,000 LP)
See the candidate's heart events
Remodel your house to a large size
Buy the Large Bed
Give the Blue Feather to propose marriage
Note that NONE of the candidates will help you with running your farm or grant you shop discounts. Most of them will live with you after marriage, and all of them produce the same style of child. Special candidates Goddess and Kappa do not move in with you after marriage, but Huang will return home in the evening, and Bon Viviant will stay home on specific days of each season.
Increasing Affection
For all candidates you'll start by raising your love values with them. This involves giving them gifts. Remember that villagers have both Friendship Points (FP - music notes) and Love Points (LP - heart markers). Giving high-quality gifts will increase your FP and LP.

Most candidates will have a colored Love Point heart marker on their conversation portrait when you talk to them. There will also be small hearts displayed under their names in the villager profile screen in your main menu. As you raise your Love Points, the heart color will change. You'll begin at a Black heart color (0 LP) that will change to Purple (10,000 LP), Blue (20,000 LP), Green (30,000 LP), Yellow (40,000 LP), Orange (50,000 LP), and finally Red (60,000 + FP). You will need to earn 60,000 LP with a candidate if you want to marry them. A candidate's FP level is associated with random events.
Increasing Love Points is as easy as giving gifts. You can give one gift per day that will earn you Love Points. Giving a person their most-favorite gifts will result in +800 LP. A loved-quality gift will earn +500 LP. A liked-quality gift is +300 FP, and a neutral gift is worth +100 LP. Talking to a candidate will also earn you 200 LP per day. Gifts can be individually wrapped at the grocery store counter for 100 G each. Wrapped gifts will give a little bit more gain.
Try to give a candidate their favorite gift on their birthday, because you'll earn +4000 LP! Birthdays will reward you with 5x Love Points for your gift. Remember that a candidate's birthday might take place on the alternate day if you happen to chose your farmer's birthday to be the same day as the candidate's birthday.
You can also lose LP if you give disliked gifts. If you don't talk to a person for a day, there is a 10% chance that you could lose 200 LP.
Bon Viviant, Kappa, Huang, and Goddess will have invisible Love Points. You'll still earn Love Points as you give them gifts, but you won't know your current LP level with them. In the Japanese version of the game, same-gender candidates also had invisible heart markers, but this was updated for the English adaptation of the game so all normal candidates have visible heart markers.
Most of the normal candidates also have another way of boosting your LP with them by interacting with their family shops or livelihoods. Brandon and Jennifer do not have this bonus LP boost.
Heart Events
You'll trigger cute cut scenes with the normal marriage candidates as you raise your Love Points with the candidates. There are a total of six events with the normal marriage candidates: the four original events from the GBA game and two additional events. The original events have been dropped by one heart level to make room for the two new events:
Introduction event: 0 LP or higher
Black heart event: 5000 LP or higher
Purple heart event: 10,000 LP or higher
Blue heart event: 20,000 LP or higher
Yellow heart event: 40,000 LP or higher
Orange heart event: 50,000 LP or higher
After the introduction event, the first three events simply require you to raise your Love Points with the candidate and then visit the event location at the correct day and time. You'll typically earn +3000 LP for responding positively during the heart event. A poor choice during the event can result in -2000 LP, but you can make that back up by giving good gifts.
You can see more than one heart event per day. Also, for an event that require you to move from one outdoor area to another to trigger the event, your character must be walking; riding the horse can prevent the event from occurring.
What about Rival Events?! The first two original rival events from the GBA game are included in the Nintendo Switch remake, but that's as far as it goes. The green rival and orange rival events are not in this game and the rival couples will never get married.
The Yellow and Orange events require you to confess your intentions to the candidate by giving them a pressed Sunsweet Flower.
The Preserved Flower
This event will trigger after you see a candidate's Blue Heart event or it is Autumn 1 of your first year or later. Exit your farm house between 9:00 am and 5:00 pm on a sunny day when it is not a Sunday or Tuesday.
You will head to the general store with Jeff, where Basil the botanist will be waiting for you. Jeff explains that the other day, Basil had told him an amazing story about a flower that can convey feelings. The more Basil told him about the flower, the more interested Jeff became. Basil only knows about the flower from old books and isn't sure that the flower actually exists, but Jeff was curious if it can help him express his feelings to Sasha. Despite Jeff's shyness about the topic, he figured you can emphisize with him. Wouldn't it be romantic to have a flower ready to hand over when you confess your intentions to a special someone?
The little Nature Sprites have been listening in on the conversation (they do grocery shopping too!) and tell you they too have heard the story about the special flower. Though, they haven't seen it before. It would be great if they could make one bloom! The sprites take you to the Secret Forest area to give it a try. And with just a little bit of magic, the special flower appears! Cherry instructs you to give the flowers to Jeff and Basil. (The door to the Nature Sprite's hut will be locked for the rest of the day)
Back at the general store, the two men are still talking about the flower when you present it to them. They are both surprised that you located the feelings flower. Jeff plans to use his as the subject of a drawing he'll make for Sasha, while Basil will be studying his specimen. You name the flower Sunsweet Flower.
During the development of the Switch game, Marvelous held a contest for Japan-based fans to vote on the name of this flower. Besides the name Orange Venus (the contest winner), other potential names included Corobokuru (i.e., Nature Sprites) Smile, Farm Shine, and Marriagefluer. Orange Venus was then given to a real gerbera daisy being developed by Dummen Orange, a global supplier of flowers. In the localized version, the name was changed to Sunsweet Flower.
Basil will stop by your farmhouse between 9:00 am and 5:00 pm to let you know that the flower you found was a new species. The botanist was able to collect seeds from the flower and gives you a bag of the fall-season flower seeds. Jeff will also sell the seeds at his shop during autumn.
Three days later after giving Jeff the Sunsweet Flower, exit your farmhouse on a sunny day between 9:00 am and 5:00 pm. You will bump into Jeff again. Jeff wants to show you the Preserved Flower that his friend made using the flower that you had gave to him. As a token of his appreciation, Jeff gives you the first of his Preserved Flower product. You can buy more at his general store for 1000 G each. If the tool section of your bag is full, Jeff will simply place your Preserved Flower into your farmhouse toolbox.
Giving the Preserved Flower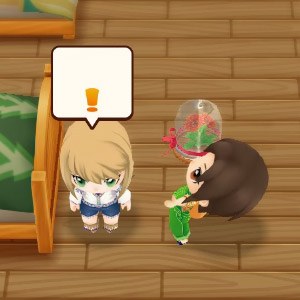 The Preserved Flower will sit in the tool section of your rucksack. If you have seen the first four events with a candidate and they have a green heart color (30,000 LP) or higher, equip the Preserved Flower and then press the Y Button to use the flower while standing next to the person you're trying to impress. If you have met the requirements, you'll be transported to your farm house for a short acceptance scene. After that you can then move forward with the remaining two heart events with that person.
The special candidates (Kappa, Huang, Bon Viviant, and Harvest Goddess) don't have heart events or require the exchange of the Preserved Flower. Huang's events are associated with unlocking his salesman functions, which is one of his marriage requirements.
If you want to give the flower to another candidate, Jeff sells an unlimited supply of Preserved Flowers at his shop for 1000 G each. The candidates do not care how many other people you show your under-glass flower to; there is no penalty for flowering yourself around to every available bachelor and bachelorette. There is even an in-game achievement to hand the flower over to all 12 of the normal marriage candidates.
House Upgrade
Your farm house will need to be upgraded twice before you can marry. Carpenter Gotts will remodel the exterior and interior of your house for a fee plus materials. You've to first upgrade to the medium house size, and then upgrade to the large house size. Ordering a house upgrade will take him 3 days to complete:
Medium-sized house upgrade: 3000 G, 150 Lumber, and 50 Stone
Large-sized house upgrade: 10,000 G, 600 Lumber, and 250 Stone
You can buy Lumber and Stone from Gotts if you don't have enough materials for an upgrade. Gotts sells Lumber and Stone for 50 G each. Ideally, you would collect that yourself by using your Axe on sticks and stumps or using your Hammer on rocks and boulders.
The kitchen utensils and bathroom aren't needed for getting married.
Large Bed

To accommodate your upcoming spouse, you'll need to purchase a large bed. This bed will sit in the space to the right of the existing bed inside of your farm house; basically it is a second bed just like it was in the Gameboy Advanced game.
Gotts will sell the Large Bed at his shop after you upgrade your farm house to the largest size. The bed costs 10,000 G and doesn't require any construction materials! The bed's design and fabric pattern are not customizable.
Blue Feather

After you have completed all the other requirements, you can propose marriage. The Blue Feather will be for sale at Jeff's store for 1000 G. It appears in his store inventory after either:
you have seen the orange heart event with a normal marriage candidate, or
you have reached an orange heart color with a special marriage candidate (as they don't have the standard heart events).
You can purchase one Blue Feather from Jeff's shop, and only marry a single candidate. Divorce is not an option in this game. The feather can be stored in the toolbox of your farmhouse.
Proposing Marriage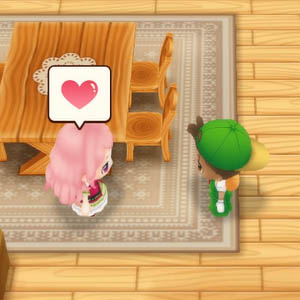 After you have completed the house upgrade, purchased the big bed, have a red-heart color with your chosen mate, and have seen their six romantic heart events (for normies) or completed their pre-marriage challenges (for specials), you can propose marriage. Equip the Blue Feather from the tool section of your rucksack and then use the feather on your chosen candidate. For the Kappa and the Harvest Goddess, use it while standing next to the edge of their watery homes.
If your proposal is accepted, you'll move to your farmhouse for the formal handing over of the feather. After a small speech, your fiancé will leave the house.
If your proposal is rejected, then you have not yet completed the marriage requirements. The game won't tell you which of the requirements you missed. Restarting your game is not necessary; simply go back through each step to double check the completion. Feather rejection is oftentimes because there is a missed heart event. You can still see heart events even though your sweetie is at a higher heart color than the minimum level necessary to trigger the heart event.
If you are trying to get all of the 7 Rings, hold off on proposing marriage until after the Winter 24 festival. Only Brandon, Cliff, Doctor, Gray, and Jennifer give this ring during the festival if you spend the evening party with them before you propose marriage to your selected candidate. One player noted that they did eventually receive the Starry Night ring post-marriage, but only after their child was full grown by the time the festival took place. So it depends on for how long you plan on playing the game whether you want to get the ring pre-marriage or post-marriage.
Your wedding will automatically be scheduled on your farmhouse calendar. The ceremony will take place 7 days after your propose (e.g., if you proposed on a Wednesday, your ceremony will be the following Wednesday). If a festival is scheduled to take place on the same day as your wedding, your ceremony will be moved to the next day. Your wedding can take place on the same day as a villager's birthday.
The Wedding
The ceremony begins in the morning of your scheduled date. All marriage candidates will have their wedding at the town church. The normal marriage candidates will have the villagers in attendance, and the special candidates will have a limited audience. You'll receive one of the 7 Rings, see a nice screenshot opportunity, and watch the game's ending credits.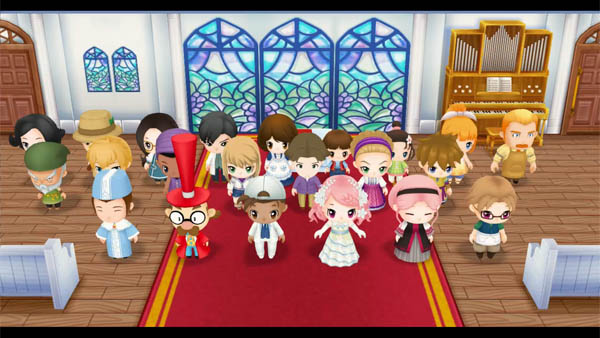 You'll appear back inside your farmhouse after the all-day ceremony. Your new spouse will ask if you want them to refer to you by a pet name. You can chose from a list or enter one of your own. After that you'll awaken the next morning as one-half of a committed relationship.
Post-Marriage
Some of the annual festivals will change once you're married.
The gift-giving Valentines Day (Winter 14) and White Day (Spring 14) will have your spouse sneaking chocolates or cookies into your rucksack after you go to bed for the day.
The beach fireworks show on Summer 24 will be with your spouse.
Your spouse will also be waiting for you at the summit of Mother's Hill for the Autumn 13 Moonlight Night viewing.
An evening dessert party takes place on the Autumn 30 Pumpkin Jamboree.
The winter Starlight Night festival takes place inside of your farmhouse with your spouse.
You can now celebrate your birthday and your spouse's birthday with an evening party. Walk into your farmhouse between 6:00 pm and midnight to be greeted by your spouse, who will ask if you know how important today is. If you correctly answer your spouse's question, then you will have a small dinner celebration and earn +3000 LP with them. But, if you guess incorrectly, then you will lose 2000 LP.
The first time you celebrate your birthday with your spouse, you'll receive one of the 7 rings.
Your wedding anniversary will also be celebrated, but this occurs in the morning when you wake up. Your spouse will again ask if you know what the significance of this day is, with +3000 LP for the correct answer and -2000 LP for the wrong answer. Your spouse will give you a wrapped gift containing either an Amethyst, Diamond, Pink Diamond, Ruby, or Topaz.
On your 50th wedding anniversary, your spouse will give you a BIG gift: a mountain cottage located in the meadow near the summit of Mother's Hill. You can spend the night in this vacation house. The wall calendar inside the mountain cottage contains one of the seven Truth Jewels that when combined, form the Truth Gem.
Sick Spouse Event
If you haven't triggered the pregnancy event yet, and you do not talk to your spouse for 10 days straight, on the morning of the 11th day your spouse will refuse to get out of bed. They are not feeling very well and were hoping that you wouldn't notice their condition. You will lose 2000 LP with your spouse, but they will be all better the next morning.