After you complete the marriage requirements and get married, you can have one child with your spouse. In general, the child events will naturally occur as you play through the game. You do not need to buy a new bed or upgrade your house size.
The child pregnancy event will vary depending on the gender of your spouse.
Opposite Gender
On the morning of the 30th day after your wedding, and it is not a festival day, the female side of the couple will begin to feel unwell. The two of you will head to the clinic, where Doctor will diagnose and announce the pregnancy. He'll diagnose the pregnancy even when you're married to him.
In the morning the day after the pregnancy announcement, the Harvest Goddess will appear inside of your farmhouse. She will congratulate you on your upcoming kiddo and ask if you hope to have a boy child, a girl child, or you're happy with either. The answer you select during this event will determine the gender of your child at their birth. Picking the boy option will guarantee that you have a boy, and selecting the girl option ensures that you have a baby girl. Option #3 will make it a surprise, as you won't know if you are having a boy or a girl until the date of their birth. The Goddess' gender reveal party will be pushed over a day if it was to occur on your birthday or your spouse's birthday. You'll also need to wake up in your farmhouse bed for the event to trigger (not in the vacation cottages).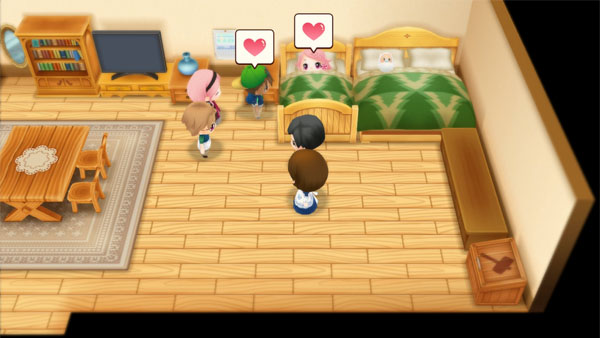 Your child's birthdate won't be marked on your farmhouse calendar, but your spouse will remind you the day before the delivery that tomorrow is the big day. Yipee!
The child will be born 60 days after the date of the pregnancy discovery. The event will take all day. You'll see a scene with the guy pacing back and forth by the kitchen, while the woman gives birth off-screen. Eventually, the baby will be born, and you can choose an 8-character name for the little fellow.
The Harvest Goddess also follows this series of events if you marry her. She will personally announce that she is pregnant, the next day you'll pick your preferred child gender, and then 60 days later the baby will magically appear in your bed.
The door to the Nature Sprite hut will be locked all day on the gender selection day. The next day, the door will return to being unlocked. Not sure if the same occurs for same-gender though.
Same Gender
There is no pregnancy event with same-sex couples, though they can still have a child of their own. On the morning of the 90th day since the wedding ceremony and your spouse has 65,000 LP (basically, max affection), the Harvest Goddess will visit your farmhouse. She will ask if you could do something for her, as she wants you to raise a child. You will then select that you hope to raise a boy, a girl, or have the game randomly choose the gender for you.
After selecting your gender choice, the baby will magically appear in the middle of your bed. Poof! Insta-baby!
At this point you have to tell your spouse about it, who is perplexed as to how a baby randomly appeared inside your farmhouse. Your spouse will understand that this little fellow needs parents and welcomes the opportunity to raise a baby together. You will then give an 8-character name for your new baby.
If your spouse is male, the baby will always appear in the bed during the second half of the baby event. If your spouse is female, then she will be carrying the baby in her arms during the second half. The characters will still turn towards the bed during the dialog scenes as though the baby is there.
Child Care
If your spouse is female, in the morning she will be carrying around the baby. The baby will be placed back in the bed when she leaves the farmhouse. If your spouse is male, the baby stays in bed all day long.
While the baby is this young, you can't interact with them or feed them. The baby will spend its days in bed or in the arms of another woman, wrapped in a white cocoon with never-blinking eyes that stare into your soouulll....
On the morning of the 60th day since the baby joined your family, your spouse will find that the baby has fallen out of bed and may have gotten hurt. You can calm your spouse by telling them that it will be okay, but doing so will not be comforting to either your spouse or child, resulting in -2000 LP with your spouse and -10 FP with your baby! Your spouse will scold you for being so inconsiderate, then take your baby to the Doctor without you. If you're married to Doctor, he'll take the baby to the clinic for a more-thorough examination.
The correct choice is "Quick, to the Clinic!" Doctor will take a look and diagnose that everything is okay; there are no broken bones despite all the crying. You'll earn +3000 LP with your spouse, +20 FP with your kid, and +20 FP with Doctor.
The fall-out-of-bed event will take a full in-game day.
The baby will be in their crawling stage the next morning. The baby is no longer carried around or laying all day in bed. You can now talk to the little rug rat and gift gifts as it scoots around on the farmhouse's floor. Both the girl and boy like the same gifts. You will only earn Friendship Points (FP) with your child. The baby does not have Love Points (LP).
Crawling-Stage Gift Preferences
+9 FP
all yarn, Wild Grapes
Baumkuchen, Cake, Carbonara, Cheese Souffle, Cheesecake, Grape Juice, HMSGB Apple, Ice Cream, Pancakes, Strawberry Milk (recipe), Udon
+3 FP
all mayonnaise, all milk (coffee, fruit, normal, and strawberry), AEPFE Apple, Apple, Blue Magic Red Flower, Branch, Carrot, Chocolate, Moondrop Flower, Orange, Pineapple, Pet Ball, Pink Cat Flower, True Magic Red Flower, Rock, Soybeans, Strawberry, SUGDW Apple, Toy Flower
Ajillo, Baked Apple, Bagna Cauda, Dorayaki, Fruit Juice, Fruit Smoothie, Mixed Juice, Mixed Smoothie, Orange Pastries, Orange Juice, Candied Peels, Orangette, Pineapple Juice, Relax Tea Leaves, Strawberry Cake, Vegetable Juice, Yam Dessert
-3 FP
all cheese, Bell Pepper, Stamina Booster, Stamina Booster XL, Butter, Cabbage, Chestnut, Chili Pepper, Corn, Cucumber, Eggplant, Fish Bones, Large Fish, Medium Fish, Mushroom, Onion, Perfume, Potato, Premium Grape Juice, Red Grass, Small Fish, Buckwheat Flour, Caffeine, Super Caffeine, Turnip, Wild Grape Water, Weed, Yam
Acqua Pazza, Bamboo Rice, Carpaccio, Cheese Fondue, Cheese Risotto, Chestnut Rice, Chocolate Cookies, Cookies, Curry Bread, Curry Rice, Curry Udon, Fish Fritter, Fried Rice, Madeleine, Margherita Pizza, Mashed Potatoes, Matsutake Rice, Mont Blanc, Mushroom Gratin, Mushroom Rice, Oden, Okonomiyaki, Paella, Pepper Steak, Pot au Feu, Ramen, Roasted Corn, Roasted Chestnut, Sashimi, Seafood Rice Bowl, Fish Soup, Spicy Margherita Pizza, Spicy Pepper Steak, Spicy Ramen, Spicy Sandwich, Spicy Vegetable Stir Fry, Stir-fried Veggies, Sushi, Tempura, Tempura Soba, Tempura Udon, Vegetable Pizza, Zaru Soba
-9 FP
all gems, all ores, all wool (alpaca, angora, and sheep), Bamboo Shoots, Black Grass, Blue Grass, Letter in a Bottle, Bracelet, Broach, Chicken Feed, Curry Powder, Earrings, Empty Can, Facemask, Ancient Fossil, Flour, Fodder, Green Grass, Gold Lumber, Honey, Indigo Grass, Tomatosetta Stone, Lumber, Matsutake, Necklace, Oil, Orange Grass, Pet Treat, Pirate Treasure, Poison Mushroom, Purple Grass, Rubber Boot, Skin Lotion, Stone, Sunblock, White Grass, Yellow Grass
Elli Leaves
Growing Up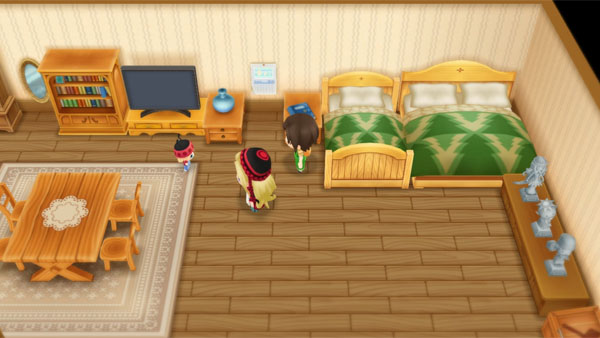 After another 60 days has passed (a total of 120 days since birth), in the morning your spouse will show you that the child has learned to walk. You'll earn another +3000 LP with your spouse and +20 FP with your child.
At this point, the child is full-grown. The child never leaves the farmhouse and does not help with farm work. But it sure is cute!
Your child's birthday will be celebrated the same way as your birthday and your spouse's birthday. Walk into your farmhouse between 6:00 pm and midnight to answer your spouse's what-day-is-today question. If you correctly answer that it is your child birthday, you'll earn +3000 LP with your spouse and +20 FP with your child. Answering incorrectly results in -2000 LP (spouse) and -10 FP (kid).
The full-grown child has some updates to their likes and dislikes:
Full-Grown Gift Preferences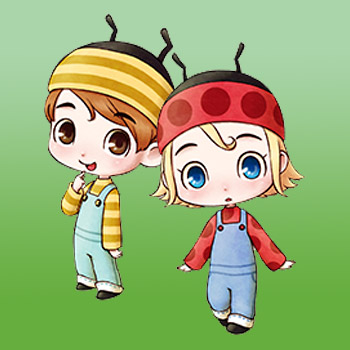 +9 FP
Moondrop Flower, Pink Cat Flower, Toy Flower, Wild Grapes
Apple Pie, Baumkuchen, Bibimbap, Cake, Carbonara, Cheese Fondue, Cheesecake, Chocolate Cookies, Cookies, Fruit Smoothie, Grape Juice, Ice Cream, Madeleine, Nasi Goreng, Omelet Rice, Pancakes, Strawberry Milk (recipe)
+3 FP
all mayonnaise, all milk (coffee, fruit, normal, and strawberry), all wool (alpaca, angora, and sheep), all yarn, AEPFE Apple, Apple, Blue Magic Red Flower, Letter in a Bottle, Branch, Chocolate, Empty Can, HMSGB Apple, Matsutake, Pet Ball, Orange, Pineapple, True Magic Red Flower, Rock, Strawberry, SUGDW Apple
Ajillo, Bagna Cauda, Baked Apple, French Fries, Mixed Juice, Mixed Smoothie, Orange Pastries, Orange Juice, Candied Peels, Orangette, Pineapple Juice, Relax Tea Leaves, Vegetable Juice, Yam Dessert
-3 FP
all cheese, all gems, all ores, Bamboo Shoots, Butter, Cabbage, Corn, Cucumber, Eggplant, Fish Bones, Large Fish, Tomatosetta Stone, Medium Fish, Mushroom, Perfume, Pet Treat, Potato, Small Fish, Buckwheat Flour, Turnip, Weed
Aqua Pazza, Bamboo Rice, Carpaccio, Cheese Fondue, Cheese Risotto, Curry Bread, Curry Rice, Curry Udon, Fish Fritter, Fried Rice, Margherita Pizza, Mashed Potatoes, Matsutake Rice, Mushroom Gratin, Mushroom Rice, Oden, Okonomiyaki, Paella, Pot au Feu, Ramen, Roasted Corn, Seafood Rice Bowl, Fish Soup, Vegetable Stir Fry, Sushi, Tempura, Tempura Soba, Tempura Udon, Vegetable Pizza, Zaru Soba
-9 FP
all wild grass, Bell Pepper, Stamina Booster, Stamina Booster XL, Carrot, Chestnut, Chicken Feed, Chili Pepper, Curry Powder, Ancient Fossil, Flour, Fodder, Gold Lumber, Honey, Oil, Onion, Lumber, Pirate Treasure, Poisonous Mushroom, Premium Grape Juice, Soybeans, Stone, Caffeine, Super Caffeine, Wild Grape Water, Yam
Baked Fish, Chestnut Rice, Elly Leaves, Mont Blanc, Pepper Steak, Roasted Chestnut, Roasted Corn, Sashimi, Spicy Margherita Pizza, Spicy Pepper Steak, Spicy Ramen, Spicy Sandwich, Spicy Vegetable Stir Fry