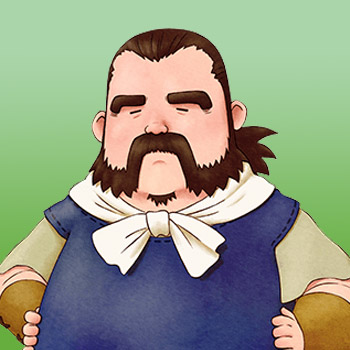 The local carpenter can build improvements on your farm such as farmhouse upgrades, improving your crop field quality, or even expanding your fodder storage. Gotts lives in the forest area south of your farm.
Gotts is the self-appointed guardian of the mountain. His spouse and young daughter died on the mountain during a snowstorm long ago. Now he patrols the area to ensure nobody else suffers the same fate. That's how Brandon came to live with him; Gotts found the lost sculptor collapsed in the forest.
His name was Gotz in Harvest Moon: Friends of Mineral Town.
Birthday: Fall 2
Schedule: Though he runs a carpentry shop, Gotts doesn't stay put at his shop every day of the week. In the morning he leaves his house to patrol around Mothers Lake at 8:00 am, returning to his house around 11:30 am. From there his schedule changes depending on the day of the week:
On Sundays he goes to the Mother's Hill summit at 1:00 pm, returning home at 4:00 pm
Mondays, Tuesdays, and Wednesdays has him inside his house all day long
Thursdays and Fridays are when he takes a mid-day break in the forest around his house from 1pm to 4pm
His shop is closed on Saturdays, so after his morning patrol he goes into town and visits Mayor Thomas' house (10 am to 12:30 pm), then the general store (1 pm until 4 pm), and then finally returns home.
Gift Preferences
+9 FP
all alpaca fleece, all angora fur, all cheese, all eggs, all mayonnaise, all sheep wool, Adzuki Bean, AEPFE Apple, Apple, Butter, Carrot, Cucumber, Curry Powder, Honey, HMSGB Apple, Large Fish, Lumber, Material Stone, Matsutake, Medium Fish, Oil, Onion, Orange, Potato, Pumpkin, SUGDW Apple, Wheat Flour, Yam
Ajillo, Bagna Cauda, Baked Apple, Candied Peels, Carbonara, Dorayaki, Eggs Benedict, Fish Fritters, Fish Soup, Ketchup, Mashed Potatoes, Napolitan, Orange Pastries, Orangette, Paella, Pumpkin Potage, Quiche, Relax Tea Leaves, Seafood Rice Bowl
+3 FP
all milk (coffee, fruit, normal, and strawberry), Buckwheat Flour, Caffeine, Chocolate, Pet Treat, Premium Grape Juice, Stamina Booster, Stamina Booster XL, Super Caffeine
Apple Pie, Baumkuchen, Bibimbap, Cake, Chocolate Cookies, Grape Juice, Ice Cream, Miso Soup, Mixed Juice, Mixed Smoothie, Nasi Goreng, Pancakes, Pudding, Raisin Bread, Relax Tea, Salad, Sandwich, Strawbery Cake, Sushi, Tempura Soba, Tempura Udon, Vegetable Juice, Wild Grape Juice, Yam Dessert, Zaru Soba
-3 FP
all gems, all ores, all yarn, Bracelet, Brooch, Chicken/Rabbit Feed, Dango Flour, Dress, Earrings, Facemask, Fodder, Necklace, Sunblock, Yellow Grass
Elli Grass, Roasted Corn
-9 FP
Ancient Fossil, Boot, Bottled Message, Branch, Empty Can, Fish Bones, Gold Lumber, Perfume, Pirate Treasure, Poison Mushroom, Red Grass, Skin Lotion, Stone, Weed