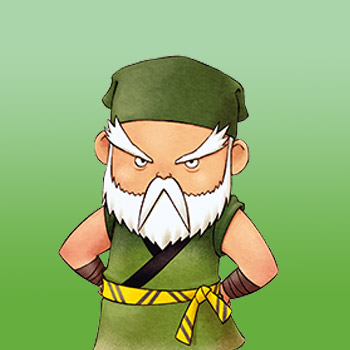 The town's metalsmith runs the forge just to the north of your farm. Saibara is a skilled craftsperson and is trying to teach his grandson, Gray, the forge's ways. Saibara isn't completely clear with his instructions, resulting in Gray's frustration with grandpa's training. Saibara's is trying to teach Gray everything he knows, with his plan for Gray to take over the forge someday.
His spouse passed away long ago, so Saibara's son has tried to convince the master blacksmith to move in with him. Saibara refuses to leave his forge and Mineral Town. At least now his grandson is there to keep an eye on him.
Birthday: Spring 11
Schedule: Saibara run the forge most days of the week and takes Thursdays off to relax. During his workweek, you'll find Saibara inside the forge all day long. He'll manage the counter of his shop from 10:00 am until 4:00 pm. At 7:00 pm, he'll leave to go to Dudley's inn for his evening meal, arriving around 8:00 pm. Saibara will stay in the restaurant area of the inn until it close at 10:00 pm, then heads home for the rest of the night.
The forge is closed on Thursdays. Saibara starts his day with a hike up to the summit of Mother's Hill if it isn't raining outside. He'll return to his forge around 10:00 am, then stay there until around 1:00 pm when he leaves to visit the General Store. He'll stay at Jeff's store until 4:00 pm, then back to the forge until he heaves for his evening meal at the inn at 7:00 pm.
If it is raining on Thursday, Saibara stays inside his forge until dinnertime at the inn.
Gift Preferences
+9 FP
Adamantite, Bamboo Shoots, Buckwheat Flour, Diamond, Large Fish, Mithril, Mochi, Orichalcum, Pink Diamond, Turnip
Bamboo Rice, Daifuku, Elli Grass, Fish Soup, Miso Soup, Oden, Tempura Soba, Zaru Soba, Zenzai
+3 FP
all cheese, all gems, all milk (coffee, fruit, normal, and strawberry), Adzuki Beans, AEPFE Apple, Apple, Bracelet, Branch, Brooch, Carrot, Cucumber, Copper, Earrings, Eggplant, Gold, HMSGB Apple, Lumber, Material Stone, Mushroom, Mythic Ore, Necklace, Onigiri, Orange, Premium Grape Juice, Pumpkin, Silver, Spinach, SUGDW Apple, Yam
Baked Apple, Baked Yam, Candied Peel, Dorayaki, Grilled Fish, Mushroom Gratin, Mushroom Rice, Orange Pastries, Orangette, Palbochae, Pumpkin Potage, Roasted Corn, Strawberry Cake, Tamagoyaki, Tempura, Tempura Udon, Wild Grape Water
-3 FP
all alpaca fleece, all angora fur, all colored grasses, all sheep wool, all yarn, Bread, Caffeine, Chocolate, Curry Powder, Dress, Facemask, Junk Ore, Oil, Pet Treat, Pineapple, Skin Lotion, Stamina Booster, Stamina Booster XL, Strawberry, Sunblock, Super Caffeine, Wheat Flour
Apple Pie, Baumkuchen, Bibimbap, Carbonara, Cheese Souffle, Cheesecake, Churros, Chocolate Cookies, Cookies, Curry Bread, Curry Rice, French Fries, French Toast, Grape Juice, Ice Cream, Madeleine, Margarita Pizza, Nasi Goreng, Omelet Rice, Pancakes, Pineapple Juice, Popcorn, Pudding, Raisin Bread, Sandwich, Stew, Strawberry Milk (recipe), Yam Dessert
-9 FP
Ancient Fossil, Boot, Bottled Message, Chicken/Rabbit Feed, Empty Can, Fish Bones, Fodder, Gold Lumber, Perfume, Pet Ball, Pirate Treasure, Poison Mushroom, Stone, Weed