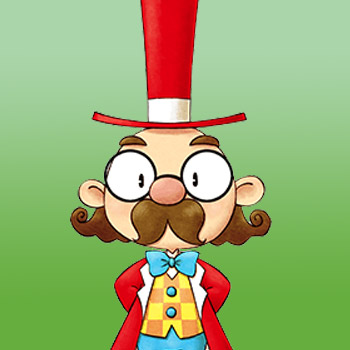 Thomas lives with his son, Harris, next to the General Store. Thomas has been the mayor of Mineral Town for a long time; his family has served the town for generations! He knew the protagonist's grandpa and is elated to see that someone close to the old farmer has agreed to take over the family farm. Without the farm, Thomas is worried that the village might dry up and people would move away.
Besides ensuring that the town runs smoothly, Thomas is responsible for preparing the local festivals. He'll often be in Rose Plaza, tending to the public notice board.
Birthday: Summer 25
Schedule: Thomas spends his entire Monday-through-Friday inside of his house. Once the weekend arrives, Thomas goes wild (as much as possible, anyway). On Saturday he'll visit the General Store from 7:20 am until 10:00 am, then to Ellen's house until 1:00 pm, then to Rose Plaza from 2:00 pm until 4:00 pm, and then finally returns home for the rest of the day. On Sundays he skips his store visit and goes directly to Ellen's.
If the weather is rainy on the weekend, he visits the Inn during the afternoon instead of going to Rose Plaza.
Gift Preferences
+9 FP
Bracelet, Brooch, Buckwheat Flour, Diamond, Dress, Earrings, Facemask, Necklace, Perfume, Pink Diamond, Premium Grape Juice, Sunblock
Apple Pie, Cheese Fondue, Cheese Risotto, Churros, French Toast, Margarita Pizza, Relax Tea, Tempura Soba, Wild Grape Water, Yam Dessert, Zaru Soba
+3 FP
all cheese, all eggs, all milk (coffee, fruit, normal, and strawberry), Bamboo Shoots, Honey, Hot-Spring Egg, Matsutake, Mochi, Pineapple, Potato, Pumpkin, Strawberry, Turnip, Yam
Almond Tofu, Baumkuchen, Cake, Daifuku, Eggs Benedict, Elli Leaves, Mashed Potato, Miso Soup, Moon Dumplings, Oden, Pancakes, Pineapple Juice, Pot au Feu, Pumpkin Potage, Quiche, Strawberry Cake, Tempura, Tempura Udon, Zenzai
-3 FP
all colored wild grasses, all gems, all ores, Bottled Message, Lumber, Material Stone, Tomatosetta Stone
Sashimi, Sushi
-9 FP
Ancient Fossil, Boot, Branch, Chicken/Rabbit Feed, Fish Bones, Gold Lumber, Empty Can, Fodder, Pirate Treasure, Stone, Weed