The List of Cooking Recipes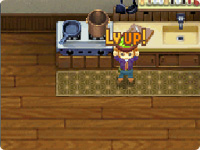 There are a two ways you can discover cooking recipes in Tale of Two Towns; either by cooking it or by being inspired after you successfully cook a recipe. You can find recipe instructions by reading the bookshelves in the villagers' houses. Then you just have to cook it to see if you get inspired to learn a new recipe.
You don't need to know the recipe in order to cook it. If you have the right ingredients and cooking utensil, then craft it using your kitchen to have it documented into your recipe list. There are six categories of cooking recipes and a total of 273 cooking recipes.
---
Help and Admin Contact | Site Map | Harvest Moon News | Privacy Policy | Twitter | Game Credits