Help Requests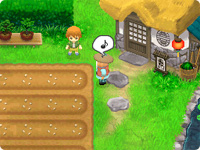 Once your message board request level has reached rank 4, at the beginning of the new season you may begin to see Help Requests appear on both towns' message boards. These requests only appear for one day and expire at 7:00 pm that night. You will also need to have 15,500 or more Friendship Points (basically 2.5 flowers) with the person who wants to hire you for help and be in year 2 or later.
When you accept an orange request for help, talk to the Requester before 7:00 pm. The person will explain to you what he or she would like you to do. You have until 7:00 pm to complete the assigned farm work. When completed, talk to the Requester again to receive your reward. If you fail to return to the Requester before 7pm, then you fail the request and no reward will be handed over.
You may receive a bonus reward item if you complete the work in a short amount of time! It will help to have the required tool equipped and ready to go before starting so that you finish as quickly as possible.
Help Requests will appear on specific days of a season each year. Some of them require you to complete a previous request before it will appear; for example, you may need to help someone with watering their crops before the request to harvest the same crops will be posted to the message board later that season.
If you accept a Help Request to water someone's crops and it is raining, then you don't have to do any work at all! Talk to the Requester to receive your reward without doing any work on their land. Super easy!
All requests for hired help will be Rank B.
Request Post Date
Requested Work
Standard Reward
Bonus Reward
Dirk - Konohana Message Board


(You can't be married to Dirk)

Spring 3
Water the field by Dirk's house
100 G
2 Vegetable Stir Fry
1 French Fries
15 minutes or less
Spring 16


if completed Spr 3 req.

Harvest the crops in the field by Dirk's house
150 G
5 Potato Seedss
1 Potato
15 minutes or less
Summer 4
Water the field by Dirk's house
220 G
2 Onion Soup
1 Pickled Onion
15 minutes or less
Summer 8


if completed Sum 4 req.

Harvest the crops in the field by Dirk's house
400 G
5 Onion Seedss
1 Onion
15 minutes or less
Fall 3
Water the field by Dirk's house
100 G
2 Vegetable Curry
1 Pickled Carrot
15 minutes or less
Fall 8


if completed Fall 3 req.

Harvest the crops in the field by Dirk's house
250 G
5 Carrot Seedss
1 Carrot
15 minutes or less
Winter 3
Water the field by Dirk's house
330 G
1 Chop Suey
1 Bok Choy Kimchi
15 minutes or less
Winter 26


if completed Win 3 req.

Harvest the crops in the field by Dirk's house
260 G
2 Bok Choy Seedss
1 Bok Choy
15 minutes or less
Gombe - Konohana Message Board
Spring 1
Water the field by Gombe's house
100 G
4 Asazuke
1 Soybean Flour
8 minutes or less
Spring 22


if completed Spr 1 req.

Harvest the crops in the field by Gombe's house
400 G
2 Cabbage Seedss
1 Asparagus
15 minutes or less
Summer 1
Water the field by Gombe's house
100 G
2 Daikon Salad
1 Flour
8 minutes or less
Summer 26


if completed Sum 1 req.

Harvest the crops in the field by Gombe's house
500 G
5 Tomato Seedss
1 Tomato
25 minutes or less
Fall 1
Water the field by Gombe's house
100 G
2 Vegetable Stir Fry
1 Buckwheat Flour
8 minutes or less
Fall 24


if completed Fall 1 req.

Harvest the crops in the field by Gombe's house
250 G
5 Carrot Seedss
1 Spinach
25 minutes or less
Mako - Konohana Message Board
Request Post Date
Requested Work
Standard Reward
Bonus Reward
Spring 30
Harvest the fruit from the orchard by Mako's house
880 G
1 Coffee Tree Seeds
1 Cherry
10 minutes or less
Summer 30
Harvest the fruit from the orchard by Mako's house
700 G
1 Banana Tree Seeds
1 Peach
10 minutes or less
Fall 30
Harvest the fruit from the orchard by Mako's house
670 G
1 Grape Tree Seeds
1 Apple
10 minutes or less
Winter 30
Harvest the fruit from the orchard by Mako's house
410 G
1 Mandarin Tree Seeds
1 Mandarin
10 minutes or less
Nori - Konohana Message Board
Winter 1
Water the field by Gombe's house
100 G
2 Tofu Burger
1 Rice Flour
8 minutes or less
Winter 5


if completed Win 1 req.

Harvest the crops in the field by Gombe's house
500 G
5 Daikon Seedss
1 Buckwheat
35 minutes or less
Sheng - Konohana Message Board
Spring 10
Water the field by Sheng's house
110 G
3 Strawberry Jam
1 Strawberry
5 minutes or less
Spring 18


if completed Spr 10 req.

Harvest the crops in the field by Sheng's house
150 G
1 Strawberry Seeds
1 Ore Stone
15 minutes or less
Summer 11
Water the field by Sheng's house
220 G
2 Roasted Corn
1 Corn
5 minutes or less
Summer 16


if completed Sum 11 req.

Harvest the crops in the field by Sheng's house
100 G
2 Corn Seeds
1 Ore Stone
15 minutes or less
Fall 11
Water the field by Sheng's house
200 G
8 Baked Yam
1 Yam
5 minutes or less
Fall 27


if completed Fall 11 req.

Harvest the crops in the field by Sheng's house
100 G
2 Yam Seeds
1 Ore Stone
15 minutes or less
Winter 11
Water the field by Sheng's house
150 G
5 Boiled Daikon
1 Daikon
5 minutes or less
Winter 18


if completed Win 11 req.

Harvest the crops in the field by Sheng's house
340 G
6 Daikon Seeds
1 Ore Stone
15 minutes or less
Ash - Bluebell Message Board
Request Post Date
Requested Work
Standard Reward
Bonus Reward
Spring 12
Brush the animals in the Animal Shop barn
150 G
2 Good Cheese
1 Carnation Seeds
25 minutes or less
Spring 20


if completed Spr 12 req.

Milk the Cows in the Animal Shop barn
160 G
2 Good Butter
1 Great Yogurt
25 minutes or less
Summer 13
Brush the animals in the Animal Shop barn
150 G
2 Good Cheese
1 Sunflower Seeds
25 minutes or less
Summer 20


if completed Sum 13 req.

Milk the Cows in the Animal Shop barn
160 G
2 Good Butter
1 Great Herb Mayo
25 minutes or less
Cheryl - Bluebell Message Board
Winter 15
Brush the animals in the Animal Shop barn
150 G
2 Good Cheese
1 Gentain Seeds
25 minutes or less
Winter 20


if completed Win 15 req.

Milk the Cows in the Animal Shop barn
160 G
2 Good Butter
1 Great Fruit Yogurt
25 minutes or less
Jessica - Bluebell Message Board
Fall 13
Brush the animals in the Animal Shop barn
150 G
2 Good Cheese
1 White Rose Seeds
25 minutes or less
Fall 20


if completed Fall 13 req.

Milk the Cows in the Animal Shop barn
160 G
2 Good Butter
1 Great Herb Butter
25 minutes or less
---
Help and Admin Contact | Site Map | Harvest Moon News | Privacy Policy | Twitter | Game Credits