Dirk
Dirk is the mail carrier of the mountain. He travels from town to town each day and so he can be hard to track down if you don't know his schedule. He delivers the mail every day except for Sundays and full-day rainy or stormy days. If it is a festival day in Bluebell, he won't travel there to deliver the mail.
When you first start the game you won't find Dirk living in Konohana Town. To unlock him, be in Summer of your first year (or later) and then walk from the Konohana low-mountain area to the Konohana entrance area between 9:00 am and 8:00 pm on a sunny, snowy, or half-day rainy day. You must walk from area to area to unlock him. If you are riding your horse, the unlocking event won't occur. Also you do not need to be living in Konohana Town to see the event.
Dirk's friendship flowers are white, not colored! He is a special bachelor and so he does not have the colored flowers that the other marriage candidates have. You can still easily tell his friendship with you by counting the white flowers on the conversation dialog box.
Dirk is not as mischievous as he was in Harvest Moon: Grand Bazaar. He still has his cheery personality and his letter carrier duties keeps him out of trouble.
Birthday: Summer 12
Family: Ivan (brother - not in game)
Favorite Outfit: Classy Outfit
Favorite Animals: All
Disliked Animals: None
Friendship Tips: One of the simplest things you can do is catch the silver and gold box beetles that you can find on trees during the Summer season. Bugs don't rot so you can stock up on the free bugs and give them to Dirk in the other seasons.
Dirk also likes tea drinks, which you can find for sale at Yun's Tea House in Konohana Town. Green Tea is 70 G each in Spring, Matcha Tea is 80 G in Summer, and Puer Tea is 90 G each in Fall. Yun doesn't sell an inexpensive tea during Winter, but you can buy Ginseng Tea from her for 390 G each.
Curry dishes are also well liked by the postman. You can buy the Rice from Raul's for 180 G each, Curry Powder for 220 G each (from either brother), and then combine them into Curry Rice with your cooking Pot.
Dirk's favorite gift, Cream Croquette, can be purchased from Howard's cafe during Winter for 410 G.
Giving Gifts
Favorite Gift
+800 FP
Cream Croquette


Cooked Recipe (horderve): Oil + Bread Crumbs + Potato + (Milk or Jersey Milk or Gold Milk) + Frying Pan

Liked Gifts
+300 FP
Normal Items: Buckwheat Tea Can, Fall Tea Leaves, Fish Fossil, Ginseng Tea (Can), Green Tea (Can), Oolong Tea (Can), Legendary Treasure, Letter in a Bottle, Matcha Tea (Can), Magic Red Flower, Puer Tea (Can), Red Bouquet, Red Rose, Sencha Tea (Can), Spring Tea Leaves, Summer Tea Leaves, Sunflower, Sunflower Bouquet

Insects: Anubis Beetle, Atlas Beetle, Big Pincer Beetle, Elephant Beetle, Pincer Beetle, Hercules Beetle, Rhinoceros Beetle, Stag Beetle, White Beetle, White Giant Beetle, White Hill Beetle, White Morn Beetle

Fish: (None)

Cooked Recipes: (horderve) Arancini, Boiled Tofu, (main) Omelet Rice, Cheese Fondue, Tomato Fondue, Pink Fondue, Gratin, Pizza, Risotto, Doria, Farmer's Breakfast, Dry Curry, Curry Rice, Vegetable Curry, Spicy Curry, Seaweed Curry, Milk Curry, Rainbow Curry, Ultimate Curry, Supreme Curry, Paella, Egg Rice Bowl, Sushi Bowl, Fried Rice, Mixed Rice, Mushroom Rice, Shimeji Rice, Tempura Bowl, Okonomiyaki, Fried Udon, Tempura Soba, Yakisoba, Milk Stew, Oden, (dessert) Party Cake, Choc. Party Cake, Party Cheesecake, (misc) Green Tea, Matcha Tea, Sencha Tea, Puer Tea, Oolong Tea, Buckwheat Tea, Ginseng Tea
Standard Gifts
+50 FP
All other items not listed
Disliked Gifts
-300 FP
Normal Items: Animal Medicine, Apricot Wine, Bok Choy Kimchi, Branch, Brown Alpaca Yarn, Cabbage Kimchi, Chestnut Wine, Chicken Feed, Cucumber Kimchi, Daikon Kimchi, Fish Bone, Fish Food, Fish Treat, Fodder, Fruit Wine, Grain Treat, Great Yarn Ball, Honey Wine, Horse Treat, Lumber, Material Stone, Mixed Kimchi, Mixed Pickles, Nutra Treat, Old Ball, Old Boot, Owl Food, Pet Food, Pickled Cucumber, Pickled Carrot, Pickled Onion, Pickled Radish, Plum Wine, Poison Mushroom, Scrap Metal, Snowball, Stone, Suffolk Yarn Ball, Treat, Vegetable Treat, Weed, White Alpaca Yarn, Yarn Ball

Insects: (None)

Fish: All fish

Cooked Recipes: Failed Dish, (salad) Turnip Salad, Tomato Salad, Onion Salad, Herb Salad, Caprese Salad, Mimosa Salad, Boiled Spinach, Asazuke, Tofu Salad, Pasta Salad, Daikon Salad, Mixed Salad, (soup) Soy Milk, (horderve) Popcorn, Corn Cereal, Boiled Egg, Fried Egg, Roasted Mushroom, Sandwich, Herb Sandwich, Fruit Sandwich, Raisen Bread, Jelly Bread, Curry Bread, Toast, French Toast, Honey Toast, Canapé, Miso Eggplant, Roasted Eggplant, Fish Paste, Okara, Deep-Fried Tofu, Cold Tofu, Yuba Tofu, Ganmodoki, (main) Spaghetti, Spaghetti Soup, Lasagna, Inari Sushi, Rice Porridge, Kitsune Udon, Soy Milk Stew, Kimchi Stew, (dessert) Scone, Honey Pudding, (misc) Plum Wine (Glass), Apricot Wine (Gls), Sangria, Honey Wine (Glass), Chestnut Wine Gls
Horror Gift:
-1000 FP
Simmered Potato


Cooked Recipe (horderve): Potato + Pot
Flower Events
Date Information
Date Times: Thursdays and Saturdays (6:00 pm to 10:00 pm), or Sundays (11:00 am to 4:00 pm)
Date Locations: Good = Dirk's House, Yun's Tea House, Bridge, Neutral = Waterfall, Bad = Mountain
Marriage Requirements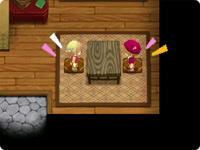 Dirk doesn't have any flower events that you'll need to trigger if you want to marry him. Instead, he has a lot of extra marriage requirements you must complete. You will need to finish the basic marriage requirements of a house upgrade and be in year 2 or later. Because Dirk is a special bachelor he has the normal white friendship flowers, and you need to have them at the full-bloom friendship flower level (60,000 FP or more). You will also need to:
complete the tunnel between the towns
go on at least 50 dates with him
give at least 80 gifts
give his favorite gift, Cream Croquette, at least once
The game does not keep track of your dates with the bachelors, so you will need to manually count the number of dates the two of you go on. Once you've completed all of the requirements, you can give Dirk the blue feather to propose marriage. Dirk does not have a reverse proposal.
Even after marriage he will continue to deliver the towns' mail. He will be home all day on Sundays and stormy or full-day rainy days. On his work days he'll be home until 6:30 am and then be out and about making deliveries until 8:00 pm.
Schedule
Monday through Saturday (before tunnel completion); Sunny, Snowy, or half-day Rainy:
6:00 am to 6:30 am - Dirk's house
7:00 am to 11:00 am - (walking from building to building in Konohana Town)
11:00 am to 1:00 pm - (Kana's shop, then towards the mountain)
1:00 pm to 3:00 pm - (walking across the mountain)
3:00 pm to 4:30 pm - Bluebell entrance area
4:30 pm to 7:30 pm - (walking from building to building in Bluebell Town)
7:30 pm to midnight - (walking back to Konohana Town)
Monday through Saturday (after tunnel completion); Sunny, Snowy, or half-day Rainy:
6:00 am to 6:30 am - Dirk's house
7:00 am to 11:00 am - (walking from building to building in Konohana Town)
11:00 am to 1:00 pm - (Kana's shop, then by the field by his house)
1:00 pm to 2:30 pm - (walking through the tunnel to Bluebell Town)
2:30 pm to 3:30 pm - Bluebell entrance area
3:30 pm to 7:30 pm - (walking from building to building in Bluebell Town)
7:30 pm to 9:30 pm - (walking through the tunnel to Konohana Town)
9:30 pm to midnight - Dirk's house
Sunday; Sunny, Snowy, or half-day Rainy:
6:00 am to 12:00 pm - Dirk's house
12:00 pm to 4:00 pm - Konohana entrance area (by his field, by Kana's shop, etc.)
4:00 pm to 5:00 pm - (walking to Yun's Tea House)
5:00 pm to 6:00 pm - Yun's Tea House
6:00 pm to 7:00 pm - (walking home)
7:00 pm to midnight - Dirk's house
Sunday through Saturday; Stormy or full-day Rainy:
6:00 am to midnight - Dirk's house
---
Help and Admin Contact | Site Map | Harvest Moon News | Privacy Policy | Twitter | Game Credits