Item Needed Requests
On certain days of the year, you may find an "Item Needed" request posted on the message board. These requests are always Rank B and can be a little challenging to complete. They will appear just like a yellow Random Request once your Request Level is 4 or higher and you have at least 12,400 FP with the Requester (2 flowers = 10,000 FP). Item requests from the Konohana villagers will appear on the Konohana message board and requests from the Bluebell villagers will appear on the Bluebell message board.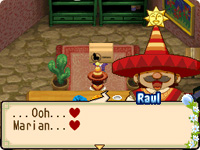 If you accept an Item Needed request, you will need to complete the request on that same day. The responses you receive when you turn in the requested items will be a bit different than a standard Random Request ("Oh, Reina needs Rocks for Research... again...") so you might learn a little more about the Requester.
Another nice thing about the Item Needed requests is that you can accept these Rank B requests even if you can't receive Rank B requests yet. Normally you can't see Rank B requests on your message boards until you are at Request Level 5 or higher, but these Item Needed requests will appear once you've reached Level 4!
Some of the Item Needed requests will require you to view certain events between the villagers.
Date
Requester
Requested Item(s)
Reward
Spring 02
Kana
1 White Mopho
1 Honey
100 G
20 Fodder
1 Treat
You've seen "The Horse Fanatics" event
You are not married to Kana or Georgia
Spring 03
Laney
1 Cherry
1 Flour
1 Good Butter
750 G
8 Black Tea (Can)
2 Sunflower Seeds
5 Strawberry Jam
Spring 04
Grady
5 Black Eggs
1000 G
4 Sunflowers
Spring 05
Reina
1 White Morpho
1 Oki Butterfly
1 Helena Morpho
660 G
8 Peaches
2 Apple Tree Seeds
Spring 07
Nathan
2 Eggs
2 Black Eggs
290 G
1 Red Wine
12 Cheese
Spring 13
Rose
1 Deep-Fried Tofu
100 G
4 Flour
1 Butter
Spring 18
Cheryl
1 Great Butter
670 G
1 Cocoa Tree Seed
2 Soft Chocolates
Spring 19
Reina
1 Onion
1 Milk
370 G
2 Banana
2 Mandarin Tree Seeds
You've seen "Casual Conversation" event
You are not married to Ash or Reina
Spring 20
Alisa
2 Strawberry
780 G
8 Butter
6 Spring Honey
Spring 21
Ash
1 Cherry
1 Sponge Cake
201 G
4 Butter
1 Wool
Spring 22
Hiro
2 Black Egg
300 G
4 Honey
3 Pumpkin Seeds
You've seen Doctor Training
You are not married to Hiro or Nori
Spring 23
Reina
1 Shimeji
1 Shiitake
1 Carrot
510 G
5 Peaches
2 Grape Tree Seeds
Spring 24
Gombe
1 Shiratama Flour
200 G
2 Buckwheat Seeds
2 Onion Seeds
2 Radish Seeds
Date
Requester
Requested Item(s)
Reward
Summer 02
Rahi
1 Puer Tea
100 G
3 Small Coins
1 Dogfish Shark
Summer 05
Georgia
1 Great Cheese
890 G
2 Animal Medicine
2 Spaghetti
3 Vegetable Treat
Summer 11
Hiro
99 Failed Dish
100 G
1 Honey
2 Daikon Seeds
Summer 12
Georgia
1 Cucumber
99 Failed Dish
1 Chili Pepper
660 G
2 Animal Medicine
2 Spaghetti
5 Fish Treats
You've seen "The Horse Fanatics" event
You are not married to Kana or Georgia
Summer 16
Kana
1 Red Rose
1 Sunflower
1000 G
50 Fodder
5 Vegetable Treats
Summer 20
Howard
1 Soy Milk
260 G
8 Flour
2 Citrus Perfume
Summer 21
Cam
1 Pink Rose
560 G
12 Herb Perfume
6 White Rose Seeds
You've seen The Flower Order event
You are not married to Cam or Laney
Summer 22
Georgia
1 Cherry
1 Good Butter
210 G
2 Animal Medicine
2 Spaghetti
2 Nutra Treat
Summer 29
Laney
1 Yarn Ball
430 G
8 Black Tea (Can)
2 Gerbera Seeds
2 Pumpkin Pudding
You've seen The Flower Order event
You are not married to Cam or Laney
Summer 30
Howard
1 Tomato
1 Onion
510 G
12 Flour
2 Citrus Perfume
Date
Requester
Requested Item(s)
Reward
Fall 02
Alisa
1 Flour
100 G
2 Butter
1 Honey
Fall 07
Eileen
1 Matcha Tea (Can)
1 Bamboo
150 G
8 Cooked Rice
Fall 14
Ina
5 Jersey Milk
1620 G
25 Shimeji
25 Shiitake
5 Chili Peppers
Fall 19
Dirk
1 Fall Wine
360 G
2 Great Cheese
5 Flour
2 Good Butter
Fall 20
Rutger
1 White Rose
1 Marguerite
910 G
3 Rose Tea (Can)
10 Fall Honey
Fall 21
Laney
1 Good Cheese
410 G
8 Black Tea (Can)
2 Snowdrop Seeds
1 Yam Dessert
Fall 24
Cam
1 Gold Tea
920 G
4 Herb Perfume
2 Blue Rose Seeds
Fall 27
Hiro
1 Spinach
1 Flour
590 G
8 Honey
1 Eggplant Seed
Fall 28
Mako
1 Oolong Tea (Can)
100 G
4 Apples
Date
Requester
Requested Item(s)
Reward
Winter 02
Raul
2 Nadeshiko
2 White Rose
2 Gerbera
10 Ore Stone
Winter 03
Nori
1 Penne Pasta
1 Cheese
100 G
2 Flour
4 Bok Cho Seeds
You've seen Doctor Training
You are not married to Hiro or Nori
Winter 04
Ayame
1 Chocolate Pack
1 Ice Cream
900 G
1 Cocoa Tree Seed
8 Rice Candy
5 Matcha Tea (Can)
Winter 08
Sheng
1 Fruit Wine
900 G
1 Agate
Winter 11
Ying
5 Eggs
1 Shimeji
570 G
7 Mandarin
Winter 15
Nathan
1 Sponge Cake
100 G
1 Red Wine
2 Cheese
You have completed Alisa's Fall 02 Item Needed request
Winter 17
Yun
2 Rose Honey
5 Chocolate Packs
Winter 18
Rahi
1 Rice Flour
140 G
4 Small Coin
3 Tofu
Winter 20
Nori
3 Sashimi
100 G
2 Flour
1 Strawberry Seed
Winter 25
Nori
1 Tofu
100 G
2 Flour
1 Cucumber Seed
Winter 26
Ash
1 Red Rose
380 G
8 Butter
2 Wool
You've seen "Casual Conversation" event
You are not married to Ash or Reina
---
Help and Admin Contact | Site Map | Harvest Moon News | Privacy Policy | Twitter | Game Credits