The Two Towns
At the beginning of the game you must choose which town you are going to live in; Bluebell or Konohana. Each town has their own festivals, shops, and villagers. You can visit the other town you don't live in by traveling over the mountain. Both towns have a farm in need of someone to take care of it.
What town you like best is really just a matter of preference. You can buy items from either town's shops, complete each town's message board requests, and even marry people from the other towns. The main points when it comes to deciding which town to live in is basically would you rather concentrate your farming efforts on animals or on crops?
All About Bluebell Town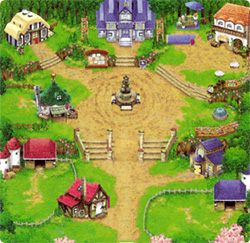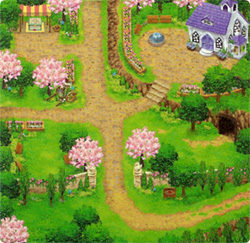 Bluebell town is a European-style town. The town has a large statue in the middle with all of the residences on the outside areas. Bluebell's specialty is animals, and you will have to visit here if you want to buy animals for your farm. The Town Hall is the northern-most building.
Just south of the main town area you'll find the church. It will be empty until you unlock Nathan on Winter 3 of your first year. The church doesn't really serve much of a purpose though, since your wedding will take place at the town-neutral festival grounds on top of the mountain.
Bluebell Facts:
Number of Villagers: 15
Number of Shops: 5
Marriage Candidates living in Bluebell: Ash, Cam, Laney, Georgia, Alisa
Town-specific Festivals: Spring Harmony Day, Animal Festival, Bare-handed Fishing Contest, Star Gazing, Pumkin Festival, Winter Harmony Day, Starry Night
Your Bluebell farm has specific features on it: Bee Hives, Cheese Maker, Yarn Maker, Drink Maker, and Pet Playpen. The maximum number of livestock you can keep (after expansions) is 16, and the maximum number of chickens is 10.
All About Konohana Town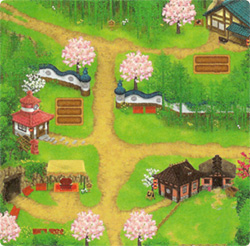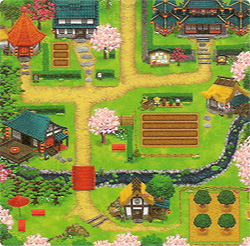 Konohana Town has a rural Asian-style setting with unpaved roads and cozy houses. The town isn't as centeralized as Bluebell and there is lots of space around the houses for their fields. Crops are a specialty in Konohana and most everyone is growing some sort of vegetable or fruit tree. The town hall is to the east in the center of town.
Konohana Facts:
Number of Villagers: 14
Number of Shops: 4
Marriage Candidates living in Konohana: Kana, Reina, Dirk, Nori, Hiro
Town-specific Festivals: Flower Festival, Children's Day, Crop Festival, Bug Catching Festival, Fishing Contest, Moon Viewing, Snow Festival
Your Konohana farm has specific features on it: Rice Paddy, Seed Maker, Flour Mill, Fermenter, and Fish Pond. The maximum number of livestock you can keep is 4, and the maximum number of chickens is 2.
---
Help and Admin Contact | Site Map | Harvest Moon News | Privacy Policy | Twitter | Game Credits