Enrique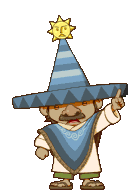 The youngest (and self-claimed "cutest") of the triplets, Enrique's job is to keep his brother's shop inventory in stock. He doesn't actually sell anything at the shop but he takes care of their chickens in their pasture area. You'll usually find him either in their back room or in the pasture. Enrique will post message board requests that reward you with oddities like Oil or Curry Powder and on occasion, a Chili Pepper.
Birthday: Summer 21
Family: Raul (brother), Diego (brother)
Favorite Wild Animals: Weasel
Disliked Wild Animals: Everything else but the weasel
Friendship Tips: Enrique likes crops, but it is simpler to give him the wild grown items you can find on the Mountain such as Blueberries, Chestnuts, and mushrooms. You can find the items he likes year round. Even if you decide to ship your foraged items, you can give him any "Small" size fish.
His favorite item, Choco. Ice Cream, can be purchased from Howard's shop in the Summer for 600 G a piece. If you choose to make it, you need to be growing Cocoa Trees on your farm plus have the maker on the Bluebell Farm to turn your Cocoa into Chocolate Pack.
Giving Gifts
Favorite Gift
+800 FP
Choco. Ice Cream


Cooked Recipe (Dessert): Ice Cream + Chocolate Pack + Spice Rack

Liked Gifts
+300 FP
Normal Items: Apple, Apricot, Asparagus, Banana, Black Tea (Can), Bamboo Shoot, Blueberry, Bok Choy, Breadcrumbs, Brown Mushroom, Buckwheat, Buckwheat Flour, Cabbage, Carrot, Cherry, Chestnut, Chili Pepper, Coffee Beans, Cocoa, Coral Mushroom, Corn, Cucumber, Curry Powder, Daikon, Edamame, Eggplant, Fall Tea (Can), Fish Fossil, Flour, Gold Tea (Can), Grape, Green Pepper, Herb Tea (Can), Honey Tea (Can), Magic Blue Flower, Mandarin, Oil, Onion, Peach, Pineapple, Plum, Potato, Pumpkin, Radish, Rice, Rice Candy, Rice Flour, Rice Stalk, Rose Tea (Can), Sea Urchin, Seaweed, Shiitake, Shimeji, Shiratama Flour, Spinach, Soybean, Soy Flour, Spring Tea (Can), Strawberry, Summer Tea (Can), Tomato, Turnip, Truffle, Trumpet Mushroom, Walnut, Watermelon, Wheat, White Bouquet, Yam

Critters: All frogs

Fish: Crab, All "Small" fish

Cooked Recipes: (Dessert) All desserts except for Choco. Ice Cream, (Other) Herb Tea, Honey Tea, Rose Tea, Milk Tea, Royal Milk Tea, Russian Tea, Spring Tea, Summer Tea, Fall Tea, Gold Tea
Standard Gifts
+50 FP
All other items not listed
Disliked Gifts
-300 FP
Normal Items: Adamantite, Agate, Amethyst, Animal Medicine, Buckwheat Tea (Can), Chicken Feed, Copper, Diamond, Emerald, Fish Bones, Fish Food, Fish Treat, Flourite, Fodder, Ginseng Tea (Can), Gold, Grain Treat, Green Tea (Can), Horse Treat, Jade, Lumber, Matcha Tea (Can), Material Stone, Mithril, Moon Stone, Mythic Stone, Nutra Treat, Old Ball, Old Boot, Oolong Tea (Can), Ore Stone, Orichalcum, Owl Food, Peridot, Pet Food, Pink Diamond, Poison Mushroom, Puer Tea (Can), Ruby, Sandrose, Scrap Metal, Sencha Tea (Can), Silver, Snowball, Stone, Stone Tablet, Topaz, Treat, Vegetable Treat, Umeboshi, Weed

Critters: All insects

Fish: (None)

Cooked Recipes: Failed Dish, (Appetizer) French Fries, Croquette, Cream Croquette, Cheese Croquette, Focaccia, Tempura, Spring Roll, Deep-Fried Tofu, (Main Dish) Tempura Bowl, Tempura Udon, Tempura Soba, (Other) Green Tea, Matcha Tea, Sencha Tea, Puer Tea, Oolong Tea, Buckwheat Tea, Ginseng Tea
Horror Gift:
-1000 FP
Fried Tofu


Cooked Recipe (Appetizer): Tofu + Flour + Pot
Daily Schedule
Sunday through Friday; Sunny, Snowy, or half-day Rainy:
6:00 am to 8:00 am - Diego's General Store
8:00 am to 5:00 pm - (in the pasture of the store)
5:00 pm to midnight - Diego's General Store
Saturday; Sunny, Snowy, or half-day Rainy:
6:00 am to 8:00 am - Diego's General Store
8:00 am to 9:00 am - (walking through Bluebell Town)
9:00 am to 10:30 am - Bluebell low-mountain
10:30 am to 1:30 pm - (walking up the mountain)
1:30 pm to 3:00 pm - Konohana low-mountain
3:00 pm to 4:30 pm - (walking through Konohana)
4:30 pm to midnight - Raul's Shop
Saturday; Stormy or full-day Rainy;
6:00 am to midnight - Diego's General Store
---
Help and Admin Contact | Site Map | Harvest Moon News | Privacy Policy | Twitter