Cheryl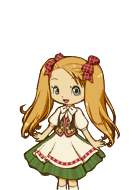 Along with her mom and big brother, Cheryl works at the animal shop in Bluebell Town. She doesn't sell the animals, but she sells the items to help you with animals. Her little shop sells the treats, animal medicine, fodder, and chicken feed.
Ash looks after his little sister and in turn, Cheryl admires him greatly. She can be a little jealous if he gives attention to other people. One day she hopes to marry a boy who is just like her big brother.
Birthday: Spring 24
Family: Ash (big brother), Jessica (mother)
Favorite Wild Animals: None
Disliked Wild Animals: None
Friendship Tips: Cheryl likes all butterflies, which you can find during the Spring, Summer, and Fall seasons in the mountain area. She also likes certain desserts but not all desserts. The easiest is Pudding (Milk + Egg + Pot). There's also quite a few of the desserts that go on-sale at Howard's Cafe.
Giving Gifts
Favorite Gift
+800 FP
Trifle


Cooked Recipe (Dessert): Black Egg + Jersey Milk + Sponge Cake + a fruit + Pot

Liked Gifts
+300 FP
Normal Items: Agate, Cocoa Pack, Colorful Bouquet, Diamond, Flourite, Jade, Letter in a Bottle, Moon Stone, Peridot, Pink Diamond, Ruby, Sandrose, Topaz

Insects: all Butterflies

Fish: (None)

Cooked Recipes: (soup) Miso Soup, (dessert) Yam Dessert, Pumpkin Pudding, Chocolate Banana, Stewed Apple, Apple Pie, Pineapple Pie, Strawberry Pie, Sponge Cake, Pudding, Cheesecake, Pancake, Donuts, Cookies, Chocolate Cookies, Ice Cream, Cake, Honey Cake, Chocolate Cake, Party Cake, Choc. Party Cake, Party Cheesecake, Chocolate Fondue, Baumkuchen, Churros, Mont Blanc, Scone, Choc. Ice Cream, Strawb. Ice Cream, Matcha Ice Cream, Choc. Sponge Cake, Chocolate Donuts, Chocolate Pudding, Fondant Chocolate, Fruit Parfait, Soft Chocolates, Strawb. Soft Choc., Matcha Soft Choc., Tiramisu, Rice Pudding, Honey Pudding, Soy Milk Pudding, Egg Tart, Cherry Pie, (misc) Hot Chocolate, Peach Juice, Banana Juice, Apple Juice, Mandarin Juice, Mixed Juice, Mixed Smoothie, Plum Juice
Standard Gifts
+50 FP
All other items not listed
Disliked Gifts
-300 FP
Normal Items: Animal Medicine, Asparagus, Black Tea (Can), Bok Choy, Branch, Buckwheat Tea Can, Cabbage, Carrot, Chicken Feed, Coffee Pack, Corn, Cucumber, Daikon, Eggplant, Fall Tea (Can), Fish Bones, Fish Food, Fish Treat, Fodder, Ginseng Tea (Can), Gold Tea (Can), Grain Treat, Green Pepper, Green Tea (Can), Herb Tea (Can), Horse Treat, Lumber, Matcha Tea (Can), Material Stone, Nutra Treat, Old Ball, Old Boot, Onion, Oolong Tea (Can), Owl Food, Pet Food, Poison Mushroom, Potato, Puer Tea (Can), Pumpkin, Radish, Rose Tea (Can), Scrap Metal, Sencha Tea (Can), Snowball, Spinach, Spring Tea (Can), Summer Tea (Can), Stone, Strawberry, Tomato, Treat, Turnip, Vegetable Treat, Weed, Yam

Insects: all Frogs

Fish: (None)

Cooked Recipes: Failed Dish, (salad) Tomato Salad, Onion Salad, Potato Salad, Herb Salad, Caprese Salad, Mimosa Salad, Asazuke, Cucumber Namul, Tofu Salad, Pasta Salad, Daikon Salad, Mixed Salad, (soup) Onion Soup, Pumpkin Soup, Herb Soup, Asparagus Soup, Radish Soup, (horderve) French Fries, Potato Pancake, Hash Browns, Boiled Potato, Cabbage Rolls, Popcorn, Corn Cereal, Steamed Dumpling, Dolma, Roasted Corn, Miso Eggplant, Roasted Eggplant, Baked Yam, Vegetable Stir Fry, Chop Suey, Pot Sticker, Spring Roll, Simmered Potato, Boiled Pumpkin, Ganmodoki, Boiled Daikon, Shredded Daikon, (main) Vegetable Curry, Moussaka, (misc) Straight Tea, Herb Tea, Honey Tea, Rose Tea, Milk Tea, Royal Milk Tea, Russian Tea, Spring Tea, Summer Tea, Fall Tea, Gold Tea, Hot Coffee, Café au Lait, Cappuccino, Green Tea, Matcha Tea, Sencha Tea, Puer Tea, Oolong Tea, Buckwheat Tea, Ginseng Tea
Horror Gift:
-1000 FP
Turnip Salad


Cooked Recipe (Salad): Turnip
Daily Schedule
Sunday, Monday, Tuesday, Thursday, Friday, Saturday; Sunny, Snowy, or half-day Rainy:
6:00 am to 7:30 am - Jessica's Livestock
7:30 am to 8:00 am - (inside the barn behind the shop)
8:00 am to 5:30 pm - Jessica's Livestock
5:30 pm to 7:00 pm - Bluebell Town
7:00 pm to 7:30 pm - (inside the barn behind the shop)
7:30 pm to midnight - Jessica's Livestock
Wednesday, before the tunnel is completed; Sunny, Snowy, or half-day Rainy:
6:00 am to 7:30 am - Jessica's Livestock
7:30 am to 8:00 am - (inside the barn behind the shop)
8:00 am to 10:30 am - Jessica's Livestock
10:30 am to 5:30 pm - Bluebell entrance (outside of the Church)
5:30 pm to 6:30 pm - Bluebell Town
6:30 pm to 7:00 pm - (inside the barn behind the shop)
7:00 pm to midnight - Jessica's Livestock
Wednesday, after the tunnel is completed; Sunny, Snowy, or half-day Rainy:
6:00 am to 11:00 am - Jessica's Livestock
11:00 am to 1:00 pm - (traveling through the tunnel to Konohana Town)
1:00 pm to 4:30 pm - Konohana Town (by Yun's Tea House)
4:30 pm to 6:30 pm - (traveling through the tunnel to Bluebell Town)
6:30 pm to midnight - Jessica's Livestock
Sunday through Saturday; full-day Rainy or Stormy:
6:00 am to midnight - Jessica's Livestock
---
Help and Admin Contact | Site Map | Harvest Moon News | Privacy Policy | Twitter | Game Credits