Farm Degree, Ranks, and Achievements
In most Harvest Moon games there is a farm degree, which is an overall status of your in-game activities. The higher your farm degree, the more you've done in your game. Typically the farm degree is just for bragging rights and doesn't have an impact in the game, but some versions unlock special features when you've reached specific farm degree levels.
In A New Beginning there are three types of degrees:
Your overall Farm Degree is a compilation of all of your point activity.
Your Rank Titles come from four specific categories: cooking, fishing, fish trapping, and catching critters.
Many types of Achievements that will appear as you meet the activity criteria for a new rank to be issued.
Your degree ranks can only increase, they do not decrease. When you earn a new degree level you will receive a letter in your mailbox the next day. These mastery certificates will be saved in the Letters section of your farmhouse bookshelf.
Farm Degree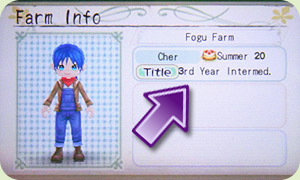 Your farm degree title can be found inside of your farmhouse bookshelf. Access your bookshelf and select Asset List. This list will display your birthday, your brand levels, your family information if you have a spouse and/or child, and your farm degree title. In this version of Harvest Moon, reaching certain farm degree ranks will unlock two furniture designs:
The degree "6th Year Novice" will unlock the Blue Furniture blueprint at Rebecca's shop.
The degree "3rd Year Intermediate" will unlock the Pink Furniture blueprint at Rebecca's shop.
Nothing else special will appear after you unlock the Pink Furniture design.
Your degree title will naturally increase as you do things within the game, whether it is interacting with villagers, participating in events and festivals, growing and shipping crops, and even getting married. The points you earn toward each of your farm degree titles are accumulatives and will never decrease. You can't ever see the exact number of farm degree points you have, but you will receive a letter in your mailbox when you've reached a new farm degree level.
Sometimes the level listed on the letter is not exactly the same as what appears inside your Assets List; the wording isn't always consistant when describing your farm degree level's title. For example, your degree in the Assets List might be "2nd Year Intermed." but the letter you receive in the mail will congratulate you on earning the "Middle School Farmer 8th Grade" level. The one in your Assets List is the one you want to keep an eye on, since it will carry with you inside your farmhouse bookshelf until the level changes. Also, the first few letters after the first farm degree title change will always say "Chick Group Farmer" while your Assets List will display the correct title.
There are a total of 42 farm degree titles.
Novice Farmer: 0 points
Egg Group Farmer: 3000 points
Chick Group Farmer: 5000 points
Chicken-stage Farmer: 10,000 points
Silkie-stage Farmer: 30,000 points
1st Year Novice: 50,000 points
2nd Year Novice: 100,000 points
3rd Year Novice: 150,000 points
4th Year Novice: 200,000 points
5th Year Novice: 250,000 points
6th Year Novice: 300,000 points
1st Year Intermed.: 350,000 points
2nd Year Intermed.: 400,000 points
3rd Year Intermed.: 500,000 points
1st Year Advanced: 600,000 points
2nd Year Advanced: 700,000 points
3rd Year Advanced: 800,000 points
1st Year Big Farmer: 900,000 points
2nd Year Big Farmer: 1,000,000 points
3rd Year Big Farmer: 1,500,000 points
Farm Chief: 2,000,000 points
Farm Knight: 2,500,000 points
Farm Baron: 3,000,000 points
Farm Viscount: 3,500,000 points
Farm Earl: 4,000,000 points
Farm Marquis: 4,500,000 points
Farm Duke: 5,000,000 points
Farm Grand Duke: 6,000,000 points
Farm King: 7,000,000 points
Farm Emperor: 8,000,000 points
Farm Angel: 9,000,000 points
Farm Archangel: 10,000,000 points
Farm Chief Archangel: 11,000,000 points
Farm Noh Angel: 12,000,000 points
Farm Power Angel: 13,000,000 points
Farm Lord Angel: 14,000,000 points
Farm Seated Angel: 15,000,000 points
Farm Wise Angel: 16,000,000 points
Farm Fierce Angel: 17,000,000 points
Supreme Farmer: 18,000,000 points
True Supreme Farmer: 19,000,000 points
All Clear Farmer: 20,000,000 points
The activities you do in the game will add to your total farm degree point value. Some activities can be done more than once per day, but some others are one-time only such as your child's birth or completing a town restoration plan.
For activities that can involve multiple items (e.g., catching up to 5 items when fish trapping, cooking 10 dishes, placing 99 items into the shipping bin, etc.) the action will earn you the farm degree point and not the multiple items. For example, putting milk into the Fermeting Machine to create cheese will earn you 1 farm degree point no matter how many bottles of milk you put into the maker machine. You could put in 10 milk to get 10 cheese in exchange and still only earn 1 point. If you are trying to maximize your points, you'll have to put the milk into the maker machine one at a time.
Degree Points
Activities
Multiplier
Earn 5 x (your current year) each morning. For example, +5 points each day in year 1, +10 in year 2, +15 in year 3, etc.
+1 point
Use a tool (watering can, sickle, milker, etc.)
Catch an item when fishing or fish trapping
Hit a colored mining point inside the forest mine
Catch a critter
Interact with a farm animal (either brushing, talking, giving a treat) once per day
Place an item while editing an area's layout and objects
Buy something from a shop (the purchase itself earns the point, and not the number of items you are buying)
Talk to a villager once per day
Pick up a piece of Barn Dirt off the floor of the barn
Use your kitchen to cook a recipe
Harvest honey from a bee hut
Harvest a mushroom from a mushroom log
Put an item into the shipping bin
Collect a fish from the fishing shed
Feed a wild animal
Use a jump mushroom
Use a tree trunk chute
Hit an Elder Tree with your hammer
+2 points
Collect an item from a foraging tree trunk in the wild areas
+3 points
Give a villager a gift
Use the Restroom inside your farmhouse
Use the Bath inside your farmhouse
+10 points
Have a baby animal born on your farm
Catch a new type of critter
Catch a new type of fish
Have a flower bouquet crafted at Hana's General Store
Make an exchange at Sandra's Stall
Have your hair cut at Allen's Salon
Get a clothing outfit crafted at Yuri's Tailor Shop
Have fish food crafted at Kosaboro's Bait Shop
+20 points
Harvest a crop
+30 points
Use the Hot Spring (Sandra has the blueprint)
+100 points
A farm animal becomes giant-sized
+300 points
Participate a competitive festival
Trigger a random event
Upgrade your brand to a new level
Take a trip via the Travel Agency
+500 points
Catch a giant fish
Win third place in a competitive festival
Trigger a heart event with a marriage candidate
Receive a gift from a wild animal family
+700 points
Win second place in a competitive festival
+1000 points
Construct a villager's house
Play tree trunk music sheets #1, #2, #3, #4, #10, and #12
+1500 points
Win first place in a competitive festival
+3000 points
Collect all of the cooking recipes
Catch all of the types of critters
Catch all of the types of fish
Upgrade your farmhouse size
A farm animal or pet reaches 10 hearts of friendship (just the first time it hits 10 hearts)
+5000 points
A villager reaches maximum friendship (just the first time, not every time)
Your child is born
Your child sits up in bed
Your child walks
You give a Grow-up Candy to your child
+10,000 points
Play tree trunk music sheet #5 to unlock the forest mine
+15,000 points
Get married
+20,000 points
Complete Town Restoration Plan #1 or Plan #5
+30,000 points
Complete Town Restoration Plan #2 or Plan #3 or Plan #4
Rank Titles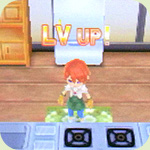 Your rank titles are only in four categories: fishing, fish trapping, cooking, and critter catching. As you do these activities a certain number of times, you will eventually see a LEVEL UP appear, followed by a congratulatory full mastery letter in your mailbox the next day. The important ranks to go for are:
Earning the Skilled Trapper fish trapping rank to unlock the Group 1 fish trapping blueprints
Earning the Star Trapper fish trapping rank to unlock the Group 2 fish trapping blueprints
Earning the Skilled Fisherman fishing rank to unlock the Group 1 fishing blueprints
Earning the Fishing Maniac fishing rank to unlock the Group 2 fishing blueprints
The ranks you earn from cooking will add a multiplier to the star rank of the resulting cooked dish; the higher your rank title, the more bonus star points your resulting dish will have (using high level star rank ingredients also helps). The rank for fishing and fish trapping will increase the star rank of the caught fish. The rank you earn from catching critters does nothing in the game. Critters do not have a star quality rank nor will the rank title make new types of critters appear.
You can see the number of times you've done these four activities by going to your farmhouse bookshelf, selecting the Picture Book option, and then looking at your Various Data. The first four entries on your bottom touch screen will be the four rank categories: Times Cooked is your cooking rank, Fish Caught is your fishing rank, Fish Traps Used is your fish trapping rank, and Critters Caught is your critters rank.
| No. of Times | Cooking | Fishing | Fish Trapping | Critters |
| --- | --- | --- | --- | --- |
| 0 | Beginner Cook | Beginner Fisherman | Beginner Trapper | Beginner Catcher |
| 10 | Novice Cook | Novice Fisherman | Novice Trapper | Novice Catcher |
| 50 | Apprentice Cook | Skilled Fisherman | Skilled Trapper | Skilled Catcher |
| 100 | Experienced Cook | Expert Fisherman | Great Trapper | Great Catcher |
| 200 | Sous Chef | Fishing Maniac | Star Trapper | Star Catcher |
| 400 | Head Chef | Fishing Technician | Super Trapper | Super Catcher |
| 800 | Executive Chef | Fishing Idol | Expert Trapper | Expert Catcher |
| 1300 | Elite Chef | ? | ? | Supreme Catcher |
| 1900 | Master Chef | ? | ? | Elite Catcher |
| 3000 | Legendary Chef | ? | ? | Catcher Legend |
(Sorry, these are still being worked on)
For the fishing and fish trapping rank titles, catching junk items (branches, coins, old cans, etc.) will not add toward increasing your numbers. Only when you catch a fish, shrimp, crab, clam, or other fishy creatures will your count increase.
With the fish trapping and cooking, the action counts for your overall time and not the number of items. Catching five Steamer Clams when fishing trapping is the same as catching one Steamer Clam. When trying to work on your cooking rank title, you'll want to cook each dish one at a time instead of making a 10-stack of the same dish.
Your rank title will not change anymore after you've reached the last level.
Achievements
The titles you earn have absolutely no affect in the game. These are just small goals that you can try to reach. Each category will have a bronze, silver, and gold title associated with it. You don't receive anything other than a mailbox letter if you achieve a crown rank in an achievement category. Once you reach the gold crown achievement, the counter will stop increasing for that category.
You can see these 83 achievement categories by going into your farmhouse bookshelf, selecting the Picture Book, Various Data, and then looking on your bottom touch screen. The entries that appear after the four rank titles are your supplementary achievement titles.
Cagegory
Bronze Rank
Silver Rank
Gold Rank
Object Made
Craft 100 blueprint objects
Craft 500 blueprint objects
Craft 1000 blueprint objects
Shipping Money Made
Earn 100,000 G
Earn 10,000,000 G
Earn 100,000,000 G
Blueprints Acquired
Obtain 100 blueprints
Obtain 200 blueprints
Obtain all 374 blueprints
Recipes Acquired
Obtain 100 cooking recipes
Obtain 200 cooking recipes
Obtain all 324 cooking recipes
Crop Types Harvested
Harvest 20 types of crops
Harvest 40 types of crops
Harvest all 62 types of crop
Types of Fish Caught
Catch 20 types of fish
Catch 50 types of fish
Catch all 80 types of fish
Critter Types Caught
Catch 20 types of critters
Catch 60 types of critters
Catch all 96 types of critters
Town Revitalization
Complete Town Plan #1
Complete Town Plan #3
Complete Town Plan #5
Gifts to H. Goddess
Toss 50 gifts into her pond
Toss 100 gifts into her pond
Toss 300 gifts into her pond
Times Traveled
Use the Travel Agency 10 times
Use the Travel Agency 30 times
Use the Travel Agency 50 times
Memory Museum Used
Use the museum 10 times
Use the museum 30 times
Use the museum 50 times
The Memory Museum Used achievement appears after you build and place the Memory Museum
Clothes Collected
Craft 10 clothing outfits
Craft 30 clothing outfits
Craft 50 clothing outfits
Hairstyles Changed
Use the Salon 10 times
Use the Salon 30 times
Use the Salon 50 times
Exchanged with Sandra
Make 100 trades at her shop
Make 500 trades at her shop
Make 1000 trades at her shop
Won Crop Festival
Win the festival 1 time
Win the festival 3 times
Win the festival 5 times
Won Cooking Festival
Win the festival 1 time
Win the festival 3 times
Win the festival 5 times
Won Bee Festival
Win the festival 1 time
Win the festival 3 times
Win the festival 5 times
Won Cow Festival
Win the festival 1 time
Win the festival 3 times
Win the festival 5 times
Won Chicken Festival
Win the festival 1 time
Win the festival 3 times
Win the festival 5 times
Won Sheep Festival
Win the festival 1 time
Win the festival 3 times
Win the festival 5 times
Cagegory
Bronze Rank
Silver Rank
Gold Rank
Won Alpaca Festival
Win the festival 1 time
Win the festival 3 times
Win the festival 5 times
Won Llama Festival
Win the festival 1 time
Win the festival 3 times
Win the festival 5 times
Won Yak Festival
Win the festival 1 time
Win the festival 3 times
Win the festival 5 times
Won Fishing Contest
Win the festival 1 time
Win the festival 3 times
Win the festival 5 times
Won Critter Contest
Win the festival 1 time
Win the festival 3 times
Win the festival 5 times
Made Giant Animals
Grow 10 giant animals
Grow 30 giant animals
Grow 50 giant animals
The in-game text says Made Giant Crops, but it means Giant Animals
Milk Collected
Collect 100 normal/jersey milk
Collect 500 normal/jersey milk
Collect 1000 normal/jersey milk
Eggs Gathered
Collect 100 eggs
Collect 500 eggs
Collect 1000 eggs
Wool Collected
Sheer 100 sheep wool
Sheer 500 sheep wool
Sheer 1000 sheep wool
Alpaca Wool Collected
Sheer 100 alpaca wool
Sheer 500 alpaca wool
Sheer 1000 alpaca wool
Llama Wool Collected
Sheer 100 llama wool
Sheer 500 llama wool
Sheer 1000 llama wool
Yak Milk Collected
Collect 100 yak milk
Collect 500 yak milk
Collect 1000 yak milk
Cows Acquired
Own 30 normal/jersey cows
Own 60 normal/jersey cows
Own 100 normal/jersey cows
Chickens Acquired
Own 30 chickens
Own 60 chickens
Own 100 chickens
Sheep Acquired
Own 30 normal/suffolk sheep
Own 60 normal/suffolk sheep
Own 100 normal/suffolk sheep
Alpacas Acquired
Own 30 alpacas
Own 60 alpacas
Own 100 alpacas
Llamas Acquired
Own 30 llama
Own 60 llamas
Own 100 llamas
Yaks Acquired
Own 30 yaks
Own 60 yaks
Own 100 yaks
Honey Made
Harvest 100 honey
Harvest 500 honey
Harvest 1000 honey
Mushrooms Grown
Harvest 100 mushrooms
Harvest 500 mushrooms
Harvest 1000 mushrooms
Cagegory
Bronze Rank
Silver Rank
Gold Rank
Giant Crops Harvested
Harvest 10 big/giant crops
Harvest 50 big/giant crops
Harvest 100 big/giant crops
Crops Harvested
Harvest 100 crops
Harvest 500 crops
Harvest 1000 crops
Fruit Harvested
Harvest 100 fruit
Harvest 500 fruit
Harvest 1000 fruit
Flowers Harvested
Harvest 100 flowers
Harvest 500 flowers
Harvest 1000 flowers
Herbs Harvested
Harvest 100 herbs
Harvest 500 herbs
Harvest 1000 herbs
Textiles Harvested
Harvest 100 flax/cotton
Harvest 500 flax/cotton
Harvest 1000 flax/cotton
Grains Harvested
Harvest 100 soybeans/wheat
Harvest 500 soybeans/wheat
Harvest 1000 soybeans/wheat
Paddy Crops Harvested
Harvest 100 paddy crops
Harvest 500 paddy crops
Harvest 1000 paddy crops
Tea Leaves Harvested
Harvest 100 tea leaves
Harvest 500 tea leaves
Harvest 1000 tea leaves
Fish Raised
Harvest 100 fish from fish shed
Harvest 500 fish from fish shed
Harvest 1000 fish from fish shed
Crabs Caught
Catch 100 crabs
Catch 500 crabs
Catch 1000 crabs
Shrimp Caught
Catch 100 shrimp
Catch 500 shrimp
Catch 1000 shrimp
Shellfish Caught
Catch 100 shellfish
Catch 500 shellfish
Catch 1000 shellfish
Mollusks Caught
Catch 100 mollusks
Catch 500 mollusks
Catch 1000 mollusks
Big Game Caught
Catch 100 giant fish
Catch 500 giant fish
Catch 1000 giant fish
Butterflies Caught
Catch 100 butterflies
Catch 500 butterflies
Catch 1000 butterflies
Locusts Caught
Catch 100 locusts
Catch 500 locusts
Catch 1000 locusts
Cicadas Caught
Catch 100 cicadas
Catch 500 cicadas
Catch 1000 cicadas
Beetles Caught
Catch 100 beetles
Catch 500 beetles
Catch 1000 beetles
Stag Beetles Caught
Catch 100 stag beetles
Catch 500 stag beetles
Catch 1000 stag beetles
Cagegory
Bronze Rank
Silver Rank
Gold Rank
Dragonflies Caught
Catch 100 dragonflies
Catch 500 dragonflies
Catch 1000 dragonflies
Fireflies Caught
Catch 100 fireflies
Catch 500 fireflies
Catch 1000 fireflies
Frogs Caught
Catch 100 frogs
Catch 500 frogs
Catch 1000 frogs
Bees Caught
Catch 100 bees
Catch 500 bees
Catch 1000 bees
Ladybugs Caught
Catch 100 ladybugs
Catch 500 ladybugs
Catch 1000 ladybugs
Music Played
Play 3 Tree Trunk songs
Play 7 Tree Trunk songs
Play 13 Tree Trunk songs
Played Multiplayer
Use the trade system 15 times
Use the trade system 50 times
Use the trade system 100 times
Used Makers
Use the machines 100 times
Use the machines 500 times
Use the machines 1000 times
Ore Mined
Collect 100 items when mining
Collect 500 items when mining
Collect 1000 items when mining
Items Foraged
Collect 100 wild items
Collect 500 wild items
Collect 1000 wild items
Mountain Devices Used
Use jumps/chutes 500 times
Use jumps/chutes 1000 times
Use jumps/chutes 3000 times
Poison Mushrooms Eaten
Eat 100 poison mushrooms
Eat 500 poison mushrooms
Eat 1000 poison mushrooms
Times Fainted
Pass out 10 times
Pass out 50 times
Pass out 100 times