Klaus' Clinic
Hours: 10:00 am to 6:00 pm
Monday, Tuesday, Wednesday, Friday, and Saturday
Closed on stormy weather days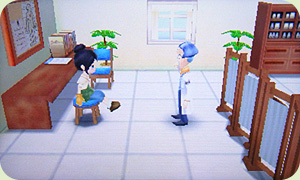 The Clinic is where the town's doctor, Klaus, works and lives. The downstairs quarters is where he cares for patients and his upstairs is where he lives. To unlock the Clinic you will need to start Town Restoration Plan #3 and then buy the blueprint from Rebecca for 2400 G. Klaus' house requires 65 Material Stone, 15 Small Lumber, 40 Lumber, and 3 Iron.
When he is working inside the office, you can visit Klaus and ask him to help you. He can give you a shot to restore your stamina hearts, or he can give you a shot to restore your health status (the little face next to your heart meter). The hearts represent the amount of stamina you have available for working on tasks, while the face indicates how much stamina you would lose while working; a weaker health means you'll lose more stamina.
Restore your Stamina = 1000 G
Restore your Health = 3000 G
Klaus' services aren't limited. You can use him as many times as you want per day, but you'll have to pay for each treatment.
If you ever pass out from exhaustion, you'll end up inside his Clinic. He will tell you the number of times you've ended up at his mercy, and then give you a lecture on how you should take better care of yourself. Egads!