Rebecca's Designs
Hours: 10:00 am to 6:00 pm
Wednesday, Friday, and Sunday
Closed on stormy weather days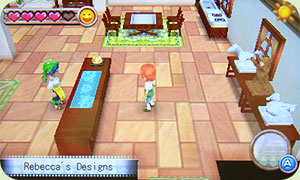 On Spring 25, Rebecca and Toni will move to Echo Village. You will be assigned the task to collect materials and construct their house. After that, Rebecca will set up shop inside and sell blueprints. Once you buy a blueprint, it will be added to your studio so you can construct the object. You can see your blueprints by going into your studio, or by opening your main menu (X Button) and selecting Blueprint.
As you proceed through the game, Rebecca will send letters to your mailbox when she has a new blueprint for sale. Some blueprints unlock as you complete Dunhill's Town Restoration project, while others require you to build a certain number of objects. Rebecca does not buy-back blueprints or the objects you construct, but you can sell your constructed objects at any shipping bin. Just select "Ship from Inventory" and choose the object you want to sell.
Rebecca's shop is the only place you can get Iron until you have the mine unlocked.
Items
| Name | Price | Availability Requirement |
| --- | --- | --- |
| Material Stone | 180 G | Spring 25 of Year 1 |
| Lumber | 180 G | Spring 25 of Year 1 |
| Copper | 840 G | Spring 25 of Year 1 |
| Iron | 510 G | Spring 25 of Year 1 |
Construction Blueprints
There are over 350 construction blueprints you can collect in A New Beginning, but not all of them are sold by Rebecca. Some can be found when fishing, using fish traps, or mining. You can also receive blueprints for winning the seasonal festivals or as rewards for giving gifts to the villagers.
Most of the time, Rebecca will send you notice of a new blueprint the day after you unlock it, but sometimes I've had her send a notice a week after meeting the unlock requirements. If you don't get a notice right away, her notice is probably just delayed for some wonky reason. Also, crafted objects you receive for free over the wifi system do not count towards the total needed to unlock a blueprint. You need to actually make the required number of objects even if you have been gifted the objects.
Decorations
| Name | Price | Availability Requirement |
| --- | --- | --- |
| Wooden Bench | 800 G | Spring 25 of Year 1 |
| Stone Bench | 800 G | Spring 25 of Year 1 |
| Red Bench | 1600 G | Town Restoration Plan #3 |
| Green Bench | 1600 G | Town Restoration Plan #3 |
| Blue Bench | 1600 G | Town Restoration Plan #3 |
| Yellow Bench | 1600 G | Town Restoration Plan #3 |
| Pink Bench | 1600 G | Town Restoration Plan #4 |
| Purple Bench | 1600 G | Town Restoration Plan #4 |
| White Bench | 2400 G | Town Restoration Plan #4 |
| Black Bench | 2400 G | Town Restoration Plan #5 |
| Gold Bench | 2400 G | Town Restoration Plan #5 |
| Silver Bench | 2400 G | Town Restoration Plan #5 |
| Barrels | 800 G | Spring 25 of Year 1 |
| Wooden Boxes | 800 G | Spring 25 of Year 1 |
| Scarecrow | 800 G | Spring 25 of Year 1 |
| Weather Vane | 800 G | Collect 100 eggs from your chickens (normal, silkie, or gold) |
| Milk Cans | 800 G | Collect 100 milk from your cows (normal, jersey, or yak) |
| Hay Bale | 800 G | Spring 25 of Year 1 |
| Old Cart | 1600 G | Spring 25 of Year 1 |
| Shipping Bin | 1600 G | Earn over 30,000 G by shipping goods (crops, bugs, fish, etc.) |
| Stone Road | 800 G | Summer 1 of Year 1 |
| Name | Price | Availability Requirement |
| Brick Road | 800 G | Winter 1 of Year 1 |
| Street Light | 1600 G | Spring 25 of Year 1 |
| Fancy Street Light | 2400 G | Construct 30 Street Lights |
| Wooden Pillar | 1600 G | Summer 1 of Year 1, or after you construct 15 Wooden Fences |
| Stone Pillar | 1600 G | Fall 1 of Year 1, or after you construct 15 Stone Fences |
| Brick Pillar | 1600 G | Winter 1 of Year 1, or after you construct 30 Stone Fences |
| Table | 4000 G | Town Restoration Plan #5 |
| Garden Chair | 2400 G | Town Restoration Plan #5 |
| Parasol Table | 3200 G | After you construct 5 Tables and 5 Garden Chairs |
| Sign | 800 G | After you construct 5 Signposts |
| Signpost | 800 G | Spring 25 of Year 1 |
| Signboard | 800 G | After you construct 10 Signs |
| Dog Statue | 4000 G | Fall 1 of Year 1 |
| Fountain | 4800 G | Fall 1 of Year 1 |
| Lavish Fountain | 5600 G | Town Restoration Plan #5 |
| Well | 3200 G | Town Restoration Plan #4 |
| Watchtower | 2400 G | Town Restoration Plan #5 |
| Small Wood Plaza | 800 G | Summer 1 of Year 1 |
| Small Stone Plaza | 800 G | Fall 1 of Year 1 |
| Small Brick Plaza | 800 G | Winter 1 of Year 1 |
| Wood Plaza | 1600 G | After you construct 5 Small Wood Plazas |
| Name | Price | Availability Requirement |
| Stone Plaza | 1600 G | After you construct 5 Small Stone Plazas |
| Brick Plaza | 1600 G | After you construct 5 Small Brick Plazas |
| Mechanical Panda | 8000 G | Fall 1 of Year 1 |
| Farm Decoration | 1600 G | Winter 1 of Year 2, or after you have the Stone Pillar, Stone Fence, Cow Statue, and Hedge blueprints |
| Farm Pathway | 2400 G | Spring 1 of Year 3, or after you have the Stone Road, Sheep Statue, Guard Rail, Bush, and Potted Tulips blueprints |
| Farm Plaza | 3200 G | Summer of Year 3, or after you have the Stone Bench, Stone Pillar, Stone Fence, Stone Curved Fence, Stone Arch, Stone Road, Fountain, Guard Rail, Maiden with Spear, Maiden with Shield, Hedge, and Mammoth Topiary blueprints |
| Eastern Decoration | 1600 G | Winter 1 of Year 2, or after you have the Stone Paving, Parasol, Bonsai, and Bamboo Fence blueprints |
| Eastern Pathway | 2400 G | Spring 1 of Year 3, or after you have the Stone Lantern, Stone Slab, Bamboo Grove, Stone Fence, Stone Curved Fence, Bamboo Fence, and Bamboo Curved Fence blueprints |
| Eastern Plaza | 3200 G | Summer 1 of Year 3, or after you have the Stone Paving, Stone Slab, Dog Statue, Paper Lantern, Stone Lantern, Daruma, Eastern Table, Tea Table, Parasol, Arch Bridge, Bamboo Fountain, Bamboo Fence, Bamboo Curved Fence, Wooden Wall, Wooden Curved Wall, Bamboo Pot, Bonsai, and Bamboo Grove blueprints |
| Old Decoration | 1600 G | Winter 1 of Year 2, or after you have the Totem Pole, Potted Palm Tree, Lattice Fence, and Chained Poles blueprints |
| Old Pathway | 2400 G | Spring 1 of Year 3, or after you have the Red Pots, Wooden Pillar, Totem Pole, Stone Marker, and Chained Poles blueprints |
| Old Plaza | 3200 G | Summer 1 of Year 3, or after you have the Wooden Bench, White Pots, Totem Pole, Large Totem Pole, Sun Statue, Potted Palm Tree, Chained Poles, and Chained Poles Curved blueprints |
| Classy Decoration | 1600 G | Winter 1 of Year 2, or after you have the Fancy Street Light, Double Ball Topiary, Black Fence, and Brick Wall blueprints |
| Classy Pathway | 2400 G | Spring 1 of Year 3, or after you have the Gold Bench, Brick Road, Cone Tree, Ball Topiary, and Black Fence blueprints |
| Classy Plaza | 3200 G | Summer 1 of Year 3, or after you have the Silver Bench, Wagon, Fancy Street Light, Table, Lavish Fountain, Small Brick Plaza, White Flower Basket, Black Fence, Black Curved Fence, and Silver Curved Fence blueprints |
| Park Design | 1600 G | Winter 1 of Year 2, or after you have the Blue Bench, Street Light, Potted Marguerites, Ball Topiary, and Blue Fence blueprints |
| Park Pathway | 2400 G | Spring 1 of Year 3, or after you have the Blue Bench, Stone Road, Street Light, Snowdrop Flowerbed, and Blue Fence blueprints |
| Park Plaza | 3200 G | Spring 1 of Year 3, or after you have the Wooden Bench, Street Light, Small Stone Plaza, Nadeshiko Flowerbed, Snowdrop Flowerbed, White Rose Flowerbed, Bush, Cone Tree, Arbor, Blue Fence, and Blue Curved Fence blueprints |
| Tree Decoration | 1600 G | Winter 1 of Year 2, or after you have the Cone Tree blueprint |
| Tree Pathway | 2400 G | Spring 1 of Year 3, or after you have the Street Light and Hedge blueprints |
| Tree Plaza | 3200 G | Summer 1 of Year 3, or after you have the Wooden Bench, Street Light, Hedge, Green Fence, and Green Curved Fence blueprints |
| Garden Decoration | 1600 G | Winter 1 of Year 2, or after you have the Brick Pillar, Bush, Red Flower Basket, Lattice Fence, and White Fence blueprints |
| Garden Pathway | 2400 G | Spring 1 of Year 3, or after you have the Silver Bench, Brick Road, Brick Pillar, Ball Topiary, Hedge, Tricycle Pot, and White Fence blueprints |
| Garden Plaza | 3200 G | Summer 1 of Year 3, or after you have the White Bench, Brick Road, Parasol Table, Bird Fountain, Potted Tulips, Potted Nadeshiko, Yellow Flower Basket, Double Ball Topiary, Hedge, Lattice Fence, Boot Pot, Red Flower Arch, Gazebo, and White Fence blueprints |
Gardening
| Name | Price | Availability Requirement |
| --- | --- | --- |
| Potted Marguerites | 1600 G | Spring 25 of Year 1 |
| Potted Tulips | 1600 G | Spring 1 of Year 2 |
| Potted Nadeshiko | 1600 G | Fall 1 of Year 1 |
| Potted White Roses | 1600 G | Fall 1 of Year 2 |
| Potted Gerberas | 1600 G | Fall 1 of Year 2 |
| Marguerite Flowerbed | 2400 G | After you construct 10 Potted Marguerites |
| Tulip Flowerbed | 2400 G | After you construct 10 Potted Tulips |
| Nadeshiko Flower Bed | 2400 G | After you construct 10 Potted Nadeshiko |
| White Rose Flowerbed | 2400 G | After you construct 10 Potted White Roses |
| Gerbera Flowerbed | 2400 G | After you construct 10 Potted Gerberas |
| Cactus Flowerbed | 2400 G | After you construct 10 Potted Cactuses |
| Hanging Pot | 1600 G | After you construct 10 Lattice Fences |
| Red Flower Basket | 1600 G | Spring 1 of Year 2 |
| Green Flower Basket | 1600 G | Spring 1 of Year 2 |
| Bush | 1600 G | Town Restoration Plan #2 |
| Cone Tree | 2400 G | After you construct 10 Bushes |
| Ball Topiary | 800 G | Spring 25 of Year 1 |
| Double Ball Topiary | 1600 G | After you construct 10 Ball Topiaries |
| Hedge | 2400 G | After you construct 20 Cone Trees |
| Lattice Fence | 3200 G | Spring 25 of Year 1 |
| Curved Arbor | 3200 G | After you construct 5 Arbors |
Fences
| Name | Price | Availability Requirement |
| --- | --- | --- |
| Stone Fence | 800 G | Summer 1 of Year 1 |
| Stone Curved Fence | 800 G | Summer 1 of Year 1 |
| Stone Arch | 1600 G | Summer 1 of Year 1 |
| Red Fence | 800 G | After you construct 10 Wooden Fences, 10 Stone Fences, and 10 Bamboo Fences |
| Red Curved Fence | 800 G | After you construct 10 Wooden Fences, 10 Stone Fences, and 10 Bamboo Fences |
| Red Arch | 1600 G | After you construct 10 Wooden Fences, 10 Stone Fences, and 10 Bamboo Fences |
| Green Fence | 800 G | After you construct 10 Wooden Fences, 10 Stone Fences, and 10 Bamboo Fences |
| Green Curved Fence | 800 G | After you construct 10 Wooden Fences, 10 Stone Fences, and 10 Bamboo Fences |
| Green Arch | 1600 G | After you construct 10 Wooden Fences, 10 Stone Fences, and 10 Bamboo Fences |
| Blue Fence | 800 G | After you construct 10 Wooden Fences, 10 Stone Fences, and 10 Bamboo Fences |
| Blue Curved Fence | 800 G | After you construct 10 Wooden Fences, 10 Stone Fences, and 10 Bamboo Fences |
| Blue Arch | 1600 G | After you construct 10 Wooden Fences, 10 Stone Fences, and 10 Bamboo Fences |
| Wooden Wall | 1600 G | After you construct 30 Wooden Pillars |
| Wooden Curved Wall | 1600 G | After you construct 30 Wooden Pillars |
| Wooden Wall Arch | 2400 G | After you construct 30 Wooden Pillars |
| Stone Wall | 1600 G | After you construct 30 Stone Pillars |
| Stone Curved Wall | 1600 G | After you construct 30 Stone Pillars |
| Stone Wall Arch | 2400 G | After you construct 30 Stone Pillars |
| Brick Wall | 1600 G | After you construct 30 Brick Pillars |
| Brick Curved Wall | 1600 G | After you construct 30 Brick Pillars |
| Brick Wall Arch | 2400 G | After you construct 30 Brick Pillars |
Houses
| Name | Price | Availability Requirement |
| --- | --- | --- |
| Salon (Allen's House) | 2400 G | Town Restoration Plan #2 |
| Cottage (Rod's House) | 2400 G | Town Restoration Plan #3 |
| Eastern-Style House (Soseki's House) | 2400 G | Town Restoration Plan #4 |
| Exotic Mansion (Amir and Sanjay's House) | 5600 G | Town Restoration Plan #5 |
| Newspaper Carrier (Tina's House) | 2400 G | Spring 25 of Year 1 |
| Fantastical House (Michelle's House) | 2400 G | Town Restoration Plan #4 |
| Travel Agency (Charles, Camellia, and Hina's House) | 2400 G | Town Restoration Plan #4 |
| Clinic (Klaus' House) | 2400 G | Town Restoration Plan #3 |
| Restaurant (Clement's House) | 2400 G | Town Restoration Plan #2 |
| Inn (Hossan and Niko's House) | 2400 G | Town Restoration Plan #3 |
| Bungalow (Olivia's House) | 2400 G | Town Restoration Plan #5 |
| Tailor's Shop (Yuri's Shop) | 4000 G | Fall 1 of Year 2, or after you begin Town Restoration Plan #3 and Emma has 2000 FP or more |
Your Farm
| Name | Price | Availability Requirement |
| --- | --- | --- |
| Upgraded House | 3200 G | Town Restoration Plan #3 |
| Barn | 1600 G | Spring 25 of Year 1 |
| Coop | 1600 G | Spring 25 of Year 1 |
| Pet House | 1600 G | After you have unlocked Rod |
| Maker Shed | 1600 G | Fall 1 of Year 1 |
| Supply Shed | 800 G | Spring 25 of Year 1 |
| Greenhouse | 4800 G | Summer 1 of Year 2 |
| Regular Field | 1600 G | After you have harvested 300 crops |
| Soil Field | 2400 G | After you have harvested 1000 crops |
| Paddy | 3200 G | Summer 1 of Year 1 |
| Fishing Shed | 1600 G | Town Restoration Plan #4 |
| Beehive | 500 G | Town Restoration Plan #2 |
| Mushroom Log | 800 G | Town Restoration Plan #3 |
| Fermenter | 500 G | After you construct the Maker Shed |
| Cloth Maker | 500 G | After you construct the Maker Shed |
| Seed Maker | 500 G | After you construct the Maker Shed |
| Medicine Maker | 2400 G | After you construct the Maker Shed, and you have used the other machines a total of 300 times |
| Miller | 800 G | After you construct the Maker Shed, and you have harvested 30 or more flowers and herbs |
| Chicken Feeding Area | 800 G | Spring 25 of Year 1 |
Farmhouse Objects
| Name | Price | Availability Requirement |
| --- | --- | --- |
| Double Bed | 4000 G | After you have constructed the Upgraded House, and you have a blue heart color with a marriage candidate |
| Child Bed | 3200 G | 7 days after you see the Wedding Cermony event |
| Copper Storage | 1600 G | Summer 1 of Year 1 |
| Silver Storage | 2400 G | Fall 1 of Year 1, and after you have constructed the Copper Storage |
| Gold Storage | 3200 G | Spring 1 of Year 2, and after you have constructed the Silver Storage |
| Copper Refrigerator | 1600 G | Summer 1 of Year 1 |
| Silver Refrigerator | 2400 G | Fall 1 of Year 1, and after you have constructed the Copper Refrigerator |
| Gold Refrigerator | 3200 G | Spring 1 of Year 2, and after you have constructed the Silver Refrigerator |
| Copper Toolbox | 1600 G | Summer 1 of Year 1 |
| Silver Toolbox | 2400 G | Fall 1 of Year 1, and after you have constructed the Copper Toolbox |
| Gold Toolbox | 3200 G | Spring 1 of Year 2, and after you have constructed the Silver Toolbox |
| Pet Food Dispenser | 2400 G | After you have unlocked Rod |
| Vase | 2400 G | Summer 1 of Year 1 |
| Fine Furniture | 5600 G | Fall 1 of Year 1 |
| Western Furniture | 5600 G | Winter 1 of Year 1 |
| Trendy Furniture | 5600 G | Spring 1 of Year 2 |
| Red Furniture | 5600 G | Summer 1 of Year 2 |
| Green Furniture | 5600 G | Fall 1 of Year 2 |
| Blue Furniture | 5600 G | Reach the "6th Year Novice" Farm Degree rank |
| Pink Furniture | 5600 G | Reach the 3rd Year Intermediate Farm Degree rank |
| Bamboo Lodge | 1600 G | Fall 1 of Year 1 |
| Name | Price | Availability Requirement |
| Old House | 1600 G | Winter 1 of Year 1 |
| Pink Striped | 3200 G | Spring 1 of Year 2 |
| Green Striped | 3200 G | Spring 1 of Year 2 |
| Blue Striped | 3200 G | Spring 1 of Year 2 |
| Red Checkered | 3200 G | Fall 1 of Year 2 |
| Yellow Checkered | 3200 G | Fall 1 of Year 2 |
| Blue Checkered | 3200 G | Fall 1 of Year 2 |
| Mosaic | 1600 G | Fall 1 of Year 1 |
| Square Wood | 1600 G | Winter 1 of Year 1 |
| Red Flooring | 3200 G | Summer 1 of Year 2 |
| Green Flooring | 3200 G | Summer 1 of Year 2 |
| Purple Flooring | 3200 G | Summer 1 of Year 2 |
| Red Diamond | 3200 G | Winter 1 of Year 2 |
| Yellow Diamond | 3200 G | Winter 1 of Year 2 |
| Blue Diamond | 3200 G | Winter 1 of Year 2 |
Tools
| Name | Price | Availability Requirement |
| --- | --- | --- |
| Clippers | 800 G | Fall 1 of Year 1, or after Yuri has been unlocked |
| Bell | 800 G | Spring 25 of Year 1 |
| Stethoscope | 800 G | Spring 25 of Year 1 |
| Ice Drill | 800 G | After you have visited the Southern Island |
| Fish Trap | 800 G | Spring 25 of Year 1 |