Aaron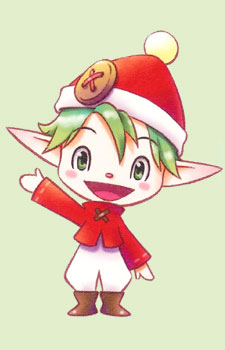 This Harvest Sprite lives with his sister Alice in the forest area. He is more friendly than his twin sister, but unfortunately he is rather timid towards the more-aggressive Alice. Alice bosses him around and he simply obeys her commands. At the beginning of the game you will hear him talk to you while you're asleep, as a mysterious voice, and then he'll introduce himself around Spring 17 of your first year.
One of the things that Alice will have him do is let you know when she's hid a new music sheet for you to discover. Alice probably could of told you herself, but it's more convenient for her to tell Aaron to do it for her.
There is no benefit to befriending either of the Harvest Sprites. You can ignore both little fairies if you'd like. The Sprites are only available in the Forest area when the weather is sunny. They can't be found when the weather is rainy, snowy, or stormy.
Personal Data
Birthday: Spring 29
Family: Alice (sister)
Preferred Animals: Monkey, Rabbit, Sparrow, Tanuki, and Weasel are liked (+150 FP)
Daily Schedule
Sunday through Saturday (sunny)
6:00 am to 12:00 am = Forest, by the Music Stumps
Gift Preferences
Special Gift
+800 FP
Normal Item: Truffle
Hana's General Store for 1670 G
Loved Gifts
+500 FP
Normal Items: Giant Turnip, Giant Potato, Giant Cabbage, Giant Cucumber, Giant Strawberry, Giant Onion, Giant Pumpkin, Giant Tomato, Giant Corn, Giant Pineapple, Giant Watermelon, Giant Spinach, Giant Eggplant, Giant Green Pepper, Giant Daikon, Giant Bok Choy, Giant Broccoli, Great Cheese, Great Jersey Cheese, Great Yak Cheese, Great Herb Cheese, Great J. Herb Cheese, Great Y. Herb Cheese, Great Yogurt, Great Jersey Yogurt, Great Yak Yogurt, Great Fruit Yogurt, Grt. J. Fruit Yogurt, Grt. Y. Fruit Yogurt, Great Butter, Great Jersey Butter, Great Yak Butter, Great Herb Butter, Great J. Herb Butter, Great Y. Herb Butter, Great Mayonnaise, Great Silkie Mayo, Great Herb Mayo, Great S. Herb Mayo, Great Yarn Ball, Great S. Yarn Ball, Great Alpaca Yarn, Great B. Alpaca Yarn, Great Llama Yarn

Critters: all critters
Liked Gifts
+300 FP
Normal Items: Turnip, Big Turnip, Potato, Big Potato, Cabbage, Big Cabbage, Cucumber, Big Cucumber, Strawberry, Big Strawberry, Onion, Big Onion, Pumpkin, Big Pumpkin, Tomato, Big Tomato, Corn, Big Corn, Pineapple, Big Pineapple, Watermelon, Big Watermelon, Spinach, Big Spinach, Eggplant, Big Eggplant, Yam, Big Yam, Green Pepper, Big Green Pepper, Daikon, Big Daikon, Bok Choy, Big Bok Choy, Broccoli, Big Broccoli, Rice Stalk, Wheat, Soybean, Lotus Root, Wasabi, Cherry, Peach, Banana, Mango, Apple, Grape, Cocoa, Kiwi, Orange, Shiitake, Shimeji, Trumpet Mushroom, Coral Mushroom, Common Mushroom, Milk, Jersey Milk, Wool, Suffolk Wool, Alpaca Wool, Great Alpaca Wool, Brown Alpaca Wool, Great B. Alpaca Wool, Llama Wool, Great Llama Wool, Egg, Gold Egg, Silkie Egg, Gold Silkie Egg, Cheese, Jersey Cheese, Yak Cheese, Herb Cheese, Jersey Herb Cheese, Yak Herb Cheese, Yogurt, Jersey Yogurt, Yak Yogurt, Fruit Yogurt, Jersey Fruit Yogurt, Yak Fruit Yogurt, Butter, Jersey Butter, Yak Butter, Herb Butter, Jersey Herb Butter, Yak Herb Butter, Mayonnaise, Silkie Mayonnaise, Herb Mayonnaise, Silkie Herb Mayo, Vegetable Jam, Strawberry Jam, Pineapple Jam, Watermelon Jam, Kiwi Jam, Peach Jam, Cherry Jam, Banana Jam, Mango Jam, Apple Jam, Grape Jam, Chocolate Jam, Marmalade, Blueberry Jam, Milk Jam, Yogurt Jam, Herb Jam, Cocoa Pack, Yarn Ball, Suffolk Yarn Ball, Alpaca Yarn Ball, Brown Alpaca Yarn, Llama Yarn Ball, Cotton Fabric, Linen, Red Cloth, Blue Cloth, Green Cloth, Yellow Cloth, Orange Cloth, Purple Cloth, Stay Awake, Stamina Booster, Super Stay Awake, Stamina Saver, Stamina Booster XL, Angler's Dream, Feline Friend, Canine Companion, Wild Animal Friend, Chicken Feed, Pet Food, Treat, Cow Treat, Sheep Treat, Chicken Treat, Fish Food, Rice, Rice Flour, Flour, Bread Crumbs, Dog Bone, Cat Bell, Oil, Chili Pepper, Curry Powder, Seaweed, Coffee Pack, Spring Sun, Summer Sun, Fall Sun, Winter Sun, Coral, Pearl, Sea Urchin, Fish Fossil, Bottle, Can, Fish Bones, Old Boot, Soil, Glittering Stone, Gold, Silver, Copper, Scrap Metal

Fish: all fish
Neutral Gifts
+50 FP
All other items not listed
Disliked Gifts
-300 FP
Normal Items: Fish Trap, Spring Tea Leaves, Summer Tea Leaves, Fall Tea Leaves, Flax, Raw Cotton, Mint, Chamomile, Lavender, Rosemary, Sage, Aloe, Basil, Bay Leaf, Bergamot, Thyme, Honey, Flower Honey, Royal Jelly, Spring Bouquet, Summer Bouquet, Fall Bouquet, Winter Bouquet, Eastern Bouquet, Sunflower Bouquet, Rose Bouquet, Colorful Bouquet, Crystal, Ruby, Jade, Diamond, Amethyst, Emerald, Agate, Peridot, Sandrose, Fluorite, Adamantite, Orichalcum, Mithril, Platinum, Pink Diamond, Topaz, Moon Stone, Mythic Stone, Branch, Black Branch, Pine Branch, Cherry Tree Branch, Ginkgo Branch, Moondrop Flower, Magic Blue Flower, Magic Red Flower, Elli Leaves, Walnut, Chestnut, Blueberry, Plum, Apricot, Bamboo, Bamboo Shoots

Drink Recipes: Honey Shake
Hated Gifts
-500 FP
Normal Items: Pink Rose, Marguerite, Tulip, Sunflower, Red Rose, Hydrangea, Nadeshiko, White Rose, Gerbera, Snowdrop, Gentian, Blue Rose, Cactus, Fodder, Poison Mushroom, Rose Perfume, Herb Perfume, Ocean Perfume, Forest Perfume, Spring Perfume, Summer Perfume, Fall Perfume, Winter Perfume, Honeycomb
HORROR Gift
-800 FP
Normal Item: Barn Dirt