Mushrooms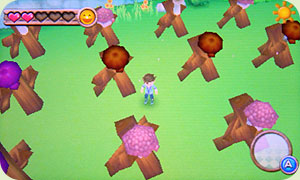 You can grow mushrooms after you have completed Town Restoration Plan #2. You can buy the blueprint for the Mushroom Logs at Rebecca's for 800 G. Constructing a log will require 5 Branches.
After you construct your first Mushroom Log, Hana will add Shiitake Seeds and Shimeji Seeds to her store inventory the next day. If you want to grow Trumpet Mushroom, Coral Mushroom, Common Mushroom, or Poison Mushroom (yuck!) you will need to find these fungus growing wild in the Forest, Mountain, or River areas and then place the fungus into the Seed Maker machine. You can also receive mushroom spore bags by winning the seasonal Crop Festivals, but you can't receive Common Mushroom Seeds or Poison Mushroom Seeds from the festivals.
To grow a mushroom, place a Mushroom Log on your farm and then use a seed packet on the log. After a few days the white goo will sprout into a small mushroom. The mushroom can be harvested when you see its name appear on your screen when you stand next to the log. If you don't harvest the mushroom then it will stay there until you do, even if you don't harvest it for many seasons. Mushrooms will regrow about four times before you have to replant. They also don't require watering and can be fertilized to increase Star Rank.
If you want to enter a mushroom into the seasonal Crop Festival, they are classified in the Other category. You can't enter a Poison Mushroom as your contest entry.
Placing Mushroom Logs together so their spacing corners touch will trigger a bonus production combination just like the one you can make with the Beehives. When the corners touch you'll harvest two mushrooms per harvest.
The money you earn for shipping mushrooms will be affected by your miscellaneous brand. If you have won a Crop Festival in the Other category then the profit you earn will increase 120% more, 150% more, or 200% more depending on the rank of your brand.
SHIITAKE
Hana's General Store for 310 G
Win from the Crop Festival or the Honey Festival
Stage 1
Stage 2
Stage 3
MATURE
2 days
4 days
5 days
12 days
Returns to Stage 3 when harvested
Shipping Profit (1 star to 5 star)
Normal: 120 G | 160 G | 200 G | 240 G | 280 G
Seeds: 216 G | 288 G | 360 G | 432 G | 504 G
SHIMEJI
Hana's General Store for 260 G
Win from the Crop Festival or the Honey Festival
Stage 1
Stage 2
Stage 3
MATURE
2 days
4 days
4 days
11 days
Returns to Stage 3 when harvested
Shipping Profit (1 star to 5 star)
Normal: 90 G | 120 G | 150 G | 180 G | 210 G
Seeds: 180 G | 240 G | 300 G | 360 G | 420 G
TRUMPET MUSHROOM
Place Trumpet Mushroom into the Seed Maker
Win from the Crop Festival or the Honey Festival
Stage 1
Stage 2
Stage 3
MATURE
3 days
5 days
5 days
14 days
Returns to Stage 3 when harvested
Shipping Profit (1 star to 5 star)
Normal: 180 G | 240 G | 300 G | 360 G | 420 G
Seeds: 420 G | 560 G | 700 G | 840 G | 908 G
CORAL MUSHROOM
Place Coral Mushroom into the Seed Maker
Win from the Crop Festival or the Honey Festival
Stage 1
Stage 2
Stage 3
MATURE
3 days
5 days
5 days
14 days
Returns to Stage 3 when harvested
Shipping Profit (1 star to 5 star)
Normal: 180 G | 240 G | 300 G | 360 G | 420 G
Seeds: 420 G | 560 G | 700 G | 840 G | 908 G
COMMON MUSHROOM
Place Common Mushroom into the Seed Maker
Stage 1
Stage 2
Stage 3
MATURE
3 days
4 days
5 days
13 days
Returns to Stage 3 when harvested
Shipping Profit (1 star to 5 star)
Normal: 144 G | 192 G | 240 G | 288 G | 336 G
Seeds: 360 G | 480 G | 600 G | 720 G | 840 G
POISON MUSHROOM
Place Poison Mushroom into the Seed Maker
Stage 1
Stage 2
Stage 3
MATURE
2 days
3 days
4 days
10 days
Returns to Stage 3 when harvested
Shipping Profit (1 star to 5 star)
Normal: 30 G | 40 G | 50 G | 60 G | 70 G
Seeds: 36 G | 48 G | 60 G | 72 G | 84 G